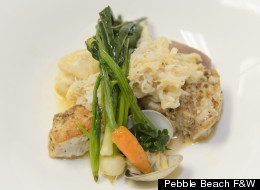 The Pebble Beach Food & Wine Festival is the Las Vegas of food events -- celebrity sightings, after-parties and happy hours sponsored by the Cosmopolitan. It's where chefs go to promote their books, TV shows and restaurants, and where everyone else goes in the hopes of mingling with chefs.
And here's an important lesson learned from this first-timer: if you stay focused, you can taste some seriously delicious food and wine.
My alarm went off at 6:30 am Saturday morning, and I didn't even hit "snooze" before jumping in the shower. After a two-hour car ride, I arrived in Pebble Beach before 11. By noon, I was wearing a silk dress with a glass of wine in hand.
I was in the grand tasting tent, the main event of the festival. There, hundreds of chefs and wineries set up booths for tasting -- either bites of their most creative dishes or sips of their best vintages -- as the crowd meandered. For three hours. Needless to say, what starts out as sophisticated quickly becomes boisterous and a little messy.
After the grand tasting, the group sectioned off into groups for chef demonstrations, winery events and happy hours (yes, more wine!). For us, happy hour was followed by a six-course seated dinner in a ballroom at the Inn at Spanish Bay, where each course was created by a renowned chef and, of course, paired with a glass of wine.
And finally, the after-party, where I was more than ready for a cold beer.
Here's a recap of highlights from one very full day of wining, dining and shmoozing at Pebble Beach 2013. Cheers!
Pebble Beach Food & Wine's Top Ten Moments
It's impossible not to fall in love with Top Chefs Carla Hall on TV, but fans will be happy to know she's every bit as charming in person. The chef and cookbook author won over the crowd at her cooking demonstration with a biscuit-topped chicken pot pie -- made with love, of course. Hooty-hoo!

Not all panna cottas are created equal, and Pebble Beach showed both ends of the spectrum. The asparagus version from the SPQR team stole the show from other chef-created nibbles at the grand tasting on Saturday, perfectly velvety and topped with a smoked salmon consomme.

"Where can I get some Malbec around here?" was a direct quote from passers-by at the grand tasting, and if they'd looked more carefully, they would have struck gold. It turns out that the best way to stand out in a sea of Napa cabernet is to pour something from down south. The lineup from Trapiche felt like a welcome mini-vacation.

It's not a truly "exclusive" event until you get stood up by a celebrity. In all fairness, Drew Barrymore was surrounded by press from the moment she arrived at the grand tasting, promoting her new eponymously named Pinot Grigio, so it's no surprise she opted out of her last few interviews (including ours). And yes, she's just as radiant in person.

Food Network star Tyler Florence was one of the most recognizable faces at Pebble Beach this year, where he competed in a battle between east and west coast chefs. But the real thrill was when he mixed, mingled, and poured his own wines at the grand tasting for enthusiastic fans.

Many memorable moments were born from the "My Last Supper" dinner on Saturday night, a tribute to Melanie Dunea's book of the same name. But our table fell silent when servers brought out Michelle Bernstein's Florida Fish "Pot au Feu," a bowl of spring vegetables, clams and stone crab in an uni-flavored broth. Besides the slurping.

After a long day of wine tasting, everyone gets rowdy. Author and photographer Melanie Dunea played auctioneer at her "My Last Supper" event as the crowd bid on photos signed by both Dunea and the chefs she depicted: Paul Bartolotta, Michelle Bernstein, George Mendes, and Masaharu Morimoto. Highlights included Dunea begging Mendes to take off his shirt to raise the bid, and also offering to take off her dress for a few grand more. They sold for $6,500.

If the term "happy hour" evokes images of beer in plastic cups, you haven't partied with the Cosmopolitan Las Vegas. Here, servers passed trays of Champagne to wash down complimentary bites of caviar and raw oysters that chefs were shucking and literally pushing on guests. A backdrop of the Pacific Ocean was just an added bonus.

Uni was a popular ingredient for chefs at the festival this year, and Lightner's team at Atera nailed it. If it sounds weird, it looked it, too (some people mistook it for a lump of coal, according to Eater), but the sweet-savory contrast and play on textures created a dish we won't soon forget.

Crowded dance floor, VIP sections, and Stella Artois. Half the fun of the after-party is just talking about the after-party, but seeing chefs and sommeliers break it down doesn't hurt.