It might be a good idea to get my eco-egregious habits out in the open now--before someone publishes a photo of me committing environmental sin. I drink Diet Coke (trying to cut back), I used to drive a big SUV (if offered now, wouldn't turn down a ride), and I hope to one day own a hot tub. (If we're all headed to hell in a handbasket, why can't I join in too?) Although there may be more than one occasion, when I talk the talk while driving a mile (to an organic farmstand, of course), I should be able to share some friendly green tips once in a while.
I stumbled on the concept of "green" this past year, as I wandered a thick forest of post-collegiate indecision. First, I wanted to be a fashion designer. (I realized clothes aren't all made in sweatshops and labor camps, but something quite like them.) Then, I figured I'd try interior design. (I had a traumatic renovation experience.) And then, I thought, Why not yoga instructor? (I won't explain what happened.) Soon, I wondered if graduating within four years was the worst mistake I ever made.
While feverishly searching the internet for job postings, I stumbled upon the blog Treehugger.com--it's about sustainable design, environmentally, socially responsible business and green lifestyle. I don't believe I've ever hugged a tree, but the site spoke to me nonetheless. How could design and business be part of the solution, not the problem? How could dueling factors--technology and nature, order and chaos, the proven and experimental--unite to sustain us through modernity? The approach to environmentalism through uncompromising innovation and a zingy spirit of adventure was new and fascinating. I wanted to be a part of it.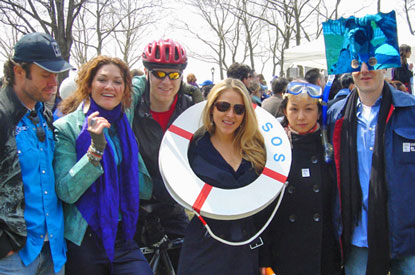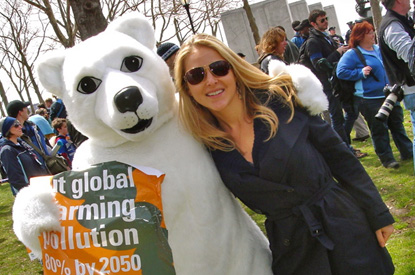 I contacted architects, designers, scientists, and gurus--anyone I could think of who was somehow dedicated to producing places, products, and services that are beautiful, practical, and helpful without harm.
In time, I met Starre Vartan, Huffington Post blogger and founder of eco-chick.com. Starre encouraged me to share my experiences, findings, and general musings. "Blog?" I laughed in apprehension. It wasn't long before I spread my wings and started writing for my original inspiration, Treehugger.
Over the past seven months, blogging has given me an excuse to study anything and everything related to sustainability. Moreover, it has given me an all-access pass to the green world. In the name of "social media," I have invited myself to conferences, symposiums, and design exhibitions. I have probed the pioneers and pestered the experts, from Greenmap creator Wendy Brawer to organic cotton and ecofashion pioneer Marci Zaroff to the Lazy Environmentalist himself, Josh Dorfman. I call myself an aggressive weasel; Treehugger founder Graham Hill says, "enthusiastic terrier."
This is an exciting time. The present is ripe with inventors, innovators, and frontiersmen. They are redesigning the material elements of our daily routines. They are offering superior alternatives. They are helping us practice what is possible. Their anthology is long. I have the time to study it, ask questions, and take notes; you probably don't. Instead, consider my abridged-of-the-abridged version. Every week I'll offer a general green "how-to," condensed advice from the experts, Cliffs Notes for the clueless, and my personal pointers to keep you up-to date, informed, and living a greener life without going "Enviro Mental."