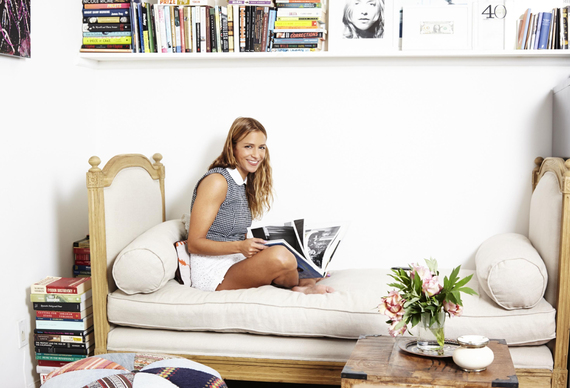 We're die-hard fans of Charlotte Ronson's fashion line, with its graceful cuts, splattered flowers, and well-balanced edge. And she's one of those unofficial arbiters of downtown cool: someone who follows her own unique eye, all while pulling off tousled beach hair with aplomb. So we were thrilled to pay a visit to her New York City duplex in NoHo and get the scoop on how she's pulled off a look that's straight-up cool, classically pretty, and inviting all at once.
How did you find such balance between feminine and comfortable?
"Before moving here, I'd lived in the West Village and decorated in a very feminine, Parisian way. When I got here, I wanted to edit down all the girliness and make it more basic. So I brought in some beat-up vintage pieces, like the deep leather armchair, and added neutrals, like the couch. To me, it feels clean and really livable."
How do you get such an airy feeling in downtown New York?
"The light is one reason I fell in love with this apartment. There are windows in the front and the back, which is rare. I kept the walls white, and I open the huge windows as much as possible."
Did you work with any interior designers?
"I chatted with a few friends who are in the industry, but at the end of the day, I put the apartment together myself. It's been a slow process, because I made sure that I loved every piece."
Where do you look for home inspiration?
"I love Pinterest, but I also like the old-school way of buying a bunch of magazines and ripping pages out. It's nice to have the image in hand."
What do you like to pick up when traveling?
"When I was in Turkey recently, I got a beautiful rug. And back when I had a shop, a friend and I would rent a big van and drive up to the Hudson Valley to find antiques. But a lot of times, I like to travel light and not leave with too much--maybe some knickknacks and a few pieces of clothing."
What's the story behind the mirror in your dining room?
"Lorraine Kirke, who's a friend of mine, is an interior designer with amazing taste. She has a little shop in the West Village, Geminola. When she was moving out of her townhouse, she wanted to start fresh, so I came in to give this mirror a look-over. Originally I thought I'd paint in the brown part to clean it up, but I ended up loving every single bit of it."
What about the chairs? They're the perfect blue.
"I found them at John Derian. In my old place, they were around a white mini kitchen table; it was all kind of miniature. I love their old, vintage, chipped, mismatched look. They add a pop of color."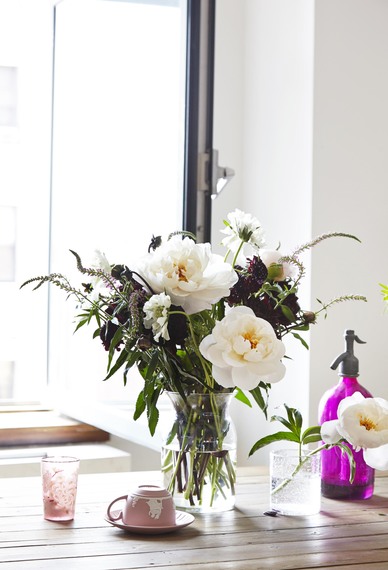 Ronson's set of Wedgwood cups and saucers, a gift from her mom, holds a special place in her heart.
There are so many flowers around the apartment. What are your favorites?
"Deep blood-red peonies. They never last long enough, but I love them."
When you're designing your line, do you ever fall in love with a fabric and want to use it at home?
"I actually keep the two spheres separate. Within the collection, you have a certain amount of prints for the season. It's one thing to wear them--they can go in and out of your closet--but in the home, you can tire of things."
Which artists are you drawn to these days?
"I'm so into Harry Benson photographs, and I've bought them myself, though my mother gave me the Mia Farrow and Jackie Onassis pieces for different occasions. Aurel Schmidt does these amazing hand-drawings that are insane and so detailed. They're dark subjects, lots of cigarettes and trash and voodoo, but all in soft pastels. And I'm so into Kim McCarty's watercolors."
Do you escape the city much in the summer?
"I don't really drive, and traffic to Long Island can be such a nightmare. But I find it's great to stay in the city. It's quieter, and I actually love to stay at home. It's where I get a lot of my inspiration and sourcing done. And now I'm revving up for Fashion Week in September."
SUBSCRIBE AND FOLLOW
Get top stories and blog posts emailed to me each day. Newsletters may offer personalized content or advertisements.
Learn more