Blood, sweat and tears are essential to making opera happen. However, on Saturday, July 6, it was the audience that contributed the sweat.
On Saturday, Caramoor presented Verdi's Les vêpres siciliennes as the first part of their 2013 Bel Canto at Caramoor series. At Caramoor, there has been a consistent tradition of high quality concert performances with world-class singers. Saturday was no exception.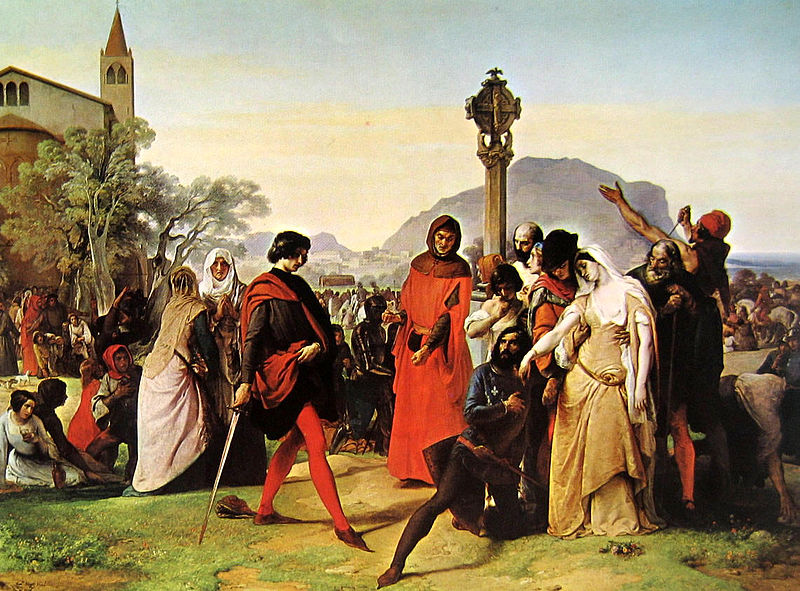 Commonly performed as "I Vespri Siciliani" these days, Verdi's grand opera was first presented at the Paris Opéra. The opera, which includes not one, but two choruses (One all male and one mixed), a ballet of the "Four Seasons" (Which is frequently cut from most productions), and a whopping five acts (Matched only by Don Carlo, one of Verdi's other grand opera, and the next Bel Canto at Caramoor presentation).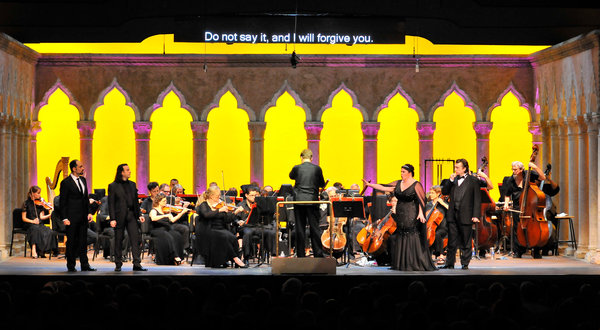 I'm not as familiar with "Vespri", but it was a common consensus that the original French text is much better than the opera's Italian translation. The libretto was by Eugène Scribe, the librettist responsible for other grand operas like "La Juive", "Robert le Diable", and "Les Hugenots", and Charles Duveyrier.
However, vêpres is a very different Verdi piece. Almost like a precursor to Aïda, the opera grapples with fierce patriotism juxtaposed with family, but what it possesses there it loses in the absence of intimacy. A friend described the opera as "distant," and I think that's the perfect word for it. The characters are all uniquely unlikable, and Verdi doesn't make it clear which character the audience should be rooting for. The big reveal comes when Montfort, Governor of Sicily and leader of the French soldiers living there, reveals to Henri, a young Sicilian man, that he is his father (act shocked). Even then, Henri renounces Montfort and the Sicilians renounce Henri for even consorting with the enemy. The opera ends with the vesper chimes celebrating the (almost) wedding of Henri and Hélène (a duchess living in Sicily who seeks revenge against Montfort for killing her brother), acting as a signal for the Sicilians to massacre the French. If that doesn't say "Happy wedding day!" to you, then I don't know what does.
Maestro Will Crutchfield conducted the Orchestra of St. Luke's with passion and vigor. The orchestra was especially lovely during the opening Sinfonia, and the lovelier still ballet music where Crutchfield led the ensemble through the "Four Seasons," giving each season distinction and subtle nuances. Special props go to the oboe player for tackling the particularly difficult oboe passages with ease. A complete performance, in Italian, can be seen below:
As Hélène, Angela Meade took the tricky role by the horns. Her large, smooth voice with an even vibrato easily soared over the large orchestra and chorus. During her florid performance of the Bolero, the soprano coquettishly tossed flowers into the audience, showing her playful, diva side. Her high notes rang throughout the tent (Even though she opted for a lower note than the high E often interpolated at the end of the Bolero) and she showed off her fantastic trilling skills. The problem with her performance, however, was that it lacked fire and excitement. Meade has a ravishing voice, but there isn't much of a flame to it.
Henri, Hélène's friend-cum-lover was sung by John Osborn. Osborn gave a passionate performance with ringing high notes, but his strangely focused, nasal, generic sounding voice made his performance good, not great. The role needs a singer with an expansive top, but also the ardency of many of some other Verdi tenor roles.
As Montfort, the Sicilian governor, Marco Nisticó gave a consistent and sensitive portrayal. The voice may not be huge, but it has an authoritative, sensitive quality to it that would probably be well serviced in Rigoletto or La Traviata. His best moment came in his duet with Henri. The two voices blended wonderfully.
As Procida, a doctor and leader of the rebel Sicilians, Burak Bilgili sang with an EXREMELY loud and booming voice. In fact, at points, it felt too loud. His vibrato was fast paced and carried throughout the tent. His "E toi Palerme" contributed to him receiving some of the loudest applause of the night.
Among the supporting roles, Sarah Nelson Craft sang Ninetta beautifully, even though the role is quite short. Nicholas Masters was an elegant Robert and Paul Han strained his way through Thibault.
The Caramoor Festival Chorus was in top form, especially the women's chorus.
vêpres, while a piece with flaws (Including a plot that's really hard to understand. It would be nice if they had included a synopsis in the program.), still has its lovely moments, many of which are lost when the opera is cut. In November, the Royal Opera House will present the entire, uncut opera, directed by Stefan Herheim. It will definitely be something to look forward to.
With operas like Rigoletto and Traviata and Aïda being produced almost daily, it's the continued interest in the Verdi that we don't know as much about that is the best way to honor the Maestro on his bicentennial.
Photo credits: Gabe Palacio & Scene 3 of the Sicilian Vespers by Francesco Hayez
SUBSCRIBE AND FOLLOW
Get top stories and blog posts emailed to me each day. Newsletters may offer personalized content or advertisements.
Learn more