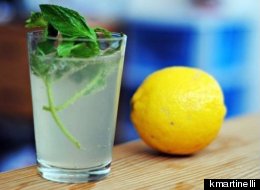 Written by Green Bride Guide
Oh, the things we do for summertime kicks. Parties -- from the simple backyard gatherings to the sensational soirees -- certainly top the list, and nothing says party quite like knocking back shots of pink Jello in a lemon wedge loaded with organic vodka, right? We thought so! Try this super simple and super fun pink lemonade vodka Jello shot recipe.
This recipe uses an organic vodka, which we most certainly recommend. Make your own pink lemonade from scratch with a low-glycemic sweetener like coconut sugar, yacon root syrup, agave nectar or even stevia for a drink that's tasty but not excessively sweet.
This clever no-waste recipe is perfect for a summer party!
Serves 12

Ingredients
12 whole organic lemons
1 cup pink lemonade
2 packages plain gelatin
1 cup 360 Vodka
Method
Cut the lemons in half. Scoop out the insides. Add the lemonade to a saucepan, sprinkle the gelatin over the juice. Let it sit for 2 minutes. Heat the lemonade over low heat, stirring, until the gelatin has dissolved, about 5 minutes. Stir in the organic vodka. Pour into the lemon halves and refrigerate for 4 hours.
Recipe courtesy of GreenBrideGuide, the nation's No. 1 green wedding resource was launched in 2009 by environmental lawyer Kate L. Harrison after her book The Green Bride Guide: How To Plan An Earth-Friendly Wedding On Any Budget became a best-seller in the wedding category. (Sourcebooks, 2008)
Enjoy more of our favorite cocktail recipes:
Rose Geranium Sangria
The Perfect Summer Fruit White Wine Sangria
2 Homemade Sangrias: Red & White
3 Cool Cocktails Straight Up from The Garden
Fizzy Rosemary Rhubarb Cocktail Recipe
You can follow Organic Authority on Twitter, Facebook, Pinterest, and Google+.
For more expert advice on delicious living and healthy recipes, sign up for the Organic Authority newsletter to get The Definitive Guide To Shopping For Organic Foods on a Budget.