Inspirational Hotel Decor Ideas For Your Own Home (PHOTOS)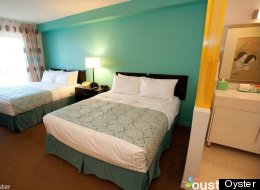 Take a cue (or several) from some of the most well-decorated hotels and incorporate 'em into your own little nest.
Whether an addition, paint change or simple trick, we've got great ideas from some of our favorite hotels.
Check out our design tweaks from super-sweet hotels now!
-- Rachel Jacoby
Home Decor Tips from Hotels
Hotel Erwin in Santa Monica and Venice, LA PAINT ONE WALL: Adding a dose of color to one of your bedroom's walls makes a bold, bright statement -- and is easier to switch up seasonally (or depending on your mood) than a whole room's worth of color. Think of it like the one-night stand of painting. The Hotel Erwin's splash of turquoise lends the Ocean View room a serene, relaxing vibe. See more photos of Hotel Erwin

Arenal Nayara Hotel & Gardens in Costa Rica STRIP THE FLOORS: While carpet can be cozy between the toes, it can keep your room insulated -- a.k.a. warmer -- especially during those blistering summer months. If you've got a great foundation, remove the carpets and refinish your wooden floors for an airy, open feel. See more photos of Arenal Nayara Hotel & Gardens

Tides South Beach in Miami, Florida INCORPORATE NATURE: Kelly Wearstler, designer to the stars (and now of her own clothing line), used thoughtful design continuity throughout by adding touches of nature throughout -- tables fashioned from birch tree trunks, a faux zebra-skin carpet and tribal necklaces repurposed as wall art. See more photos of Tides South Beach

Soho House in the West Village, New York City ORGANIZE YOUR DRAWERS: Whether you fashion your own drawer dividers or head to your nearest Container Store for an epic storage unit, nothing feels better than organizing the myriad cosmetics, toiletries and medicines that have undoubtedly clogged your bathroom's cabinets. We particularly love how the Soho House carved out a nook for every toiletry exactly -- we wouldn't mind having one of those in our bathroom. See more photos of Soho House

Viceroy Santa Monica, LA SHOWCASE YOUR STUFF: Lots of us collect all sorts of things but never really know where to put them. The Viceroy in Santa Monica gave us an idea to simply hang everything -- even if your collection is as simple as a few fine white china plates. Not only will your stuff stand out, but you'll likely save some storage space, too. See more photos of Viceroy Santa Monica

The Ritz-Carlton Georgetown in Washington, D.C. TRY AN UNEXPECTED POP OF COLOR: Yes, color is an oft-suggested idea for sprucing up one's home in a cinch -- but when its executed in a unique way, that extra touch stands out in a really, really good way. We adore how the Ritz-Carlton Georgetown's bold yellow bedskirt is perfectly complimented by the rest of the room's neutral hues. See more photos of The Ritz-Carlton Georgetown

W Washington D.C. ADD MIRRORS: Simply put, mirrors add the illusion of space. (And they're so sparkly!) So while you don't actually have more room, it'll look and feel like you do. Plus, if you layer them up and use ones with intricate frames, you'll end up with a glittering, spacious-feeling room. See more photos of W Washington D.C.

CasaMagna Marriott Puerto Vallarta Resort & Spa in Puerto Vallarta, Mexico PLAY WITH PATTERNS: Throw out tradition -- who says everything needs to match perfectly? Currently, it's actually in fashion to sport opposing patterns, like florals and stripes. The CasaMagna executes this dichotomy wonderfully by pairing chevron-printed chairs with an abstract rug and wall art. See more photos of CasaMagna Marriott Puerto Vallarta Resort & Spa

The Redbury at Hollywood and Vine in L.A. HANG UP ANYTHING YOU THINK IS ART: This eclectic boutique hotel has quirky design down pat, and we love how the design team blended a variety of framed photos, pictures, postcards and paintings to create a veritable mini gallery above the bed. While the result is definitely kitschy -- and not for everyone -- it's a good way to display the things that are most meaningful to you. See more photos of The Redbury at Hollywood and Vine

Marenas Resort in Miami SPLURGE ON A FUN PILLOW: Probably the easiest swap to make seasonally, a pillow is the perfect way to add (or subtract) color, pattern and style to a room. We can't help but dig this beach ball-inspired version -- it's making us crave summer! Experiment with pillow shapes, prints and hues to continually change up your room's vibe. See more photos of Marenas Resort
Follow Oyster on Twitter: www.twitter.com/Oysterhotels