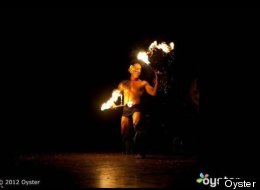 We're seriously feeling the summer heat -- it's been gorgeous here in New York at Oyster HQ.
And although we can't just jet to Hawaii this weekend (trust me, we wish we could), we figured we'd steal some of our favorite hotels' signature Hawaiian touches.
From enticing food spreads with seasonal specialties to decor ideas we'd steal at this very moment, we found five inspirational ideas to incorporate into your home's summer look.
We promise, President Obama would be proud of these picks.
-- Rachel Jacoby, Oyster.com
5 Style Ideas to Steal from Top Hawaiian Resorts
Inspired By: The Luau at the Sheraton Maui Resort & Spa The Sheraton Maui Resort has all the bells and whistles one would expect from a spacious Hawaiian hotel -- jam-packed with amenities, a beautiful strip of beach, and the best on-site snorkeling on the island. But our favorite activity here is the Drums of the Pacific Luau, which guests love -- especially when the dancers play with fire. While we don't recommend tossing any flames around, we do find tiki torches to be a fun way to light up a summer BBQ. They're easy to find -- try your local drug store -- and not too pricey either.

Inspired By: The Shore Bird Restaurant at the Outrigger Reef on the Beach If summer is all about color -- as are nature's superfoods -- than the Outrigger Reef on the Beach did something right by whipping up this delectable spread. Pretty much all produce is in season, and we can't think of a healthier or more satisfying seasonal meal than one composed of a ton of the fresh stuff. Serve your stuff on ice and guests will be incredibly thankful (and hydrated!).

Inspired By: Wallpaper at The Royal Hawaiian, A Luxury Collection Hotel The Royal Hawaiian is seriously luxurious -- and an iconic spot, having opened in 1927. It's one of only three luxury resorts in Wakiki, and its impeccable furnishings are up to snuff. It's stunning pink facade is only rivaled by its warm, free touches, including a welcome lei upon arrival. Floral prints are having a serious moment in fashion right now, but they'll also make any room feel instantly lighter, whether it be through a printed coverlet or decorative pillow.

Inspired By: Kids' Club at the Westin Princeville Ocean Villas Bring the fun outside -- even if it requires a 'lil bit of manpower! Grab two of your strongest friends (or a few more not-so-strong types) and bring one of your favorite table games outside, like the staff at the Westin Princeville Villas did for their kids' club. Whether it be billiards, ping pong or even just a giant chessboard, classic games are about 10 times more enjoyable when they're under the sunshine.

Inspired By: The One Bedroom Deluxe Suite at the Aston Wakiki Beach Tower Wooden or wicker furniture inherently feels summery, but whether that's because of its open, airy design or natural materials, we're not entirely sure. Regardless, the spacious condos at the Aston Wakiki Beach Tower needed to fill their suites with something fabulous -- like this refreshing chair and ottoman set. While you're dreaming of being outdoors this summer, infuse a bit of nature into your own design by bringing a piece of the patio furniture (or purchasing a new one).
Follow Oyster on Twitter: www.twitter.com/Oysterhotels