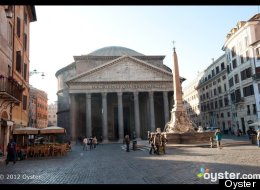 Ah, the Eternal City. There are few other cities with a history as alive as Rome's, and it's easy to see why it's one of the three most popular metropolises in Europe.
Ancient ruins stand alongside Renaissance palazzos and buzzing cafes, and the works of art that can be viewed in the city's museums and churches are enough to make any culture lover drool.
There's so much to do and see that knowing where to start can be a little overwhelming -- so to make it easier, we've broken down the city's must-see spots, and let you know where to stay nearby.
-- Kelsey Blodget, Oyster.com
Discover Rome: What to Do and Where to Stay in the Eternal City
This architectural wonder was first built two millenia ago, and is remarkably still in use -- allowing visitors to tangibly experience the ancient world. Once a temple to Roman gods, the building now serves as a tomb, a museum and a Catholic church. Its unreinforcede concrete dome is still one of the largest in the world. Stay: The St. George The St. George is a luxury boutique hotel in a fabulous location: on a cobblestone street in Old Rome, within walking distance of the Pantheon and other popular sights. See photos of the St. George Hotel

The Colosseum is arguably Rome's most iconic sight. This two-thousand-year-old arena featured gruesome entertainment, ranging from gladiator fights to animal hunts to battle reenactments. It's also notable for its scale and incredible engineering. Stay:Palazzo Manfredi This luxury boutique hotel stands out for its incredible views -- guests can take in the nearby Colosseum from the rooftop restaurant and lounge, as well as from their rooms (these view rooms cost a bit more). See more photos of Palazzo Manfredi.

The Spanish Steps are a first-rate spot for people watching, and both locals and tourists gather on the 138 stairs, constructed in the 18th century. The Trinita dei Monti church is at the top, and at the bottom is the bustling Piazza di Spagna, where the Baroque Fountain of the Old Boat and the former home of poet John Keats also draw visitors. Stay: Condotti Palace On a cobblestone street lined by restaurants and shops, the 22-room Condotti Palace has a great central Rome location, within walking distance of numerous iconic sites -- the Spanish Steps are just two blocks away. See more photos of Condotti Palace.

No trip is complete without throwing a coin into the Trevi Fountain, which many believe will ensure a return trip to Rome. (Throwing three coins is also traditional.) The enormous Baroque fountain was completed in 1762, and today is one of the city's most popular tourist spots. Those looking for a refreshing treat after throwing their coin may want to try the famous Sardinian honey gelato at the nearby Il Gelato di San Crispino. Stay: Hotel Fontana The Hotel Fontana is located on Piazza di Trevi with views facing the famous Trevi Fountain. A former monastery, this property offers 25 rooms with basic, traditional Italian decor that feels reminiscent of its former monastic days. See more photos of Hotel Fontana.

The Vatican Museum, the Sistene Chapel, St. Peter's Basilica. A visitor could spend their entire trip seeing the sights in Vatican City. The museum is home to some of the world's most famous art, including Michelangelo's remarkable ceiling, and the soaring dome of St. Peter's (pictured) was designed by Bramante. To avoid the lines outside, buy your ticket online in advance. Stay: Relais Vatican View If you're in town to see the Holy See, you can't do much better than the Relais Vatican View. It's located just meters away from the Vatican walls. As far as the hotel itself goes, the 15 rooms and suites are clean and relatively spacious with high ceilings and plenty of natural light. See more photos of the Relais Vatican View.

There are almost a thousand churches in Rome, and many of them are work a quick peek for their beautiful historic architecture or famous works of art. The Santa Maria del Popolo (pictured), for example, houses works by Raphael, Bernini, Caravaggio and Bramante, among others. Stay: Rocco Forte Hotel de Russie The luxurious Hotel de Russie is located in a posh neighborhood near the Spanish Steps and Piazza del Popolo. This 122-room property combines style and comfort, starting in the cozy lobby with plush sofas and appealing artwork. See more photos of Hotel de Russie.

Via Veneto was made famous in Fellini's "La Dolce Vita," and the posh street is home to numerous cozy cafes and restaurants, including well-known spots Cafe de Paris and Harry's Bar. Stay: Boscolo Palace Roma The sleek Boscolo Palace is located on the fashionable Via Veneto, across the street from the U.S. Embassy. Hallways have a stylish pink and gray motif that continues inside the rooms, with the striped wallpaper and interesting designer furnishings. This design-focused hotel offers nice perks such as period travertine balconies off some rooms and a cozy lounge off the lobby with a big flat-screen TV. See more photos of Boscolo Palace Roma.

For many visitors, simply wandering around the city's beautiful piazzas ends up being a highlight of the trip. The Campi dei Fiori has a morning produce market (and is lined with bars that get hopping at night); the Piazza Navona is lined with charming cafes and is home to the Fountain of the Four Rivers (featured in the movie "Angels and Demons"); and the PIazza Barberini has two of Bernini's best (and best known) fountains. The Piazza del Popolo (pictured) features the obelisk of Ramesses II, and hosts a number of concerts, as well as an annual New Year's Eve fireworks show. Stay: Hotel Condotti Hotel Condotti's highlight is its location -- on a quaint cobblestone street lined by restaurants, within walking distance of PIazza del Popolo and the Spanish Steps. Though it lacks amenities like a fitness center and a spa, this is pretty typical for hotels in the city. See more photos of Hotel Condotti.
Follow Oyster on Twitter: www.twitter.com/Oysterhotels