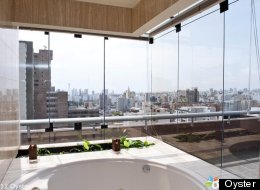 Though often overlooked as a vacation destination, Lima has a lot to offer visitors, including surf-worthy beaches, a rich history, diverse cuisine, excellent shopping (particularly for silver and gold jewelry) and lush parks.
And at the end of a day of sightseeing and experiencing Peruvian nightlife, the best place to relax is in one of these luxurious bathrooms featuring everything from Jacuzzi tubs with expansive views to private saunas.
-- Kristina Fazzalaro, Oyster.com
Potty Time: Lima's Most Luxurious Bathrooms (PHOTOS)
First up, we have the gorgeous bathroom in the Governor Deluxe Suite at the Country Club Hotel Lima. This historic property blends classic elegance with modern comfort -- and nowhere is this more apparent that in its sumptuous bathrooms. Featuring soaking tubs with separate rain showers, gold fixtures, floor-to-ceiling marble, and L'Occitane toiletries, it would be impossible not to relax here.

A mod, masculine vibe pervades at the Westin Lima Hotel & Convention Center. Featuring dark wood furniture, sleek lines, and floor-to-ceiling windows -- even in the bathrooms! -- the dimly lit, sexy spaces of this hotel are perfect for mixing business with pleasure. The bathroom comes stocked with high-end amenities, and while the frosted glass doors don't offer perfect privacy, they are in line with the property's sexy vibe.

The Sonesta Hotel El Olivar stands out as a high-end choice with a long list of amenities (including a fitness center, salon, business center, rooftop pool, two tasty restaurants, and 24-hour room service). Suites, though a bit heavy on the beige decor, feature massive bathrooms with huge Jacuzzis and separate showers, as well as their own saunas. Only clear glass doors separate the Jacuzzi from the bedroom, adding a sexy atmosphere to the relaxing space.

This deep Jacuzzi tub can be found on the concierge level of the Melia Lima. This section of the business-focused hotel definitely guarantees guests a more upscale experience as it also features a buffet breakfast, an open bar in the evenings, flat-screen TVs, and more contemporary style. This bathroom is not as large as others in the area, but the tub, window, and lovely arched wall are great additions.

The bathroom in the Imperial Room at Casa Andina is open to the living room area, allowing for little soaking privacy, but a truly romantic experience. The room does feature a private shower for the more conservative visitor, as well as an in-room sauna. Kara toiletries, a flat-screen TV, and modern decor round out this winning bathroom.

The Senior Suite at the Delfines Hotel & Casino could easily play host to one of rapper Sean Combs' infamous white parties: White marble, white sinks, white bidets, white everything. The effect is soothing -- almost as much as the soaking tub, which is so deep, you have to climb three steps just to get in. We think Diddy would approve.

The Miraflores Park Hotel is one of the most luxurious and stately properties in all of Lima. A chic rooftop pool deck, a modern fitness center, and delicious cuisine are just the tip of the iceberg here. Rooms are elegant, with royal blue upholstery, gold accents, Italian sheets, flat-screen TVs, and gorgeous ocean and city views. The marble bathroom in the Presidential Suite features this luxurious Roman tub overlooking the city from floor-to-ceiling windows (but don't worry, a small garden provides some privacy without detracting from the view). The separate rain showers and saunas might be the largest in Lima.

From this Jacuzzi at the Thunderbird Hotels Pardo, guests get a bird's eye view of all of Lima. The expansive city vistas are enough to keep visitors soaking all day -- or perhaps alternating soaking with steaming in the bathroom's own sauna (the fresh eucalyptus here is a nice, refreshing touch).
Follow Oyster on Twitter: www.twitter.com/Oysterhotels