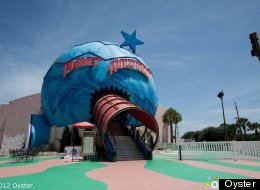 Continually ranked as one of America's best family beach destinations, Myrtle Beach offers visitors plenty to do.
For families, there are activities such as mini-golf, an aquarium and funky novelty shops and museums, while couples and young adults can indulge in the lively (if a bit cheesy) nightlife and plethora of inexpensive restaurants and bars. And of course, the 60 miles of sandy shoreline please the crowds.
We've come up with a guide to the must-do activities in Myrtle Beach, and where to stay when you're there. Get inspired and soak up these last few weeks of summer in this beachy hotspot.
-- Jane Reynolds, Oyster.com
Your End of Summer Guide to Myrtle Beach, SC: What to Do and Where to Stay
Vacations are a time to relax, especially when your getaway is in a sunny beach destination such as Myrtle Beach. This beach town is chock-a-block with sand-side resorts with large pool complexes; lather on some sunscreen, grab an inner-tube, and float down the winding lazy river at your hotel. If that doesn't make you feel like you're on vacation, we don't know what will! Stay: Caribbean Resort and Villas This beachfront complex of two towers, one inn, and a cluster of condos caters to families, with its two pools, two lazy rivers, a kiddy pool, a kids' club, and a game room. While the Jamaica Inn features single rooms that are less up-to-date than those in the other buildings, rooms in the towers and condos all feature modern kitchens and free Wi-Fi. The property also has a popular seafood restaurant.

Myrtle Beach may be popular among families, but it's also a spot where college kids and young couples come to party. Though the scene is more laid-back than chic (and some would argue it borders on cheesy), the beach destination has plenty of well-known chains where partiers can find tasty drinks, bar snacks, and good music. Many, such as Planet Hollywood and Senor Frog's, are clustered in the Broadway at the Beach area. Stay: Hampton Inn Myrtle Beach - Broadway @ The Beach Located in the Broadway at the Beach complex, the 141-room Hampton Inn is in some ways a typical chain hotel, with no on-site restaurant (aside from the free breakfast area) and a small fitness center. But this Hampton Inn's rooms are a step above, with nicer-than-standard decor featuring bright red accent walls, flat-screen TVs, microwaves, mini-fridges, and large bathrooms. Though the hotel is not on the beach, as many Myrtle Beach hotels are, it is within walking distance of several restaurants and an amusement park, and it has two decent on-site pools.

If you're making a trip to Myrtle Beach, you definitely have to spend some time on the sand. Though it can get crowded -- particularly during the summer months -- Myrtle Beach offers 60 miles of sandy shoreline where locals and tourists set up beach umbrellas and coolers, and spend all day by the ocean. Don't forget your sunscreen! Stay: Sea Watch Resort The 275-room Sea Watch Resort is located in a lower-key area a 20-minute drive from Downtown Myrtle Beach. Its studios and apartments all have full kitchens, as well as separate sleeping and living areas, but the decor is slightly dated, and bathrooms are nothing special. The main draw here is the wonderful beach to which the hotel has direct access, and the six pools (and ten Jacuzzis). The many kid-friendly perks, like the two lazy rivers, the game room, and the children's activities program, make it a solid pick for families.

Sure, it may be a bit cheesy but it sure is entertaining: With venues in spots like Las Vegas, Waikiki, and Atlantic City, Legends in Concert is a cool place to go if you're hoping to see your favorite stars in concert -- for a lot less! The Legends in Myrtle Beach has hosted the likes of "Elton John," "Elvis" (it's a miracle!), and "Lady GaGa." Stay: Prince Resort at the Cherry Grove Pier The Prince Resort is a solid mid-range pick in North Myrtle Beach, not far from the Broadway at the Beach complex. It offers 175 one-, two- and three-bedroom condos with full kitchens, floor-to-ceiling windows, private balconies and sleeper sofas, in two towers right on the beach. The resort features several pools --including a lazy river and a kiddy pool -- a decent oceanfront restaurant, a small fitness center, and miles and miles of beach.

A fun spot for the whole family, Wonderworks' "uspide-down" building will impress the kids before they're even entered the museum. It features "mad scientist" exhibits, a ropes course, lazer-tag, and rides. There's also an on-site cafe with music and outdoor seating. Stay: Myrtle Beach Marriott Resort & Spa at Grande Dunes This 405-room Marriott resort is one of the few four-pearl properties in Myrtle Beach, and it's a good deal more elegant than the typical run-down chains you'll find in the area. With two lovely outdoor pools as well as an indoor one, a nice spa, two solid restaurants, and direct access to a wonderful beach, this property is a solid pick. Rooms have somewhat generic decor, but are comfy and spacious, and have large windows, most with at least partial ocean views. Plus, there's plenty to keep kids entertained, including a fun waterslide, a basketball court, a ping pong table, and a kids' club with lots of activities.

he most visited attraction in South Carolina, Ripley's Aquarium is an 85,000-square-foot complex that boasts not only tons of animals and sea creatures -- such as sharks, sting rays, and penguins -- but also rides, shops and restaurants; you could spend all day here! Stay: Captain's Quarters Resort Captain's Quarters Resort is like many hotels along Ocean Boulevard -- rooms are a bit worn, and the highlights are the beachfront location and the numerous pools (particularly the outdoor children's pool, complete with a pirate ship). The Ikea-esque light wood furniture, bright aqua accent walls, and flat-screen TVs in the rooms add a little modern flair, but the comforters are low-quality, and in the suites, the kitchenettes are dated. The Downtown Myrtle Beach location is convenient, but don't expect tranquility -- the pool area gets packed with kids and partiers.

Myrtle Beach offers a range of deep-sea fishing tours and outings but if you'd rather stay close to shore, plenty of visitors and locals choose to fish from the pier instead -- and get some pretty tasty catches, too! On the Second Avenue Pier, fisherman can purchase day passes and equipment rentals -- and the fishing pier is open 'round the clock during summer weekends. Stay: Westgate Myrtle Beach Oceanfront Resort Within walking distance of the pier, The Westgate is an affordable family-friendly hotel right on the water. While the rooms are a bit on the tacky side -- with clashing patterns and colors throughout -- they are clean and have spacious balconies with great ocean views. There's plenty to keep families with young children entertained, such as multiple pools, a lazy river, a children's activity center, and a large game room.

Of course, Myrtle Beach is home to numerous golf courses -- but if you have a limited amount of time (or kids with limited attention spans), mini-golf can be just as fun -- and definitely a lot less expensive! Myrtle Beach is home to over 25 putt-putt courses, so whether it's sunny or rainy, you'll have a place to swing your club. The Treasure Island course offers fun holes with difficult water obstacles. Stay: Island Vista Resort The 171-room Island Vista is a solid mid-range property located directly on the beach, and just a short drive from numerous mini-golf courses. Suites seem a bit outdated, with tube TVs and peachy floral bedspreads, but they are spacious and offer some great ocean views. In addition to a wide, clean beach, the resort features an attractive indoor/outdoor pool complex with Jacuzzis, a lazy river, and meandering pools.
Follow Oyster on Twitter: www.twitter.com/Oysterhotels