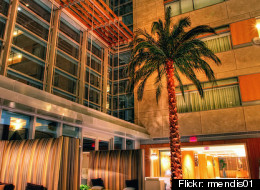 Couples getaways can be great. Unfortunately, they normally involve having your significant other along.
No judgment here: We understand you love her, but a few hours of peace and quiet will allow you to fully soak up your vacation's relaxing benefits. And while we don't have direct experience with handling one of these ladies, we may have been that girl once or twice. So who better than we to give you the low-down on hotels with girlfriend-approved amenities?
Check out our top five hotels for distracting her -- and enjoy the free time you've just earned.
The Top 5 Hotels to Distract Your Girlfriend (or Wife)
The Girlfriend: The Shopaholic Why It'll Distract Her: If your girl is a fashionista (and you'll know, she's probably following NYFW right now), then you're guaranteed some alone time at the Atlantis. The Caribbean resort has over 100 shops; everything from generic gift stores to high-end designer shops like Salvatore Ferragamo and Bvlgari. Alone Time Earned: We'd say at least three hours. If you lend her your credit card for the afternoon, that grants you two more (and probably some debt, too). Use your alone time to win that money back at the elaborate casino and try your hand at a game of blackjack.

The Girlfriend: Directionally Challenged Why It'll Distract Her: The largest resort in Hawaii at 22 acres, the Hilton is a veritable city, with five towers, five pools, 20 bars and restaurants, 90 shops, and a separate lagoon.The crowds can get big and the lines long, which is perfect for slipping away from Ms. Can't Read a Map. You may fight over directions in the car, but this is where your girlfriend's inability to navigate works to your benefit. Meanwhile, she'll be wandering the vast resort looking for you, getting more confused by the second. Alone Time Earned: About an hour and a half. Take advantage of the time and go for a dip or snorkel in the beach's clear, calm waters. Think she'll find you in this crowd? There's no way.

The Girlfriend: Little Miss Stressed Why It'll Distract Her: The Conrad Hotel features a large, beautiful spa on the 24th floor. If your girlfriend likes to be spoiled (or if she's just super-stressed at the thought of you ever leaving her -- hey, she is needy after all), send her off to the spa where she can indulge in everything from massages to "chocolate and champagne" mani/pedis. Alone Time Earned: Depends on the treatment. If you treat her to the basic Swedish massage, it'll give you less than an hour. Splurge on the Spa Day Package, and you'll get a full four and a half hours all to yourself. Fit in a round of tennis with the pro before settling in with a quality read at the rooftop pool.

The Girlfriend: Gold Digger Why It'll Distract Her: People who love money (and the thrill of gambling for it) swarm to Vegas for the casinos. And everyone knows that once you're in one, you could be there for hours. The Venetian casino boasts endless rows of slots machines, marble floors, frescoed ceilings, and a busy room dedicated to poker. Drop your girlfriend off at a blackjack table and who knows when you'll see her next. Alone Time Earned: Indefinite. If she's winning, she'll be on a high and will never want to stop. If she's losing, she'll be desperately trying to win back her money and break even. Use this time to explore the grandeur of the hotel. Take a gondola ride, check out Madame Tussauds, or test your skills on rock-climbing wall; the Venetian is your oyster. [Ed. note: Sorry, we couldn't help ourselves.]

The Girlfriend: Super Fit Why It'll Distract Her: If your girlfriend's the active type, she'll love the Canyon Ranch in Tucsonand will get totally caught up in its many offerings; each day there are over 40 programs, activities, and fitness classes (like yoga and cycling) aimed at helping guests maintain a healthy lifestyle. Guests can enjoy outdoor activities such as tennis, racquetball, and guided hikes as well. Alone Time Earned: Two hours. While she's off on a nature hike (convince her that you won't be able to keep up -- her active side will beat out her needy side and she'll leave you behind), work on your swing at the indoor driving range, test your balance at the super-cool ropes course, or head to the spa -- pampering isn't just for them, guys.
Follow Oyster on Twitter: www.twitter.com/Oysterhotels