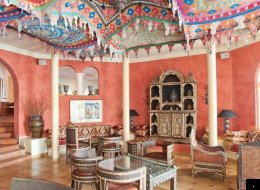 You may have gotten over themed spots after your tenth birthday party, but they're actually great for some old-fashioned adult fun. Hotels across the world have fabulously themed bars that run the gamut from classy to trashy. So we've shuffled through the clutter to find the top 10 hotel bars that, despite (or because) of being themed, are super cool. Check out one of our favorites, Stables Bar in London below, and the rest of the cool, kitschy bars here.
Top Kitschy and Cool Hotel Bars
Why we love it: Located in the luxurious Milestone Hotel -- perhaps the most famous boutique hotel in London, Stables Bar embraces an over-the-top horse theme that only Londoners can truly appreciate or understand. (As you may know, Londoners love their horses almost as much as they love their dogs.) The split-level bar, decorated with rich green tartan quiltin and mahogany-paneled walls, has tons of riders' paraphernalia including horse murals and paintings, bridles, saddles, needle-point horse pillows, and even a somewhat terrifying jockey mannequin. Best of all, the bar has satellite TVs for viewing sporting events and an exclusive list of champagnes and cocktails.

Why we love it: The entire Argonaut Hotel sports a nautical theme and the Blue Mermaid is no different, with mermaid statues, waiters clad in striped shirts, mounted lifesavers and helms, and even rowboats hanging from the ceiling. The bar scene here is more laid-back, with many patrons coming in for the award-winning chowder and seafood rather than the cocktails (although plenty of those are ordered too).

Why we love it: Though the Library Bar at the Hudson Hotel isn't the celeb favorite it once was back when the Hudson Hotel opened in 2000, the Philippe Starck-designed bar remains popular -- especially during the colder months when it's cozy atmosphere (comfy leather sofas, a fireplace, and chess tables) makes for a nice retreat from the chilly winter weather.

Why we love it: The Baie Long Bar La Samanna in St. Martin may have a Moroccan vibe (complete with Moroccan furniture), but the ceiling is enclosed with a beautiful, mutli-colored Indian wedding tent. Guests enjoy pre and post-dinner drinks, including the signature Baie Long Blue made with coconut cream, white rum, Blue Curacao, and pineapple juice.

Why we love it: Housed in a former jailhouse, the cavernous Alibi bar at Liberty Hotel in Boston takes full advantage of its roots; iron-barred doors lead to the sexy bar and the walls are hung with celebrity mug shots (Sinatra, Morrison, and Nolte). You may even spot a celeb yourself; Cameron Diaz and A-Rod shacked up at the hotel when they were still hot and heavy, and the bar is known for being a see-and-be-seen hotspot.
Follow Oyster on Twitter: www.twitter.com/Oysterhotels