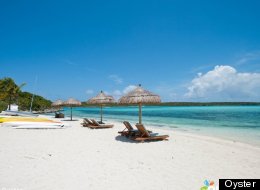 Listen, we know the Bahamas has some amazing resorts and hotels. There are the requisite booze-fueled party fests, casino megaresorts, and value-minded boutiques.
But the Caribbean archipelago has much more to offer than its hotel scene; namely lush national parks ripe for exploration, cultural markets and museums worth checking out, and of course, awesome water sports to dive right into.
Wanna know how to turn your island vacation into an adrenaline-packed trip? Click through our slideshow to find out now!
-- Carolina Pirola, Oyster.com
What to Do and Where to Stay in the Bahamas -- Beyond the Resorts
The Lucayan is a 40-acre stunning national park about 25 miles east of Freeport, in Grand Bahama. Its extensive underwater cave system – which is one of the largest in the world -- lush forests, and nature trails attract hundreds of visitors every year. There are several gorgeous beaches, wonderful trails, and six distinct ecosystems, all of which can be seen in a day. Diving in the caves requires a special permission, so make sure to get one before heading there. Stay: Radisson Grand Lucayan This is arguably the top lodging in Grand Bahama, with immaculate grounds, great beds, myriad dining options, and a beautiful white-sand beach. More good news? It's located a short drive from the National Park's entrance.

While sunbathing is the top activity here year-round, the Bahamas have several outstanding golf courses, most of which boast gorgeous ocean views. There's no mediocre course here, but the 18-hole, par-72 Ocean Club is one of the best and most challenging, with beautiful vistas, a clubhouse, and private instruction available. Stay: One&Only Ocean Club Bringing tranquility to otherwise-crowded Paradise Island, the 105-room Ocean Club's personal butlers, beautiful pools (one for adults, one for families), golf course, restaurant from Jean-Georges, and access to Atlantis' water park, casino, and other attractions make it one of the region's best resorts.

Forget the tacky T-shirts and snow globes – there's lots of great shopping to do in Bahamas, from traditional straw baskets to local arts and crafts. Street markets and impromptu standalone stalls are everywhere, but the most interesting and varied ones can be found in Nassau. Don't miss the Straw Market in the downtown area. Stay: British Colonial Hilton Nassau Hotel A pleasant staff, convenient downtown location, small beach, and recently renovated rooms make this a fine pick for those who want to be within walking distance from Nassau museums and attractions.

Save an afternoon for Nassau's great museums, which range from family-friendly to high-brow art galleries and historic centers. For a cultural break, head to the National Art Gallery of the Bahamas, home to unique paintings, sculptures and photos. If the kids are tagging along, check out the Pirates of Nassau Museum, complete with a replica of the pirates ship "Revenge". Stay: Sheraton Nassau Beach Resort The Sheraton Nassau Beach Resort is located right on one of the finest beaches in Nassau, within a short drive of the downtown attractions. It boasts stylish, modern rooms; beautiful grounds; three great pools, and a top-notch gym, as well as friendly and cheerful staff.

There's few times in life when one can experience something as fun and surprising as swimming with dolphins. Whether it's out at sea or in an aquarium, these marine mammals are friendly and cheerful, and it's perfectly safe to interact with them. Grab your wet suit and dive right in! Stay: Atlantis Paradise Island Resort Stunning architecture, an exceptional water park, a famous casino, three beaches, 11 otherworldly pools, and 21 superb restaurants make the 4,000-room Atlantis a study in conspicuous consumption. No other resort, anywhere in the Caribbean, can compete with its dining or attractions, one of which is its famous Dolphin Cay.

That the Bahamas are a beach destination doesn't mean there can't be a little adventure in the mix. Flying high above on a trapeze is a safe, unique and addictive activity for the whole family, and something you don't get to do every day, so leave your fears in at home, put your abs to work, at get ready for some fun. Tip: You can skip your morning workout -- this is a complete fitness activity. Stay: Viva Wyndham Fortuna Beach-An All Inclusive Resort Viva Wyndham is an affordable option that's about a 10-minute drive outside the restaurants and attractions in Freeport and Lucaya. The service, cleanliness, food, pool, and guest rooms could all be better, but it's a decent budget option. There are free trapeze lessons with knowledgeable instructors, and spotters available for 2-hour periods designated for children and adults.

Though the Bahamas were granted independence from Great Britain in 1973, there are still tons of beautiful, well-preserved Colonial-style buildings throughout the islands. It takes some effort to leave the hammock on the beach, but there are so many great examples of this style – from churches, to government buildings, to private homes – that they're hard to miss. Stay: Riu Palace Paradise Island All-Inclusive The Riu is a solid all-inclusive option on Paradise Island. It offers a spectacular beach, up-to-date rooms, proximity to upscale restaurants and attractions, plus unlimited food and booze. The resort is just a short drive from downtown Nassau, home to tons of beautiful Colonial structures.

It doesn't get much better than this -- coral reefs, hundreds of different types of fish, and dramatic walls are standard in The Bahamas. There are dozens of travel agents offering all kinds of day trip, so it's easy to find the best one for you. Stay: Old Bahama Bay Resort & Yacht Harbour A small, isolated, time-share-style hotel with big, beautiful suites, a marina, a friendly staff that zips around on golf carts, and managers that greet returning guests like family -- Old Bahama Bay feels more yacht club than resort. While it's not close to many attractions, it does offer a wonderful private cove dive center.

The Bahamas are a popular beach destination, and can get pretty crowded during peak season. However, it's still possible to find emptier stretches of sand, where all you can hear is the waves lapping against the fine, sugary sand. This sometimes means paying extra to stay in a luxury resort, but it's totally worth it if you need some serious R&R. Stay: Fowl Cay Resort Crowded beaches are unheard of on this private island resort where a maximum of 28 guests at a time have free range of 50 acres and three beaches. Personal boats for daily excursions, on-call service, spacious villas with fully stocked kitchens and wet bars, and a host of all-inclusive activities make Fowl Cay a standout gem in the Exumas.
Follow Oyster on Twitter: www.twitter.com/Oysterhotels