Governor Schwarzenegger is "determined to terminate global warming," so stated the Chairman of the New Majority's California Energy Committee, Hadi Makarechian, when he introduced the Governor at last week's Energy Alternatives conference sponsored by the Milken Institute, Southern California Edison, UCI and the New Majority.
The Governor has set lofty goals for California in this arena. "Let's become a model for energy independence for the rest of the world," he said. "California has the power, the innovation and the will to become the first state in the nation to achieve energy independence while fighting global warming."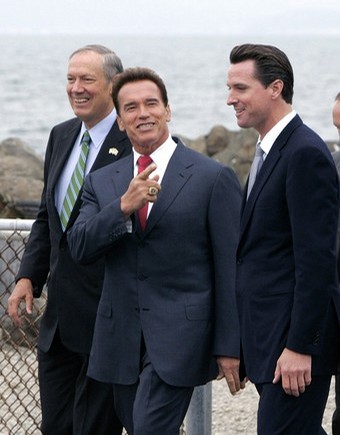 The Governor says he knows how to bring both parties together, and reminded the crowd of more than 400 scientists, business executives and political leaders at the Newport Beach conference that he, in fact, married a Democrat. He joked that a "solar-powered electric chair" would be an example of such cooperative bipartisanship.
The Governor talked about an "electric power revolution" and touted his Million Solar Roofs Plan which he signed into law in 2006. This plan, implemented in conjunction with So. Cal Edison, generates electricity via the solar panels that can plug right into the existing grid and will provide 3,000 megawatts of additional clean energy and reduce the output of greenhouse gases by three million tons. That's the equivalent of taking one million cars off the road.
There's also an organization called Republicans for Environmental Protection who were strong advocates for the Energy Independence and Security Act which President Bush signed into law last December. Part of this bill is known as the 2030 Challenge which California has taken to heart in that we are charging to become the first state in the union to require all new buildings and renovations to be carbon-neutral by 2030.
When you realize that the U.S. building sector is responsible for 76% of national eclectricity consumption and about 10% of worldwide greenhouse gases - the rough equivalent of emissions from all sectors in France, Japan, Canada and Great Britain combined - that's huge.
The Governor assigned "A mission to all of you: Think about the future. I'm talking about the next decade, the next two to three decades. Look at the long-term profitability, the long-term return." His Global Warming Solutions Act of 2006 (AB 32) will reduce carbon emissions in California to 1990 levels by the year 2020 and the Governor has called for the state to reduce carbon emissions to 80% below 1990 levels by the year 2050.
Echoing these sentiments of long-term thinking was G. Chris Andersen, Founder and Partner of G.C. Andersen Partners LLC, who advised, "Focus your investment portfolio on the high-growth opportunity which is alternative energy." He also said that we have to have a longer focal point on the Cap and Trade system. Andersen cited acid rain as an example of how successful the market can be at regulating polluting emissions. Once sulfur emissions were traded on the Chicago Mercantile Market, there was a decrease in acid rain until the point where we're at now, which is that "we don't hear about acid rain anymore," said Andersen.
Wondering how this Cap and Trade system works? It's like this: We set an economy-wide limit on emissions which is the "cap." Then we let companies and industries buy and sell a limited number of permits to pollute - which is the "trade." It is assumed that the free market will then determine pollution's "cost." READ MORE HERE
Andersen emphasized that if this Cap and Trade system is to work beneficially and efficiently, we have to set longer - such as a decade or two - cap standards. For example, he said, who back in the 80s would have ever predicted oil would be at $125 a barrel?!
Joseph Pettus of Safeway Inc pointed out that they are the nation's only grocer to be a signatory member of the Chicago Climate Exchange, a legally binding agreement. This earns them, he emphasized, the moniker of the Greenest Grocer in the U.S. "We know exactly what our carbon footprint is. By 2010 our footprint will be 6% less than it was in 2000," he stated. This is by no means insignificant. Safeway is the largest commercial consumer of electricty in the state of California.
John E. Bryson, Chairman and Chief Executive Officer, Edison International, said that "California's per capita use of energy is flat. It's about the same as it was in the 70s. Per capita use in the rest of the U.S. is up about 40%."
Dr. Ronald E. Stoltz, Manager, California Energy Liaison Office, Sandia National Laboratories, said that "regional solutions are both relevant and important. There is no one-size-fits-all solution," to the energy independence, carbon emissions and global warming equation. He also emphasized that we will be hearing a lot more about the Energy-Water Nexus in the near future. That is, it takes a lot of water to process energy production and it takes a lot of energy to transport water.
Anne Korin, Co-Director, Institute for the Analysis of Global Security , said that it's imperative the government supports the Open Fuel Standard and the Plug-In Hybrid Tax Credit. She referenced the International Energy Association when she quoted, "if we don't reduce our strategic reliance on oil, the world's economic wellbeing will be in the hands of 4 or 5 countries in the Middle East." She pointed out that 90% of new cars sold in Brazil this year are flex-fuel automobiles. Incidentally, on the IAGS website, they quote a Chinese proverb above their vision statment: If we don't change our course we'll end up where we're headed.
"Open Fuel Standard" requires that new cars sold in the U.S. are flex fuel vehicles capable of running on gasoline, ethanol, and methanol. This feature "adds just $100 to the cost of a car and provides a platform on which fuels can compete, thus breaking oil's monopoly in the transportation sector," explained Korin.
Governor Schwarzenegger has this to say on vehicle fuel emissions: "California has a long and proud history of leadership in reducing pollution and fighting for clean air. Our citizens place a high priority on good health and a clean environment, and we are ready to implement the nation's cleanest standards for vehicle emissions. It has been nearly two years since we requested the waiver and, now, sixteen other states are following our lead to reduce our dependence on foreign oil, increase fuel efficiency and help reduce harmful greenhouse gases. "
The "waiver?" What he's referring to is this: Under the Federal Clean Air Act, California has the right to set its own tougher-than-federal vehicle emission standards, as long as it obtains a waiver from the USEPA. Over the past 30 years the USEPA has granted California more than 40 such waivers, denying none.
However, when Bush signed the Energy Independence and Security Act into law last December, he denied California its tailpipe emissions waiver. The Governor responded by filing a lawsuit against the USEPA for failing to act and said that he would appeal the decision and pursue every legal opportunity to obtain the waiver.
And what about nuclear energy? When asked if nuclear energy is a viable alternative, from a security standpoint, Anne Korin said, "Absolutely. But remember that we essentially don't use oil to generate electricity, so nuclear is not relevant to the oil dependence question."
Korin also chairs the Set America Free Coalition.
A Green Arnold - so, does that make him, like, the Incredible Hulk?
Follow Paige Donner on Twitter: www.twitter.com/greeninghollywd