TotSpot is a new social networking site for parents and their kids to post family pictures and information online. Hollywood moms and dads, including a few familiar faces, turned out with their tikes for its recent launch hosted at TreeHouse Social Club, benefiting Generation Rescue.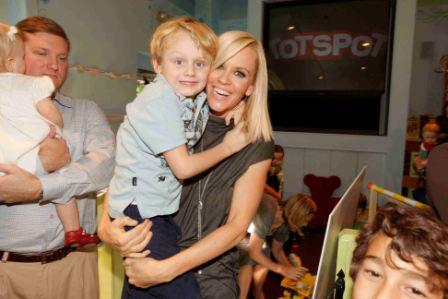 Jenny McCarthy and Son
Greening Hollywood: Can you tell us a bit about Generation Rescue?
Jenny McCarthy: Generation Rescue is a parent-run organization that helps and has helped many, many moms and dads these past 10 years recover their children from autism. There are thousands of them through Generation Rescue that are getting their kids better. We basically teach moms and dads about diet, about detox and that's how [their kids] get better.
GH: Did Sarah Palin's youngest child raise some awareness for our nation on autism?
Jenny McCarthy: It raised awareness in that I got to know her better. But she didn't really sell me on things that she'd be able to do. She didn't say, 'Hey, everyone! Autism isn't covered by insurance so I'm going to make that happen.' There weren't any particular points that made me jot them down other than, 'Hey other mom with a special needs kid...' There wasn't enough ammo there.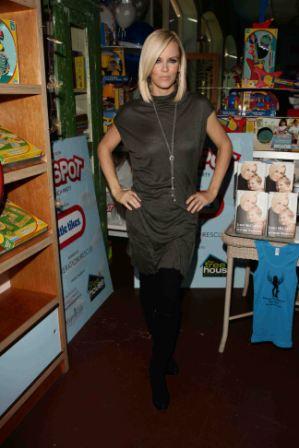 Generation Rescue is an international movement of scientists, physicians and parent-volunteers researching the causes and treatments for autism and mentoring thousands of families in recovering their children from autism. www.generationrescue.org
McCarthy wrote a book called Mother Warriors that chronicles her experience with her child's autism and the cure she found.
GH: How can you fit being green into a busy "mommy" schedule?
Jenny McCarthy: The one thing you can do is just switch your grocery store. If you went to Whole Foods, 75% of your choices are going to be green, because you're going to be buying organic, you're going to be buying non-toxic cleaning products there which I'm a firm believer of...
People say to me, 'Well, it costs extra. We can't really afford it.' But I say yeah, well, it's amazing how you're able to afford your Starbuck's every day, and all these other extras that if you just managed your budget you would absolutely be able to shop at Whole Foods and become a Green Mom.
GH: Is there room in Hollywood for a Green Mom Coalition?
Jenny McCarthy: There is. The way it will happen and the way it is happening is through our kids becoming ill. Women are much more ready to change the world for their children than they are for themselves. So this generation of Moms who have kids with ADD, ADHD, Autism, Asperger's... have much more of an inkling to be green and make the world a safer place.
I think that Green Moms, let's call it The Green Momfia, is definitely the moms who have suffered with sick kids.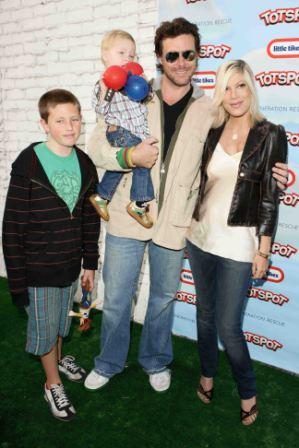 Tori Spelling shares her take on TotSpot
"Being a mother of two, the internet is very important to me. I'm always online doing research, trying to find other moms that I can be friends with and activities for my kids so I think creating something like TotSpot online is a very useful thing for moms and kids.

I know I depend on other moms to tell me the new thing they've found, the new place to go. If we can all exchange information that would be really cool."
Joely Fisher is mother to a 3 year old and a 2 month old and is also part-owner, along with Jeannine Chanin and Tricia Leigh-Fisher, of The TreeHouse Social Club on Robertson Boulevard. Joely enjoys her green lifestyle.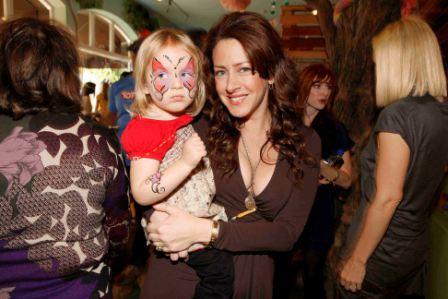 Joely Fisher and Baby
"I had the great pleasure of driving for a month the hydrogen BMW. They're not available now but they could be at a moment's notice if we just realized that there are other fuel sources."
Greening Hollywood: How can you work "green" into a busy mom's schedule? Is it a lot of extra effort?
Joely Fisher: You make habits bad or good. I bought these amazing flashcards made by a company called Eeboo. They teach kids about recycling and turning the lights off and unplugging things... everything you can imagine for the kids to start off on the right path. I'm hyper-conscious of that.
The flashcards are full of pictures, they're very child-like and bright. I think they are age-appropriate for kids as soon as they can formulate a word in their mouth.
GH: Is there room here in Hollywood for a Green Mom's Coalition?
JF:That would be an amazing thing. If you start their little lives off on the good path, then you're going to create amazing humans, so why not?
Adam Katz and Michael Broukhim are the founders of TotSpots, "a social networking site for families to connect and share"
Both entrepreneurs are under 30, are Harvard grads and neither have kids. So how did they end up focusing on tiny tots?
Katz explained, "We're both part of extended families that are a little bit scattered so one of the things that we wanted to do as cousins and uncles is to build something that connected us to our families. It's a vehicle for families to stay in touch with each other and share memories. We realized that within families, the most important things are the kids so that's why we built TotSpot. It's built around the kids about the kids and it's a great way for parents to share memories about their children. It gives all the family members that might be at family events such as birthdays, holidays...who are taking pictures, a way to contribute and share."
Broukhim said,"We created TotSpot.com as a private online scrapbook, TotSpot profiles contain photos, videos, milestones, favorites, and growth charts that can only be seen by invited family and friends."
"The TreeHouse Social Club, which is a great LA organization," chimed in Katz, "put us in touch with Generation Rescue who is the charity we partnered with for our launch party today. It's a place for parents to bring their kids, hang out and engage with them in a bunch of different activities."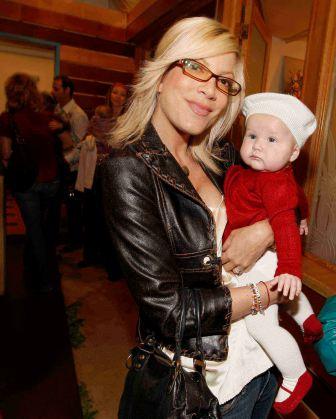 Josh Berman, co-founder of MySpace, brought his triplets to the launch and said that Mike and Adam have worked into the site extremely good encryption to ensure privacy and security of the site and any profiles parents may set up for their kids. He said he is not incubating TotSpot per se, but rather still in the investigating stages of the social networking site.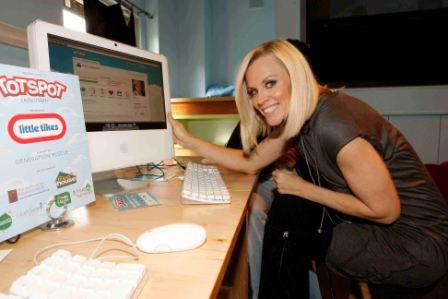 FOLLOW HUFFPOST