Eco Luxury (What IS that?)
d. As awareness of the natural resource crisis rises, the old ideal of conspicuous consumption loses traction. In the new era of contemplated ownership, people strive to buy less while expecting more quality and meaning in the items they do purchase.
That's one definition, anyway. Here are some recommendations from yours truly, Greening Hollywood. And remember, December 18th is No Bag Day. So, do all your holiday shopping on the 18th and bring your own (organic cloth) shopping bags!
EcoGift Expo being held in Santa Monica December 12-14th.
Kiva
Kiva's mission is to connect people through micro-lending to entrepreneurs worldwide for the sake of alleviating poverty. Kiva is the world's first person-to-person micro-lending website, empowering individuals to lend directly to individual entrepreneurs in the developing world.
The people you see on Kiva's site are real individuals. When you make a loan, you are helping a real person make great strides towards economic independence and improve life for themselves, their family, and their community. Also check out MicroPlace.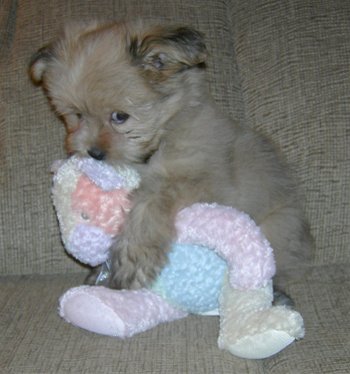 Used Pets All makes, All models What's better, or more organic, than a new (furry) friend?!
Dirty Dog Organics
An eco-friendly pet care line, Dirty Dog Organics includes a pet wash and fur freshener, rich in essential oils, organic ingredients and ph balanced to help combat pet dander. The products were formulated using strictly natural ingredients and are free of parabens, sulfates and phthalates and come in recyclable packaging.
Membership at Grammy Museum, Los Angeles
Starts at $40 per year. Includes shows, lectures, advance notice ticket reservations.
TreePeople's Gift of Life
Offer to dedicated a tree this holiday season. Gift certificates available at TreePeople.org.
Elizabeth Rickard (Designer): We spent two years researching sustainable materials within the shoe and handbag industry. We looked at vegan products, biodegradable corn based soles, natural rubber, natural woven materials, all of which we thought could be a better alternative to leather.

Synthetics were a huge no for us because of the amount of chemicals and oil they are made from. However it always felt as though we were ignoring the problem at large. And it is large... The luxury leather goods industry exceeds billions of dollars worldwide, and it is an industry that we cannot ignore. Instead we looked at how we could find a solution. Leather is, after all, a natural material...

The industrial processes involved in treating leather are incredibly harmful to the environment. In particular the use of the heavy metal CHROME, which is used to tan the hides. It is highly toxic and the waste ends up in our waterways .

The leather we found and use is treated using Rhubarb, Oak and Tara seed pods. And all ingredients used in the dying process are sustainably harvested. The supplier uses the citric acid from the rhubarb for detergents and composts the remainder. Plus the Tara pods can be used as sore throat medicine. They also only use lime and natural enzymes to strip hides of their hair. No heavy metals, NO CHROME and no off gassing has been used in treating the leather.
Also Check out Tom's Shoes - Donates one pair of shoes for every pair purchased.
Hamadi EcoPac by Hamadi Beauty
All natural hair care products created by celebrity stylist Jamal Hammadi made with 100% organic essential oils and plant extracts. The Eco-Pac includes choice of 2 oz. Hair Wash (either Honey Soymilk Hair Wash or Ginger Soymilk Hair Wash), plus one 2 oz. Shea Rice Milk Conditioner and one 2 oz. Healing Serum. Travel friendly packaging includes a natural weave bag that doubles as a soft body cloth.
TrioBike Soleil Moon Frye: I want to try the Trio Bike. I've seen it cruising around Santa Monica and all over. I would like to have them in my store, The Little Seed, which is on Larchmont in L.A.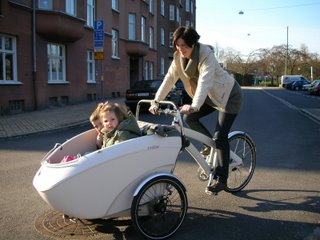 The trioBike has 5 point safety belts for the children, disc brakes, integrated front- and rear lights, fireproof hood and seats, that also have been tested for heavy metals. The trioBike pushchair has been developed and tested in close cooperation with the Danish National Consumer Agency. The trioBike. claim the manufacturers, is the safest carrier bike children can ride in.
TrioBike seats and backrests are soft and comfortable. They are made of rugged, hard-wearing material that is easily cleaned and doesn't fade. The seats and backrests can easily be removed and mounted again.
The trioBike hood is manufactured in a rugged, water- and wind resistant material. It has a large window in front, so the children can look out. And a smaller window in back, so you can look in.The hood has been treated, so it wont mold or fade in color.
The Green Garmento is for people who dryclean. Take your shirts and other drycleaning in this eco-friendly bag so as to cut down on plastic bag usage.
Ethical Jewelry, No Dirty Gold Eco-Gold and Eco-Silver is recycled gold and silver that has been re-purified and re-alloyed for use.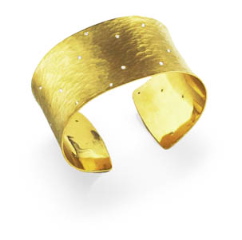 In 2004, jewelry designer and goldsmith of over 30 years, Toby Pomeroy, became aware of the social and environmental damage associated with precious-metal mining. A staunch environmentalist and supporter of every person's right to thrive, this knowledge meant he could no longer make jewelry as he always had.
In searching for a solution, he became the first designer to ask Hoover & Strong, the nation's largest gold refiner and supplier, to provide him exclusively with reclaimed and recycled metals. (In ensuing years, the sale of reclaimed metals has become the largest segment of Hoover & Strong's business and is now independently branded under the name "Harmony Metals").

He is also active in efforts to raise retailer and consumer awareness of devastating mining practices and to support overall industry reform. He works with non-profit organizations such as Ethical Metalsmiths, Earthworks, Oxfam, No Dirty Gold and The Madison Dialogue. Read More Here
A fashion and values statement, Toby Pomeroy Fine Jewelry has quietly developed a following of stylish, authentic women including celebrities such as Cameron Diaz, Molly Simms, Kelly Ripa, Sarah Michelle Geller, Marg Helgenberger and Ana Maria Conseco.
Toby Pomeroy was a sponsor of and participant in the world's first ethical jewelry summit (organized by the Madison Dialogue ) at the World Bank in Washington DC on October 24th and 25th. In addition, he has committed to giving 2% of gross sales of all Toby Pomeroy Jewelry to Earthworks, one of the key non-profits spearheading the ethical jewelry movement.
SUBSCRIBE AND FOLLOW
Get top stories and blog posts emailed to me each day. Newsletters may offer personalized content or advertisements.
Learn more