California's Governor Arnold Schwarzenegger trekked up to the rooftop of the STAPLES Center to commemorate the final solar panel installation of the total 1,727 photovoltaic solar panels that now grace the roof of the Laker's home court venue.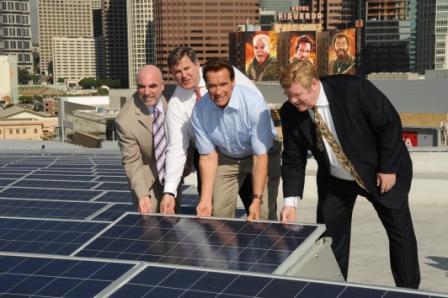 Lee Zeidman, STAPLES Center General Manager; Timothy J. Leiweke, AEG President and CEO; Governor Schwarzenegger; Steve Kircher, CEO of Solar Power, Inc.
"Everyone these days talks about some states that are red, other states that are blue, we here in California are more interested in building a green state. That is what this is all about here today," he said, and joked, "The outcome of the Celtics and Lakers would have been different if we had these solar panels two years ago!"
AEG and Solar Power Inc. worked together to install the photovoltaic panels on the Staples Center rooftop which will provide significant environmental benefits and is part of AEG's overall sustainability initiative. The 345.6 kilowatt system will provide environmental offsets over the next 25 years which include the elimination of over 10,000 tons of CO2, 27-plus tons of sulfur dioxide and over 33 tons of nitrous oxide, a principal greenhouse gas. The net clean energy benefits of the system equates to the environmental benefits of 170 acres of mature trees.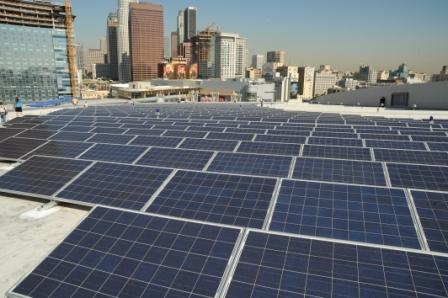 A view of some of the over 1,700 Solar Panels recently installed atop STAPLES Center's roof.
AEG is the world's largest presenter of live sports and entertainment events; They own and/or control twelve sports franchises. They are also currently developing entertainment districts such as L.A. Live, London's O2 and adjacent to The O2 World Arena in Berlin.
LADWP, Mayor Villaraigosa's office and LA City Council are working closely together and also with large stakeholders such as AEG to facilitate this implementation of solar generated power for our city. The Green Energy-Good Jobs Initiative was recently introduced which, when fully implemented, would produce 400 megawatts of solar power, roughly 3 percent of the total power generated by the Los Angeles Department of Water and Power (LADWP). That's the equivalent of removing 400,000 tons of greenhouse gas emissions from L.A. air and would provide power to more than 100,000 LADWP customers.
"Los Angeles has long been envied for our sunny weather, and now we are taking the first step toward an aggressive plan to put that sun to work for us creating clean energy and good jobs," said Eric Garcetti, LA City Council President. Sponsored by Working Californians, the Green Energy-Good Jobs Initiative is one component of LADWP's effort to reduce its dependence on coal-based power. L.A.'s goal as a city is to create 20 percent of our power from renewable energy sources.
The new investment tax credit (ITC) signed into federal law on October 3rd, has everyone in the industry excited. The new ITC eliminates a $2,000 cap on the residential incentive which comes into effect in January. So homeowners who wait until January can save $9,000 instead of $2,000 on a $30,000 system. The $18 billion tax incentives package extends the 30-percent solar tax credit for eight years for residential and commercial installations and allows power companies to benefit from the credit for the first time.
"I can't tell you how exciting it is to be part of one of the most important global movements that impacts society in our lifetime," said Steve Kircher, CEO of Solar Power Inc. and added, "Homeowners are now able to finance their solar systems directly through their property tax." Solar Power Inc. supplies the pv solar panels and offers easy installation with their proprietary SkyMount (TM) mounting system. Indeed, the Governor simply snapped the last panel into place atop the Staples Center rooftop.
The perception of solar energy as an expensive form of renewable energy is no longer valid. The Governor had the following to say on the topic of affordability:
"With our Million Solar Roofs Plan, people, homeowners, get a tax incentive which is around $5000 which is really helpful. And people will find out very quickly that by installing solar you will bring down the costs of energy and this will pay back the investment very quickly. So you will actually get your energy much more cheaply.

The question really is how do we produce solar panels and solar technology cheaper? And that's the same thing as it was with cell phones. That the more you produce, the cheaper they will get, and the more they will be affordable. We see already the costs coming down, and this is why it was important to me to challenge businesses like for instance, here, the STAPLES Center, or the State University system, the prisons, the hospitals, also SoCal Edison, to make deals with landlords of the various different warehouses and big buildings, government buildings, to really blanket the roofs of these buildings with solar panels.

The more solar panels we have to produce, the cheaper they will become, the costs will come down and the more affordable they will then be for everybody. So it is like the cell phone. It used to cost $1500 for a cell phone and now they're down to $50. That's the idea.

I'm proud of California. I'm proud of the model we have created for the rest of the world. Go STAPLES Center and Go Lakers!" concluded Governor Schwarzenegger.
"Today's installation is another example of AEG's commitment to investing in energy saving technologies and measures for all of our venues worldwide," said Timothy J. Leiweke, President and CEO of AEG.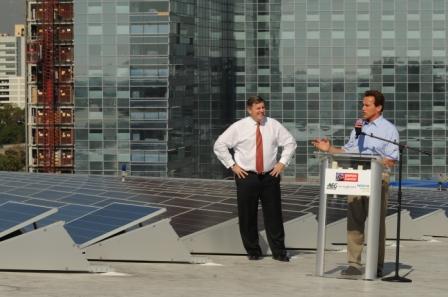 Timothy J. Leiweke, AEG President and CEO; Governor Schwarzenegger.
"We're going to continue to be in the forefront of this industry and we're going to continue to look for ways to make our facilities green not only in this city but the rest of the state and all the other AEG facilities we're involved with," said Lee Zeidman, General Manager of STAPLES Center and Nokia Theater L.A. Live.
Eric Hafter, President of Solar Power, Inc. says that solar is open to everyone now.
"The savings off of your energy bill will be greater than the cost of the system with full financing. It's open to everyone now. If you have good exposure for your rooftop, then you could have a solar system in and literally lower your costs from day one and never put money out. So the perception of solar as super expensive, we're well past that. The system is completely economic. This system is absolutely an economic choice," he said.
SolarCity, the largest U.S. residential installer claims that their installed costs for their photovoltaic solar systems are between 14 cents and 25 cents per kilowatt hour, including government subsidies. Their solar modules are supplied by First Solar. For Southern Californians especially, a system that turns sunlight into electricity makes perfect solar sense.
According to an economic study released last week by the University of California at Berkeley and Next 10, California's green policies will create as many as 403,000 jobs in the next 12 years and household incomes will increase by $48 billion.
FOLLOW HUFFPOST