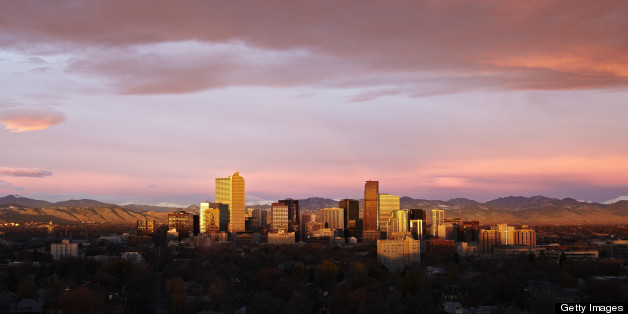 In my continuing quest to find the unique, the one-off, the rare, I visited Denver, Colorado which, I'm happy to report, is a veritable repository of such specimens. Not only is Denver the first city in the history of modern civilization to turn down an Olympic bid, but the former mayor, John Hickenlooper (now governor of Colorado), started the city's first craft brewery that gives out a much-coveted award for "Beer Drinker of the Year."
What follows are top the five things you will only find in Denver:

1. A museum for an artist who never lived in Denver or for, all we know, never even visited Denver. Clyfford Still, regarded in the art world as one of the most significant and influential artists of the 20th century, fled the art world in the 1950's at the height of his fame. He cut off all ties with Mark Rothko, Willem de Kooning, Jackson Pollock and other Abstract Expressionists, told Peggy Guggenheim to go to hell and communicated mainly through vitriolic letters, spouting his desire "to get out of the orbit of their devices and leeching ambitions."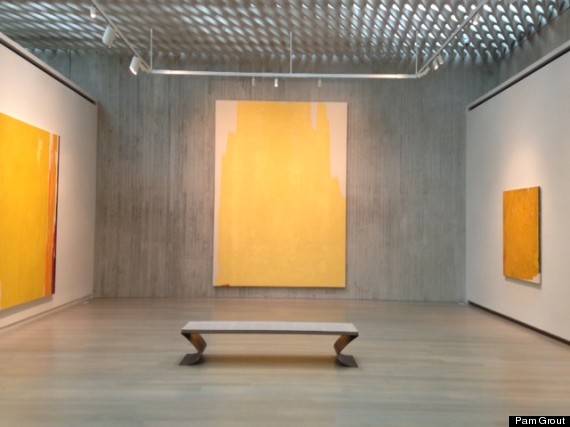 When he died in 1980, he left a one-page will bequeathing his giant body of work, most of which had never been seen, to the American city that would build a museum to showcase his work. Several dozen cities vied for the honor, but it wasn't until 2004 when that same beer-awarding mayor flew to Maryland and convinced Still's widow Patricia that Denver, a city with no ties whatsoever to the finicky artist, was up for the task of properly displaying his creative output. In return, Denver became the executors of some 2400 pieces, more than 94 percent of his body of work, created between 1920 and 1980. As British art historian David Anfam said when given the task of joining newly-appointed museum director Dean Sobel at perusing the as-yet-unseen collection, "I feel like the archaeologist Howard Carter about to enter Tutankhamen's tomb."
To give you an idea of how important this reclusive artist was and still is, four of his pieces (from his wife's collection, not in the collection protected in that one-page will) sold for $114 million in November 2011.
2. A clothing designer favored by rock stars. Whether you're familiar with Rockmount Ranch Wear or not, you've undoubtedly seen it many times. Paul McCartney, when he hosted Saturday Night Live, wore not one, but two different Rockmount shirts. Heather Ledger and Jake Gyllenhaal (and indeed most of the entire cast) donned Rockmount's snap-button shirts in Ang Lee's Oscar-winning Brokeback Mountain. In fact, the shirts worn by Ennis Del Mar and Jack Twist were bought in a charity auction for $101,000 and now reside, entwined together for eternity, in L.A.'s National Autry Center, a museum devoted to Gene Autrey and all things western.
Ronald Reagan, Elvis, Miley Cyrus, Robert Redford, Matthew McConaughey, Tom Hanks and just about every honoree in the Rock and Roll Hall of Fame wear or have worn (sorry Elvis) the shirts that Papa Jack Weil started making back in 1946. He served as CEO of the company and showed up every day, sitting at a wooden desk near the entrance of the five-story red brick warehouse in Denver's Lower Downtown (LoDo), until he died in 2008 at 107. He said he owed his longevity to the wisdom of quitting smoking at 60, giving up drinking at 90 (except, of course, for twice-weekly medicinal shot of Jack Daniels) and losing the red meat at 100.
He told his grandson, Steven Weil, who now runs the store and the Rockmount brand (It's short for Rocky Mountains, in case you're wondering) that he got up every morning, read the obits and if his name wasn't in there, he'd get dressed and go to work.
Papa Jack more or less invented the Western shirt. Or at least the first with snaps. Still in production today, these slim-fitting shirts (Papa Jack claimed they were less likely to get snagged on cactus or sagebrush) with the signature sawtooth pockets, yoke and shotgun cuffs are so much a part of the aura of the West that samples reside in the permanent collection at the Smithsonian.
At the historic store in LoDo (1626 Wazee) where the company has been making shirts for 65 years, there's a small upstairs museum with saddles, quilts, cowboy lunchboxes, photographs, three generations of shirts and a couple "Jack A. Weil Boulevard" street signs from the city's annual acknowledgement of the founder's birthday.

3. The world's quirkiest bathrooms. I haven't taken an exhaustive survey of Denver's potty rooms, but judging from the few I sampled, the Mile High City definitely takes the gold for this honor. My first inkling of this unique designation was at the Denver Art Museum. The sinks on Level One of the North Building blare out "Row, Row, Row Your Boat" when you wash your hands. In fact, if you place your hand under all five of the "Singing Sinks," as they're called, you hear the popular round in harmony. And then in the Ladies Room at Root Down Denver, I found eight or nine bathroom scales, only they were hanging on the wall next to the sink that's attached to the top of the toilet. And at the Oxford Hotel, a historic boutique hotel in LoDo, the men's john has the same marble as "The Tomb of the Unknown Soldier."
4. A restaurant started by a pal of Sitting Bull, Buffalo Bill and Teddy Roosevelt. The Buckhorn Exchange opened in 1893 at the behest of Shorty Zietz, a 4'10' scout of Buffalo Bill Cody who spoke four Indian dialects. As much a museum of the Wild West as a restaurant, this eatery at 10th and Osage features 575 animal trophies, most of which were shot by Shorty and his son, 125 antique firearms, presidential stationery, a petrified buffalo chip and the military saber Chief Red Cloud, Sitting Bull's protégé, snatched from General Custer at the Battle of Little Bighorn.
5. A city-owned ski resort AND rock arena. Okay, so a few other towns own their own ski resorts. Juneau, Alaska and a couple town in Minnesota, to name a few. But the city of Denver not only owns a world-class ski resort (Winter Park), but it owns Red Rocks Ampitheatre which is one of the world's most famous outdoor music arenas. Indeed, people come from all over the world to see the natural ampitheater that has hosted everyone from the Beatles (in their only U.S. concert not to be sold out) to U2 to Macklemore.
This Blogger's Books and Other Items from...
SUBSCRIBE TO & FOLLOW LIFESTYLE
HuffPost Lifestyle is a daily newsletter that will make you happier and healthier — one email at a time. Learn more