Perfect, manicured lawns suck.
Literally. They soak up 270 billion gallons of water a week and burn 800 million gallons of (mower) gas every year. And don't get me started on all the pesticides and chemical-based fertilizers these continuously needy front yards demand from us.
Which is one reason I visited Rosemary Beach, Florida last week. It's one of 14 experimental communities along the 26 miles of Florida's South Walton Beach and unlike most American towns, Rosemary Beach doesn't allow front yards. The houses and carriage house studios are grouped together like a Tuscan village with xeriscaped native plants providing the greenery. The only lawns in town are public because, after all, locals deserve a place to picnic and throw weddings and play bocce ball.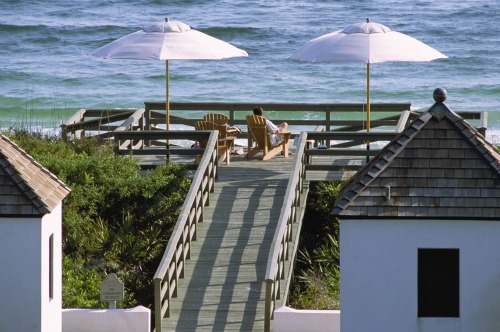 And if that wasn't enough to titillate my green-beating heart, cars are superfluous in this carefully-cultivated beachside community. Everything a person could ever need is within walking distance: a beach with sand as white as Jimmy Carter's hair, a coffee shop serving free trade, locally-roasted coffee, a sizable list of really good restaurants (one even serves chocolate-covered bacon), a tennis club, art galleries and, best of all, like-minded people who realize there are better things to do with a vacation than be scolded by a GPS to "make the next right turn."
Rosemary Beach was designed by the architects who pioneered Seaside, the planned community parodied in "The Truman Show." And like that first development that ended up on the cover of Atlantic Monthly and sparked a whole new movement, Rosemary Beach is an experiment in what's known as New Urbanism. The idea behind this design movement is to tame suburban sprawl.
Rosemary Beach's West Indies-style homes, ranging from 450 to 6000-square feet, are linked together by footpaths, secret walkways and boardwalks. Eight walkovers protecting coastal dunes lead to a gorgeous gulf beach where kids build sandcastles and old men throw fishing lines out into the emerald surf. One early morning run, I came nose to beak with a different kind of beach fisherman: a bald eagle scanning the horizon for a breakfast mullet.
Proponents of New Urbanism tout the "ice cream social" atmosphere. The test of a town's success, they say, is whether or not an eight-year-old can ride his bike downtown for a popsicle. In Rosemary Beach, it's not just eight-year-olds riding bikes. From my own cruiser, an old-fashioned, padded-seat townie available for rent at Bamboo Bicycle Company, I waved to kids of all ages biking to Town Square to enjoy the weekend Harvest Market. Other weekends, they might have been biking to a wine and cheese party or an outdoor Christmas eve service. Another group, in town for a wedding, biked to Solace Day Spa for facials.
My favorite Rosemary Beach store is Pish Posh Patchouli's, an apothecary boutique that makes custom scents and carries such hard-to-find bath and beauty products at Tade, Lip Fusion, Kiss Me Mascara and Judy Perfekt. It also sells local soaps by Celeste Cobena, AKA The Soap Pedaler. Yes, she delivers her ware (my fave is her "A Day at the Beach") by bike.
As for the popsicles, Rosemary's culinary fare leans more towards gourmet, from Cowgirl Kitchen's breakfast tacos and twisted lemonade to Restaurant Paradis' diver scallops, seared and served with wild mushrooms, sweet pea risotto and carrot buerre blanc. The other thing I adore about Restaurant Paradis (besides the wait staff's killer Halloween costumes) is it sells locally-grown produce, uses compostable carry-out containers and produces its own sparkling and still waters served in--what else?--reusable blue glass bottles.
At last count, Rosemary Beach had about 200 permanent residents. The other 700 or so residences in the 107-acre community are second homes (okay, so no town's perfect) available to be rented out to vacationers like me interested in "test walking" the leisurely beach lifestyle.
Located on the Florida panhandle between Destin and Panama City, Rosemary Beach is just 20 minutes from the new Northwest Florida Beaches International Airport, the first LEED certified airport terminal.
This Blogger's Books and Other Items from...
SUBSCRIBE TO & FOLLOW LIFESTYLE
HuffPost Lifestyle is a daily newsletter that will make you happier and healthier — one email at a time. Learn more