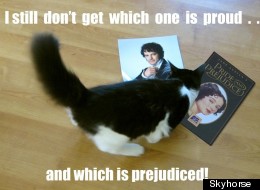 The concept of Pride and Prejudice illustrated by photos of cats playing human roles struck us as delightfully absurd, precisely because it is so improbable. Cats are, always and incorrigibly, themselves. We cat-lovers understand the joke is on us, but, like Jane Austen, we "dearly love a laugh."
Despite the fact that Jane Austen and cats seemed to be a match made in heaven, it took six years and an undisclosed number of agents before a publisher enthusiastically agreed with us that Pride and Prejudice and Kitties was meant to be - just in time for the Pride and Prejudice bicentennial!
So, how exactly did we "kittify" Pride and Prejudice? Many thanks go to Sally Keehn's "English Literature on Location" tour in the UK, during which she photographed Austen-related settings. (She spent much of her tour crawling on floors to capture a cat's perspective.) Kathryn Hathaway's Photoshop skills helped us place our cats in some of Sally's settings. Yes, that photo of Elizabeth throwing up a hairball is on Jane Austen's actual bed.
Elizabeth and Darcy were themselves a most unlikely--yet decidedly fated--pair. We believe classic literature and kitties should fall in the same category. Here, you'll find some of the pictures featured in our book, which bring new meaning to Austen's most famous scenes. This absurd entrée into Elizabeth, Mr. Darcy, and Lady Catherine's world will surely prompt a smile of recognition from every Austen fan, beginning with our remake of that most famous line: "As every cat knows, a handsome young tom in possession of his own territory must be in want of a mate."
Pride and Prejudice and Kitties
We have a team of cats working on this puzzle.

"Mr. Bennet, we are all in an uproar!" screeched Mrs. Bennet. "Lizzy has scampered away from Mr. Collins and now Mr. Collins threatens to run away from Lizzy!"

Perhaps, the two agreed, Mr. Darcy was merely bored, for the field sports were over and he was for the present consigned to being a house cat.

"She has nothing to recommend her, in short, but being an excellent stalker. Did you see her with that bird in her mouth? She really looked almost wild."

"Mr. Collins, you must marry. Choose properly, choose a pure-bred for my sake; and for your own, let her be an active, useful sort of cat, able to make a small rodent go a good way."

"Oh! Certainly," cried Caroline, "a cat must have a thorough knowledge of purring, yowling, and leaping . . . and besides all this, she must possess a certain something in her hair and manner of stalking." "And to all this," added Mr. Darcy," she must yet add extensive napping.

"I declare," said Mr. Bingley, "I do not know a more awful object than Darcy, on particular occasions, and in particular places; at his own house especially, and of a Sunday evening, when he has nothing to bat about."

Mr. Collins "welcomed them a second time, with ostentatious formality, to his humble abode." (JA)

Elizabeth was amused to see how cross and sickly Miss de Bourgh appeared (the perfect future match for Mr. Darcy). In truth, poor Anne had just been to the vet and been weighed, an experience so frightening that she left half her hair behind in the cat carrier.

Elizabeth stared wide-eyed at her aunt. What should she do? She certainly had no business sniffing around Pemberley after what had passed between her and its master.

"Let me be rightly understood," Lady Cat continued. "Mr. Darcy is engaged to my daughter. From their kittenhood, they have been intended for each other. It was the favorite wish of his mother, as well as of hers. Even before they were able to open their eyes, we planned the union."

We hope, for Mrs. Bennet's sake, that this book contains the definition of "entail."

"I am still a Cat if I see a Mouse." Jane Austen to her sister, Cassandra, September 23, 1813.