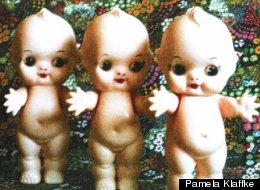 Here's the question - the big question, and often the only question - I am asked when an innocent, neophyte or perhaps a die-hard non-believer catches the title of my new book, Hello, Cutie!: what the hell is "cute culture"? Whether it's genuine curiosity or a smug, pop-culture-know-it-all disdain that prompts a person to ask, inevitably they do and, even after immersing myself deep in the world of cute, I'm still not sure what to say.

My interpretation of cute culture is flexible, broad and inclusive, providing shelter for everyone from My Little Pony collectors to the Hello Kitty obsessed. Rather than being about cute boys or babies, it's about cute stuff: dollies, tchotchkes, big-eyed vintage toys and figurines based on characters from Japanese anime. But more importantly, it's about the people, like-minded and sometimes socially shunned, who love, collect and cherish adorable objects and often project upon them human attributes, assigning distinct personalities to each item.

It's not creepy or weird, or especially uncommon - really.

More than anything, cute culture is about imagination and a quiet determination to retain a sense of child-like wonder without going full-on Peter Pan. We're adults, some with kids of our own. We're collectors, not hoarders. Cute culture thrives in a bad economy and grows with societal stress. And if there's comfort and inspiration to be found in the company of objects, so be it.

The aesthetics of cute culture beget creativity in unexpected ways. Many collectors of Blythe dolls sew and knit intricate designs for their "girls"; others perform extreme dolly makeovers on stock dolls, re-rooting hair, carving facial details and painting new makeup. There is cute culture art, like the Brothers Grimm inspired work of Indianapolis artist Mab Graves and the retro, big-eyed paintings of Megan Besmirched. Cute culture crafters abound on Etsy. Even eating can be cute, thanks to innovative foodies like Crystal Watanabe of Yum-Yum Bento Box fame.

It is photography, however, that is the most common artistic outlet for both professional and amateur cute creatives. Online forums and photo hubs like Flickr, Tumblr and Pintrest serve as unofficial clubhouses to swap stories and share information. Cute hunters show off their latest images, engaging in what could best be described as a grown up, ongoing game of show-and-tell.

There's a constant flow of new converts to the cause, and cute is popping up everywhere from the recent London catwalk of fashion darlings Meadham Kirchhoff to my local independent pharmacy, which has recently devoted precious shelf space to a selection of sweet little Momiji message dolls.

The second question I am asked - even though the long answer of the first still doesn't tell the whole story or completely define this fascinating subculture - is: what does it all mean?

This question, thankfully, is not so complex. At its heart, "cute culture" means that all of us can do with an aww and a smile.
Blame it on Bambi. It's been 60 years since the iconic Disney film first hit the big screen--and the original Austrian novel by Felix Salten will have its 80th anniversary in 2013--but images of cute, Bambi-like deer have been enjoying a nearly decade-long renaissance that shows no signs of slowing. Whether it's vintage, made-in-Japan ceramic or plastic deer (like the one pictured), hand-stitched, big-eyed felt stuffies, or T-shirts emblazoned with its image, the proliferation of deer-themed items has turned the animal into the unofficial mascot of the hipster middle-class.

What do sweet, cherubic Kewpie dolls have to do with feminism? Quite a bit, as it turns out. The brainchild of American artist Rose O'Neill, the Kewpie doll made its public debut in O'Neill's popular illustrations for Ladies' Home Journal magazine in the early 20th century and then in 1913 the first bisque Kewpie dolls were introduced. O'Neill was also a savvy businesswoman, active campaigner for women's rights, and among the first entrepreneurs to spot – and harness – the potential of licensing deals, years before American women were legally permitted to vote.

Tucked away in a corner of the Internet you may not know, lively chatter is afoot and it's all about kooky, big-eyed dolls with oversize heads. Original Blythe dolls were on the market for only one unsuccessful year, in 1972. Fast-forward to 2000 and the publication of Gina Garan's photography book, This is Blythe. This marked the start of the NeoBlythe boom and since then Japan's Takara/TOMY has released 180+ doll designs. Expensive, coveted and endlessly discussed by enthusiastic collectors, Blythe is the go-to gal for creative cute hunters with a flair for fashion and the gift of gab.

The grande dame of modern cute, Hello Kitty first appeared on stationery and "character goods" in Japan in 1974. Her corporate guardian, Sanrio, then unleashed the benign creature onto an international market that grew steadily, eventually maxing out by the late-1990s when consumers suffered a collective case of brand fatigue. Hello Kitty fell out of favor, with some critics going as far as to declare Kitty suppressive to women because she lacks a mouth. Kitty's popularity today is on the upswing, as items ranging from H&M T-shirts to Sephora lip gloss are snapped up by a new generation of young consumers.

The lead character in the crazy-popular Japanese anime series, Puella Magi Madoka Magica, Madoka Kaname is your everyday teenage schoolgirl with a sassy uniform and pink pigtails... until she's offered a deal with the devil (a weird cat-creature called Kyubey). She can have one wish, anything she wants, but in return she'll be granted special powers and be contractually obliged to risk her life fighting dark powers that incite murder and suicide. Widely credited with having revived anime's Magical Girl genre by infusing cliché storylines with unexpected darkness, Madoka Magica transcends mere cute.

What goes around comes around and what's been coming around since 2010 is My Little Pony: Friendship is Magic. The fourth incarnation of MLP in the brand's 30-year history, Friendship is Magic has sparked interest from an array of collectors, including curiously high numbers of adult males who are proud to call themselves "Bronies." The success of the latest Pony generation is not to say that generations one, two and three (pictured) have been abandoned--ponies of all kinds are being snapped up as nostalgia strikes the first wave of MLP collectors who are now having kids of their own.

You can't talk cute without talking anthropomorphism, and it's tough to talk cute anthropomorphism without talking Monchhichi. It's even harder to talk Monchhichi without asking: creepy or cute? The Japanese baby-faced stuffed monkey toy Monchhichi launched in 1974, but unlike its superstar contemporary, Hello Kitty, it didn't surface in North America until 1979. Success was quick and by 1983 an animated television series was airing on ABC. The fad flatlined by the mid-'80s but, unlike many toy lines, Monchhichi never completely disappeared. Now they're back in vogue with cute hunters worldwide, but the question lingers: creepy or cute?