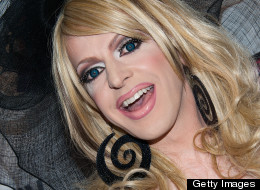 Now that this season of RuPaul's Drag Race has almost come to the finish line, it's time for me to put in my two cents about all this comedy-queen bashing that has happened. Quite a few queens were saying that drag is not about comedy and that you don't tour the country as a comedy queen and blah, blah, blah. I've enjoyed quite a successful career touring the country and other countries as a comedy queen -- a comedy queen who lost Drag Race both times I was on the show, I might add.
It's this whole pageant-queen-vs.-comedy-queen thing that they played up on the show. I certainly know about editing and all that jazz, but we are talking about what was actually said. You can't put words in people's mouths. So they claim that the pageant queens take their jobs as drag queens very seriously. Guess what? So do comedy queens. We just do it differently, through, you know, that thing everyone hates so much: laughter. If we really want to break it down as to which one is a tougher job, well, have you ever had a joke bomb? Nobody laughs. You know it didn't go over well. But if you are out there lip syncing for your life on a club stage and people aren't that into it, you can't always tell. You could be spinning and splitting and shablamming while the crowd sips their martinis and rolls their eyes. That said, I think all good drag queens work hard for their money. So hard for it, honey.
Then there was Roxxxy Andrews' whole tirade about how comedy queens are making fun of drag. Isn't the whole art of drag a little tongue-in-cheek? Aren't we poking fun at society's definitions of gender? Isn't that part of the point? To break apart what is deemed to be "feminine" and "masculine"? It's also about celebrating individuality and being whoever we want to be or who were feel we were born to be.
I found the camp-queen hatred on Drag Race to be completely nauseating and utterly ridiculous. Do any of these queens know any drag history? Do they know that drag is heavily rooted in camp? Drag is all-encompassing. That's part of its attraction. You are supposed to be whatever you want to be when you dress up. To me that is what drag is all about. No one style of drag is more important than another. All forms are valid in the art of drag.
Comedy queens have been ruling the drag circuit for years. To unequivocally prove a point, I've compiled a list of 10 fantabulous drag queens currently making a living as comedy queens. This is also meant to educate the children who think there is no drag culture outside the world of Drag Race.
Miss Richfield 1981 is the epitome of the campy comedy queen. With a drag name like that, how can you not be? From being the most successful act each summer in Provincetown to securing regular cruise gigs with Atlantis Events (the largest LGBT vacation company) to starring in her own Orbitz commercial, this bawdy comedian keeps her audience rolling with laughter.

Edie began her career as a professional dancer and became a fixture in the New York City gay scene, winning the HX Award for Best Drag Queen and the Glammy Award for Entertainer of the Year. She also made her Broadway debut in Threepenny Opera alongside Cyndi Lauper and Alan Cumming. But a comedy queen? All you have to do is check her out in her regular gig as the emcee of Cirque du Soleil's Zumanity in Vegas and her one-woman touring show for proof.

Hedda Lettuce, the Queen of Green (and sometimes mean), has been a staple in the drag comedy world for some time. She's appeared on shows like Sex and the City, Project Runway, The Oprah Show and even a little comedy special called One Night Stand-Up: Dragtastic NYC, hosted by yours truly. She's a tell-it-how-she-sees-it queen and continues to prove her comedy chops in venues across New York City and the country.

Peaches Christ is a staple in San Francisco, where her Backlash Production Company and Midnight Mass, a legendary midnight movie event, are based. Though her drag has a darker side to it, with a name like Peaches Christ, how can you not be rooted in comedy? Peaches does it all, from writing to directing to producing, all with that macabre sense of twisted humor that has made entertainers like Elvira household names.

Varla Jean Merman has done it all, from stage (Lucky Guy) to television (Ugly Betty) to film (Girls Will Be Girls). The self-proclaimed lovechild of Ernest Borgnine and Ethel Merman has appeared across the globe, including at the Sydney Opera House, Carnegie Hall, London's Soho Theatre and L.A.'s Renberg Theatre. You can find Varla's she-larious original music and parodies on iTunes ("School House Rock" is a must-listen).

Even though Lady Bunny is technically part of the Drag Race family, appearing as the Dean of Drag in RuPaul's Drag U, she isn't technically on Drag Race and simply is a must for this list. Bunny is sassy, crude and often quite lewd, but she's always drop-dead funny. She created Wigstock in New York City and hosted it for nearly 20 years. (Wigstock, if you don't know, was an outrageous festival of drag and music that has never been duplicated. There's even a movie!) Bun-bun is constantly touring with her zany, X-rated pop parodies and Laugh In-style skits, and she even DJs. Lady Bunny is the definition of "comedy queen"!

Miss Coco Peru got her start after writing, producing, directing and starring in her first New York show, Miss Coco Peru in My Goddamn Cabaret. That title pretty much sums up what you can expect from a fabulous Coco Peru show. Wit, sass and a touch of class make this queen a must-see. Who can forget Coco's infamous and legendary scene in the movie Trick? There isn't much Coco hasn't done, from her latest one-woman show, She's Got Balls, to her Conversations With Coco series, where she interviews some of the LGBT community's favorite icons, including Jane Fonda and Lily Tomlin, at the Renberg Theater in L.A.! Gasp!

Sherry Vine has been a fixture on the New York City nightlife scene for years and became a huge YouTube sensation with her parody of Lady Gaga's "Bad Romance" called "Shit My Pants." That bawdy sense of humor has helped propel Sherry to international stardom. She travels the globe singing her parodies and original songs, including "How I Blew Ya" (set to Leonard Cohen's "Hallelujah"... yeah, she went there), "Grindr Queen" (set to ABBA's "Dancing Queen") and my favorite, "You're a Whore" (set to J.Lo's "On the Floor"). Even Gaga tweeted about her love for Sherry. She's another comedy queen who has appeared in film, theater and television, including in her own variety show, She's Living for This, now going into its second season on Here! TV. Sherry and I even did a little parody of Madonna's "Give Me All Your Luvin'" together.

Jackie Beat is the "biggest bitch in the world," according to her tagline, and she's right, but in the most hilarious way possible. Jackie has brought her bitchy humor to television, movies, theater and fall-down funny parody songs like "Beaver" (set to Peggy Lee's "Fever"), "Retouch My Body" (set to Mariah Carey's "Touch My Body") and "9 by 5" (set to Dolly Parton's "9 to 5"). You may know her songs even if you don't realize it, because drag queens across the country have been lip-syncing to her songs for years. She's racked up millions of hits on YouTube; she's been the opening act for Roseanne Barr; she's written material for Joan Rivers, Roseanne, Ross Matthews and Jennifer Coolidge; and this list goes on and on. Jackie is a force to be reckoned with in the drag community. For a bitch, she's pretty likable.

Yes, I know RuPaul is Drag Race, but I'm putting him on the list for a reason. If RuPaul were strictly a fashionista drag queen, Drag Race would be a mega-bore. You'd have to have a Tim Gunn on the show to add some personality. Essentially, Drag Race is RuPaul's modern take on the variety show. It's all RuPaul's crazy circus, and the contestants just join the fun. RuPaul is not only gorgeous but damn funny and arguably the most famous drag queen in the world. RuPaul has always had a sense of humor throughout his career, and it's that paired with the glamazon image that propelled him to stardom.
Other notable comedy queens for you to Google and love: Charles Busch, Joey Arias, Heklina, Bianca Del Rio, Daisy Deadpetals, Nina West, Dee Ranged, Darienne Lake, Kasha Davis, Vicky Vox, Roxy C. Moorecox, Logan Hardcore and the list goes on.
Follow Pandora Boxx on Twitter: www.twitter.com/ThePandoraBoxx