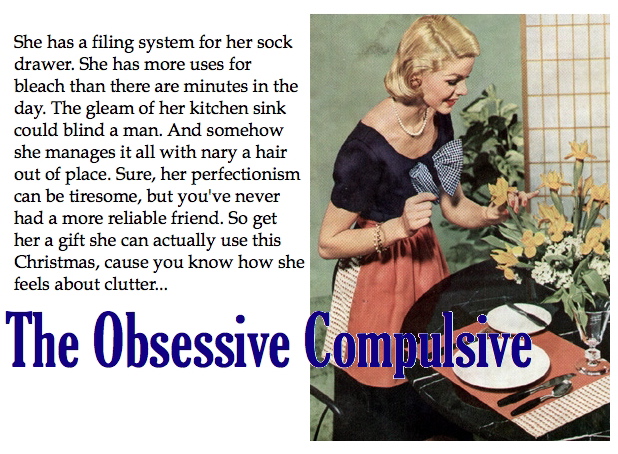 The Sephora Collection Color Diary comes with five interchangeable, color-coordinated makeup palettes, complete with their own storage system. Makeup has never been more organized. $25 at Sephora.

With the Amika Dual Mini & Maxi Styler Set, The Obsessive Compulsive can make her hair bend - or straighten - to her will. $139 at Folica.com.

Add some festivity to her compulsive handwashing with a soap and lotion set. The Caldrea Petite Sink Set comes in two seasonal scents, Peppermint Amaryllis or Balsam Figleaf. Biodegradable and skin-friendly dish soap and countertop cleansers are also available in seasonal fragrances, to make housework extra Christmasy. Petite Sink Set, $19.50. Dish Soap Liquid and Countertop Cleanser, $6.75 each at Caldrea.com.

Clockwise from left: The Sephora Collection Antibacterial Brush Set makes for hygienic facepainting. $60 at Sephora. The eos Medicated Lip Balm Sphere helps keep moisture on - and bacteria off - the lips. Tangerine flavored, if tangerines tasted vaguely like cough syrup. $3.49 at Drugstore.com. Yes, someone made a luxury hand sanitizer, and your OCD friend needs it. Frais Hand Sanitizer is vegan, all-natural, and formulated with aromatherapeutic essential oils. $7 at DermStore.com.

A matching lip liner, lipstick and lip gloss, all housed in one container. Perfectly color coordinated and neatly packaged. $17 at Wanderlove.com.

Holiday Detox Set Collective by Collective Wellbeing will get the Obsessive Compulsive feeling cleaner than she ever has without the use of steel wool. Natural germ fighters like active charcoal, zinc, and fennel seed whisk away toxins without irritating the skin. $39 at CollectiveWellbeing.com.

My Tagalong's Purse Organizer has pockets for damn near everything, and fits neatly inside handbags.The organizers move easily from bag to bag, to make changing purses a painless affair. Available in a variety of colors and sizes. $20 to $30 at MyTagalongs.com.

The Obsessive Compulsive likes to stay perfectly groomed all the way down to her toes, but those nail salons are germ factories! The solution: an at-home pedicure kit from Earth Therapeutics. Foot Doctor Pedicure Set, $18.75 at Ulta.
Follow Pandora Young on Twitter: www.twitter.com/PandoraYoung