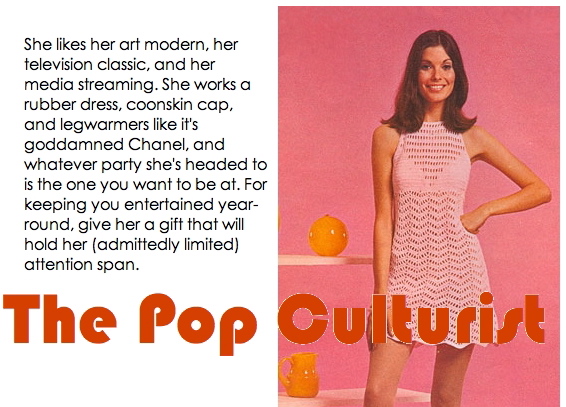 *Photo above from a vintage crochet pattern by Patons Yarns.
Visit the Patons website for a library of free knitting and crochet patterns.
It's eyeshadow suitable for hanging, if she can resist dabbling with a palette of 37 shades. $30 at Sephora.

Any girl who knows her nail polish history will want to get her hands on Sky. The shade developed a cult following in the 90's, and helped launch the trend of unusual polish colors. After an extended retirement, Sky has been re-released, along with three new colors: Fabuluxe, Beetle, and Mushroom. $5 each at WalMart.

Design house Tokidoki took utilitarian beauty tools and turned them into tiny works of art. In addition to the comb, makeup brushes, and toiletry bags above, the brand has spruced up nail files, hair brushes, mirrors, blow dryers, and bobby pins. From $5 to $59 at Sephora.

Who needs eyeliner in 10 different colors more than The Pop Culturist? And Urban Decay's 24/7 liners are long-lasting, perfect for late night shenanigans. $39 at UrbanDecay.com.

No childhood friend of Barbie could resist these mod illustrations of the fashion doll's signature blond locks. Journal, $15, silk scarf, $35, and wrapping paper, $15 at BarbieCollector.com.

The manufacturer asserts that this geometric palette includes 6 eye shades, 6 eye liners, 6 all-over highlighters, and 1 face bronzer. Figuring out which is which looks slightly easier than solving a Rubik's Cube. Buy her two. $12.50 at Ulta.

She likes Jeff Koons, she likes smooth skin, and of course she'll love that 100% of the profits go towards helping abused children. Now all you have to do is pick a size. $27 to $70 at Kiehls.com.

Yes, of course The Pop Culturist wants Hello Kitty to do her hair. Flat Iron and Dryer, $40 each at Target.
Follow Pandora Young on Twitter: www.twitter.com/PandoraYoung