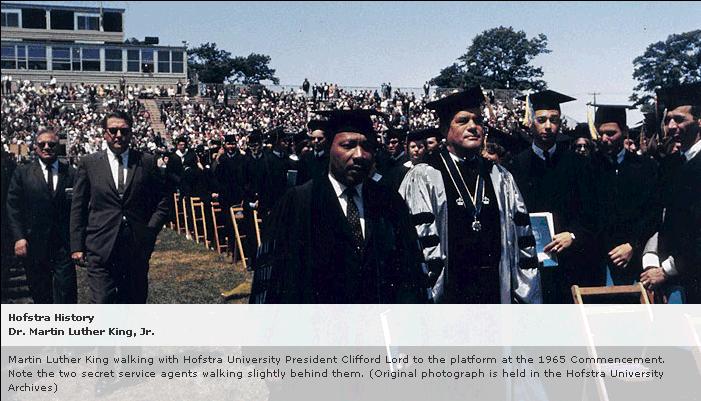 In the picture above Alpha Phi Alpha Fraternity Brother Dr. Martin Luther King, Jr. walks in a procession at Hofstra University in 1965 where he was about to receive an honorary degree and make a memorable speech on campus.
This past weekend from September 23, 2010 through Sept 27, 2010 Hofstra University held its 75th anniversary Diamond Jubilee Celebration on its amazing Long Island Campus while at the same time Dr. Martin Luther King, Jr.'s Fraternity, Alpha Phi Alpha's undergraduate chapter at Hofstra University, the Xi Psi Chapter, celebrated 30 years of service and leadership on Hofstra's campus after having been Chartered on August 6, 1980.
Alpha Phi Alpha Fraternity is a milestone in American History and a testimony to the accomplishments of African Americans living less than 50 years after slavery by its mere founding in the early 20th century. The brotherhood, founded on Dec. 4, 1906 at Cornell University is the first inter-collegiate fraternity founded primarily for African American men. Alpha Phi Alpha Fraternity was created by seven men alienated by the racial customs of the time which denied them the bonds of brotherhood in the majority fraternities which then existed on Cornell's Campus in Ithaca, New York.
Though not living under the level of socially prescribed segregation that existed at Cornell University in 1906, the Charter members of Xi Psi Chapter of Alpha Phi Alpha in 1980 sought to bond in a brotherhood that better reflected the history and struggle of African American men who had used the training ground the organization fondly known as Alpha provided to shape leadership, excellence, and dedication as servants of all to their community and broader society.
Hofstra University was a school founded in 1935 from the estate of Dutch Lumber magnate William Hofstra and his wife Kate. Their will allowed for the birth of an academic institution first seen more as a commuter college and a branch of then existent New York University. Shorty thereafter, Hofstra separated from New York University as a co-educational commuter institution with both day and evening classes and began its trajectory to the wonderful institution we see today.
In the academic year of 1978-1979 Hofstra still had a very large commuter population while establishing ever expanding dorms and with student organizations abounding. A group of students felt the campus lacked the presence of a fraternal organization that had a history of leadership and excellence that was reflected within the group since many of them had already made their mark as campus leaders in the various organizations for students of color that existed on Hofstra's campus.
With a dedicated spirit these men sought out alumni chapters of Alpha Phi Alpha Fraternity in the surrounding area. Alpha had been known to these gentlemen as the premier fraternity of the type they sought, with members such as Dr. Martin Luther King, Jr., initiated at Sigma Chapter while in School at Boston University, and Thurgood Marshall, initiated at Nu Chapter at Lincoln University in Pennsylvania.
Alpha had a distinguished legacy of shaping young college educated men and turning them into powerful leaders who would march forward with a dedication to both excellence and service that would greatly build upon the already existent campus achievements the 14 Hofstra Students who Chartered Xi Psi Chapter of Alpha Phi Alpha Fraternity aspired to build on after their affiliation with such a powerful brotherhood.
On February 28, 1980, the Eternal Apocalypse Charter line was initiated into Alpha Phi Alpha Fraternity, Inc. These 14 pioneers set forth to bring a presence of excellence and strength and service to the university. The Xi Psi Chapter was given its charter as the 707th chapter of Alpha Phi Alpha Fraternity on August 6, 1980 on the campus of Hofstra University.
From that point on the Xi Psi chapter of Alpha Phi Alpha Fraternity, Inc. has initiated men who have excelled in almost every imaginable field. From educators, doctors, major partners at large name corporate law and accounting firms, technology professionals, independent publishers, to even brothers with notoriety as sports and political bloggers, Xi Psi Chapter has taken the foundation the charter members planted, and built a towering metaphorical, House of Alpha.
Our achievements within the organization of Alpha Phi Alpha Fraternity have also been notable for such a young chapter. One of our initiates made a compelling run for General President of the National Fraternity in recent history, and this summer he was designated as Alumni Brother of the year for the National Fraternity as well.
So the spirit of excellence and service the charter members of the chapter sought to imbue still lives within the Xi Psi Chapter of Alpha Phi Alpha Fraternity at Hofstra University as well as its alumni. Hofstra Univeristy's 75th Anniversary Diamond Jubilee Celebration was the perfect backdrop for the 30th anniversary of a chapter affiliated with such an esteemed fraternity like Alpha Phi Alpha that even Brother Dr. Martin Luther King, Jr. used to relish with a spirit of cordiality and fraternalism.
Goodwill is truly the monarch of Xi Psi Chapter as the 707th House of Alpha Phi Alpha Fraternity.
SUBSCRIBE AND FOLLOW
Get top stories and blog posts emailed to me each day. Newsletters may offer personalized content or advertisements.
Learn more