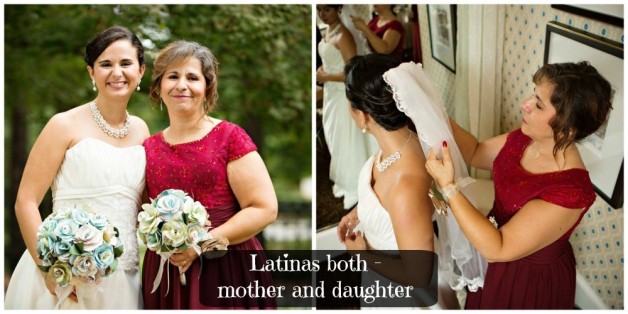 My husband describes me as a "white woman trapped in the body of a woman of color."
I consider myself Latina. I look Latina (ok, maybe Jewish or even Italian if you look at me askance). But I act "white."
Many years ago this conflict came to a head while our family was overseas volunteering with Habitat for Humanity in the Dominican Republic. My husband had always had a dream of serving together as a family, and since he was in construction and the kids were still young, this seemed like a no-brainer.
I knew they spoke Spanish there, and I was excited to plug into my Latin heritage!
Yeah, I laugh now, too. As if just speaking the language would suddenly infuse me with all that is associated with my Puerto Rican blood and culturally-Cuban heritage.
However, after weeks of intensive language school in Guatemala, including living with a Spanish-speaking family, my language skills were probably comparable to a 6-year-old - which was the age I was when my Spanish-speaking mother died. My father, despite having met her in Columbia and being fairly fluent with the language, never spoke anything but English again. And for many complicated reasons, neither my sister nor I ever spent much time with the Latin side of our family. By the time we were old enough to do so on our own, it was, shall we say, a bit awkward.
So, getting back to the DR...
Living in a small, rural village, the local people automatically approached me to converse because, of course, I looked like I should speak Spanish. But both my brain and my mouth would freeze up, and ya' know you can only do so much laughing at yourself before it becomes old. My husband was forthright and enthused about bettering his skills, and enjoyed our neighbors' amused responses to his mispronunciations and malaprops.
I, on the other hand, was crushed.
I was disappointed beyond what I ever could have imagined. I felt like I had somehow failed my heritage, like I was a "loser Latina". After struggling through the remainder of our time there, I came home on a mission to reclaim my heritage.
Reconnecting with my mother's sister, our families visited and spent a few holidays together. I learned a bit more about my mother, albeit through rose-colored memories from someone who adored her. I collected Aunt Rose's Cuban recipes, some of which had been passed down from my Abuelo: bread pudding, pulled pork, flan.
But recipe and story-swapping alone isn't enough to reconstruct one's cultural history. And because of distance and busyness, gradually our interaction grew more and more sporadic. So here I am, years later, recognizing my heritage, acknowledging the lost years of learning about my family history and culture and customs, realizing that I am more Latina in my blood than in my expression of the same.
Understanding what to do with this realization is quite a challenge!
I live in an area of the country that does not exactly abound with Latinas to whom I can turn - at least not in my circles. In this rural and agricultural region, there are many Hispanics working on farms, but it would take quite a bit of energy to find them, and more than my passing abilities in Spanish to even begin a conversation. And then...well, where do I go from there?
As it is today, I attempt Abuelo's flan now and again, or Aunt Rosie's pulled pork, or enjoy a weekend mojito, and I see on Facebook how my cousins and their children grow and sometimes travel to Spain together. I tell my children that when they have children, I want to be called Abuela.
I will never know how my life would have played out had I actually lived like the "woman of color" that I am. So I can choose to grow old feeling sorry for myself, brooding over that small empty hole in my life, growing bitter about what could have been....or...
I can recognize how this un-tapped heritage can add richness to the life I already have. I can make this a fun and fulfilling experiment in my own personal cultural education, and encourage my children, and their children, to live expansive lives that explore possibilities.
How do I choose to do just that? There are many ways that come to mind... Salsa dancing and photography are two skills that were loves of my mom's life, and yet-to-be-developed interests that I have today. Continued language learning, Cuban cooking lessons and travel (and now with Cuba open -- yay!) are all ways I can continue to explore new Latin endeavors and engage with my Hispanic heritage.
Continuing to keep my mind and heart open to new experiences and activities will help me to grow and learn in exciting ways today, while filling in the gaps from the past.
The "white woman" I am isn't so bad: she's who I grew into with what I had available to me.
But I have to admit: that "woman of color" who's awakening in me? Well, she's pretty darn exciting!
SUBSCRIBE TO & FOLLOW TRUMP'S FIRST 100 DAYS
How will Donald Trump's first 100 days impact YOU? Subscribe, choose the community that you most identify with or want to learn more about and we'll send you the news that matters most once a week throughout Trump's first 100 days in office. Learn more