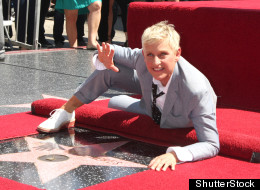 Here's our follow-up to "The 11 Nicest Post 50 A-List Actors in Hollywood." The Women!
So often female celebrities get a bad rap for being too temperamental or high maintenance. It could be the younger crop of actresses/singers are getting bad press because of acting out and making bad choices in their personal lives. Whatever the reason, they will all grow up one day, look in the mirror and discover that they are over 50... then what? Time will tell, but let's take a look at some more "mature" female celebs who figured out a long time ago that life is what you make it. Here are 10 post 50 A-List actresses, singers and talk show hosts who have had a pretty good handle on proper behavior for many years. (We're hoping to interview these ladies here at The Huffington Post for "The Other Side of 50" ... stay tuned.) And, yes, you could stop them in the mall or on the street, and they will say hello without one hint of "the snub."
The 10 Nicest Post 50 Female Celebrities
I had the pleasure of interviewing Miss Betty White when she was 87. She was making the movie "The Proposal" with Sandra Bullock. The "Hot in Cleveland" actress talked to me about her love of country music, and I was hanging on to every word from this gracious, adorable actress. To say she's an angel on earth is an understatement. She had not yet appeared in that famous "Snickers" Super Bowl commercial which propelled her into the stratosphere, making her the queen of the world. I only wish she could be my roommate now so we could become the new "Golden Girls" in real life. She'll be Betty, I'll be a Valerie Bertinelli look-a-like -- who is 52! (In my dreams!)

I actually screamed at Oprah across the huge foyer inside the Kennedy Center where I was covering the Kennedy Center Honors in 2005 for Us Weekly. Winfrey was there paying tribute to her friend Tina Turner, one of the honorees that year. Trying to get a quote from the talk show host/mogul/philanthropist/superstar/actress/billionaire was not easy since there were about 2,500 guests at the dinner that evening standing between us. I was at least 100 feet from her. "Oprah, can I ask you a question?" Oprah answered me! "I can't now," she said with a big smile. "I'm going to get out of this dress and go put on my pajamas." Someday I want to get much closer to her kindness and just hang out. Not sure that will ever happen, but it's number two on my bucket list.

I cannot say enough nice things about former "American Idol" judge Paula Abdul! I had set up a phone interview with Abdul in 2008, and for a variety of reasons her publicist and personal assistant had to keep emailing and calling me to change the date/time of our planned phone interview due to her hectic schedule. I'm on the east coast, Paula was out west (a three hour time difference), and one Saturday evening, about midnight EST, the phone rang. On the caller ID, I saw that it was a California area code so I answered it. It was a very apologetic Paula Abdul telling me how sorry she was to keep me waiting to do this interview. Paula and I chatted for over an hour, and at the end of the conversation she insisted on giving me her cell phone number in case I had any follow-up questions or needed to fact check anything. She is right up there on the top of my favorite-people-of-all-time list! I have Paula Abdul's cell phone number! Unbelievable! Love this woman!

"I'm so glad we had this time together ..." Carol Burnett as she signed off of her variety show "The Carol Burnett Show" each week from 1967 to 1978. That's exactly how I felt when I spent about five minutes chatting with Burnett at the Kennedy Center Honors in 2001 where she was there to honor Julie Andrews who was one of the honorees that year. Standing next to the queen of sketch comedy was a dream come true! She was kind, thoughtful and one of the most gracious women I've ever had the pleasure of meeting. It was about a month before her daughter Carrie Hamilton passed away from a long-term illness so her heart was heavy that night but she displayed an inordinate amount of grace under those painful circumstances. Television hasn't been the same since she left the airwaves. Let's say this one more time -- From The Huffington Post to Lorne Michaels' ears: Carol Burnett and Tim Conway need to host "Saturday Night Live!"

I caught up with Dolly Parton at her Tennessee theme park, Dollywood, in 2008 for a lengthy Q&A feature for Country Weekly magazine. Sitting smack dab in front of Miss Dolly was a thrill. She's one person that I wanted to see face to face (and I actually looked into her eyes) because she is such a legend in country music. I was bowled over by her charm and quick wit. I asked her who told her about the birds and the bees and without missing a beat, she said, "Oh, I was born knowing that." Yep, the lights are on upstairs! Bright lights!

You can catch country singer/actress Reba McEntire on her latest ABC sitcom "Malibu Country" if you stay up late enough ... 8:30 p.m. on Friday nights. Oh, I guess in this day and age, country towns don't roll up their sidewalks at 5 o'clock in the evening (like when Reba and I were kids). Even though I'd like to think we run in the same circles, we unfortunately don't, but I have interviewed her at least four times, and she has never turned me down when I needed an interview or random quotes (she once emailed me her answers to a long list of questions when I was on deadline). She's one of the most accessible celebrities out there, and her southern charm should be bottled (and sold to Tommy Lee Jones. Twitter hash tag: #thehumangrumpycat).

I had the great pleasure of interviewing Robin Roberts in '06 for a nice feature in Country Weekly magazine. (She was a DJ on a country music radio station in her junior and senior year in college). Her upbeat personality was contagious. As we all know, she's still bouncing back from her bone-marrow transplant, and the good news is, she'll be back at the GMA anchor desk, we're hoping, mid to late February. She's another person who would make a great BFF so if you have a chance, seek her out in a crowd and give her a hug after she's fully recovered. God bless you Robin in your recovery process. We can't wait to see you again every morning! And thanks for your warmth and kindness!

Anyone who is as funny as Ellen (evidence: "The Ellen DeGeneres Show," weekdays) and voices the adorable fish Dory in "Finding Nemo" can't possibly have a mean bone in her talented body. As an actress in her primetime television show, she proved that getting cancelled is just a small setback so why not get back on the bicycle and start peddling as fast as you can while your agent is making phone calls. Fast forward. She has nailed daytime and her audiences love her funny bone (evidence: hilarious monologues) and incomparable interview style. Stop this witty lady anywhere, and she will be glad to shake your hand ... not during flu season though unless you're wearing surgical gloves.

I covered the White House Correspondent's Dinner Bloomberg after-party in 2002. Mrs. O walked in with her hubby, Ozzy, leading him into the room, tending to him like a doting mother (he was a bit under the weather that night). I wanted to get a few quotes from her and asked if she liked her sudden fame, coming off their reality show "The Osbournes." She said she loved it but wished it had happened to her before she turned 50. She shared how much she loved her husband and her children ("My children are my life!") and before we parted company -- she had never laid eyes on me before in her life -- she reached out to give me a nice, warm, fuzzy hug. Hugs are priceless!

Marie Osmond has been a fan favorite since she first appeared on the variety show "Donny & Marie" from 1976 to 1979. When I conducted a phone interview with Marie in 2011, she called me from Las Vegas just before she was going to join her son for his 28th birthday party. "I had him when I was one," she laughed. The "Paper Roses" singer joked and giggled throughout the interview and explained to me what happened during her fainting spell on "Dancing With the Stars," and playfully explained her personal take on why she came in 3rd and Donny came in, well, first. Almost no bitterness on her part. (Somewhere she's laughing.) Her motto should be: Live, Love, Laugh.
Follow Pat Gallagher on Twitter: www.twitter.com/@pat_gallagher