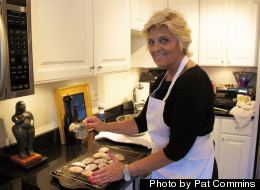 Kathryn Krivy knows the value of a good life, one filled with sweet tastes and the sublime joy of making delectable treats for others to enjoy: lavender-infused apricot jam, French nougat dotted with roasted nuts, shortbread with lemon zest and poppy seed. Her senses are sharper, perhaps, and her appreciation a little deeper having taken a second bite of life after a rare liver disease and undergoing a liver transplant 12 years ago.
Thus, at midlife, Krivy reclaimed a dream and became a professional baker and pastry chef, launching her own business, Sweet Purrfection (http://www.sweetpurrfection.com/), to make artisanal meringues and confections. Her story serves as a recipe for rediscovered passions, seasoned with the conviction that life is to be savored.
Squeezing dollops of dough into the shell-like indentations of a baking sheet to make Madeleines, a plump little French pastry, Krivy recalled a lifelong passion as a "foodie," which she attributes to her late father who derived great pleasure from exotic flavors and visual, auditory, and tactile experiences. From childhood kitchen forays with peanut butter, banana and bologna sandwiches ("not bad, actually," Krivy laughed), cooking became a sociable pastime with friends, making chicken cacciatore and French onion soup, and custard desserts such as Charlotte Russe. She and a friend would pass the time talking about the deli they would open one day; the foods they would make and the gourmet delights they would display in the glass case. But that dream was not to be, at least not right away.
A career in healthcare administration came first, with positions at several Chicago-area organizations, and then serving as chief of staff for the CEO of Northwestern Memorial Hospital for 10 years, after which she ran the hospital's Wellness Institute, championed its Health Learning Centers consumer health information initiative and then led business development for its physician group practice.
Diagnosed with primary biliary cirrhosis, or PBC, the condition meant little to Krivy at first because she was asymptomatic. Soon, through the internet, she joined a community of fellow PBCers with whom she conducted a survey of symptoms and health habits. Through her job with Northwestern, she connected with the American Liver Foundation and participated in a conference of world-class physicians who were interested in the PBC survey and wanted to expand the research. That led to another physician meeting in California, and a $12 million grant for a researcher at the University of California-Davis to study PBC.
Gradually, as the disease progressed, Krivy's symptoms worsened. With no cure and a transplant the only hope for extending her life, Krivy found solace in Victor Frankl's book, "Man's Search for Meaning," which provided two profound lessons: First, attitude, not circumstances, is the only thing a person can control; and second, anything can be endured if it has meaning.
Knowing her life could end sooner than expected, Krivy decided the meaning of her life was to enjoy it. She spent the next three years treating each moment like an exquisite taste. "I remember when I stopped worrying. Lying in bed, worrying about something at work, letting it make you feel sick -- I realized that was so stupid," she recalled. "If you can do something about it, you do it. If you can't, you let it go. If you can't control or change something, then enjoy life -- this moment. My illness allowed me to gain this transformational perspective."
Then one day the phone rang: a donor organ was available. Within hours, Krivy was in surgery.
As she recovered, Krivy wondered where her newfound appreciation for life would take her, but the reality of having had a transplant and a serious pre-existing condition meant she couldn't leave her job and risk becoming uninsurable. Then in August 2008, at age 58, she was laid off, with access to extended health care coverage. With time, money she had saved and a second lease on life, Krivy decided she needed an adventure. She reclaimed her first love of cooking and enrolled in the French Pastry School in Chicago. The school's demanding curriculum exhilarated Krivy as she learned to make pastries, breads and cakes; chocolate candy, ice cream and sorbet; and even cake decorations made of sculpted sugar.
"This is chemistry and it's art; it's unbelievable," Krivy said.
After graduating from pastry school, Krivy launched an internet-based business to sell specialty meringues and confections in unique flavors, and then added a line of cookies and shortbreads, chocolate candy, and jams. Being a full-time baker, however, was isolating, so when the opportunity came to go back to work, Krivy joined the The Executives' Club of Chicago, where she is vice president of program development and board relations. Now as a part-time business, Sweet Purrfection (named for two beloved housecats) keeps her as busy as she wants to be.
"I've always got this right here," Krivy explained as she sprinkled freshly baked Madeleines with a coating of powdered sugar. "I have a sense of accomplishment that I started my own company, and if I want to do this full-time, I can."
She watched as a guest took a bite of the light, spongy pastry, still warm from the oven. Smiles spread from one face to another.
Yes, life is sweet, and meant to be savored -- so take a big bite.
(Check out the slideshow below for five ways to find your second act.)
5 Ways To Find Your Next Act
Examine your life up to this point: What fascinates you? What, even if I don't fully understand it, really lights me up? What is worth doing? What's most rewarding and where can I make a contributions? Dr. Shep Nuland, a retired surgeon-turned-author who was interviewed by Mark Walton, author of the book Boundless Potential, suggests, "...look back, begin to rediscover who you were when you were 15, 25, or 30 with all that wide range of things that fascinated you that you gave up to become a doctor, lawyer, engineer, business executive and so forth, to care for a family or whatever."

Explore ways in which your personal fascination can be translated into action -- into real-world work you would deeply enjoy, and that would empower you to succeed, Walton writes. Track all the different activities you do, both at work and outside of work, and write down whenever you find yourself experiencing "flow," Walton advises. This concept, created by psychologist Mihaly Csikszentmihalyi, is characterized by a sense of being so engaged in the activity that time disappears; a sense of clarity, energy, creativity and joyful mastery. What aspects of your work or leisure activities evoke a sense of flow?

"After being a 'grownup' for 20 to 30 years, there is a certain 'tranquilized obviousness' to our lives, to who we 'hold ourselves' to be," writes Mark Walton, author of Boundless Potential. "We have become, in many ways, what we print on our business cards... Psychologists call this 'institutional identity.' It took us a long time to develop these roles for ourselves, and if we have been successful, they have served us quite well. ...Recognizing our fascination necessitates looking behind the labels we have adopted, penetrating our own PR." Flickr photo via: Needoptic

As you weigh your reinvention strategy, consider work that leaves a legacy. Psychologist Erik Erikson said "In adulthood you learn to know what and whom you can take care of." As author Mark Walton writes in the book Boundless Potential: "...Erikson held firmly to the conviction that by creating a legacy through our love and work, by paying it forward, we generate, for ourselves, a higher order of existence -- a level of well-being and self-fulfillment that is otherwise rarely experienced." Flickr photo via: TinyTall

Whether your reinvention involves a project, a role, a career, a business or a nonprofit, think like an entrepreneur, advises Mark Walton, author of Boundless Potential. Consider marketplace structures and unserved niches of demand that will allow you to pursue your new work. On the financial side, pay off any revolving debt, such as credit cards, and figure out exactly what you are spending each month. Then, set aside at least six months' of living expenses to help fund your transition. Don't buy into the illusion of safety of a full-time job, Walton adds, noting that the unemployment rate for post-midlife workers doubled from 2007 to 2009, to the highest level in at least 60 years.
Follow Patricia Crisafulli on Twitter: www.twitter.com/TrishCrisafulli