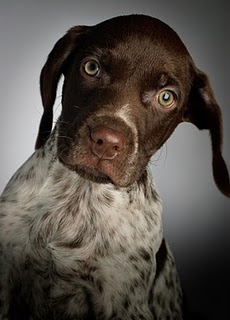 Meet Killi. She's a German Shorthaired Pointer who is gracing our lives while her human family takes a holiday. Her owner brought her by this weekend for a meet and greet. It was love at first sight.


Sadly, my own dog passed away last year. We miss her terribly. A brutal travel schedule and indifferent teenaged kids make my home inhospitable for pets, so I've been dogless ever since. But for the sake of my research for the pet supply category, I'm playing host to Killi for two weeks to reacquaint myself with the rituals and purchase decisions of life with a dog.


Killi is re-teaching me why people love pets. They are vessels for love. They can be frustrating, difficult, and in some cases, destructive. But the well-loved pet is a compassionate creature. They come to our aid, lick our boo-boos and protect us from danger. 


I feel like I live in an emotionally casual world. In the digital culture, people court and break up using text messages. Online dating is a digital hit and run affair. As I gaze into Killi's eyes, her brow is cocked up as if she's trying to read my emotions. I think to myself, "She may be more socially civilized than some humans." I chase that thought away. So cynical. But I may not be off base.
Recently, I had dinner with my friend Frannie who showed me photos of her new puppy. When her dog died, she rescued a dog from the pound within a month. "I'm divorced and have no children," she explained. The simple truth is that many of us are lonely. Animals are helping us fill the need for love and comfort in a world where human contact is scarce and relationships are virtually played out.
The pet supply industry reflects this trend. Doggy boutiques and bakeries, upscale grooming salons and pet attire are all part of a booming industry. According to American Pet Products Association (APPA), $3.2 billion dollars was spent on pet services such as grooming and doggy day care in 2008. This number was said to grow more than 6% in 2009. And APPA projects a continued growth of 2% for spending on pet supplies in 2010.
Our pets, of course, are completely unaware of their significance. Yes, Killi is an upbeat gal -- prancing and pointing the way to the squirrel hunkered down in the bushes. But she is also an example of the connection so many of us are lacking -- one that stays and lasts, and demands nothing but face to face love in return. She's a reminder that love can be simple without being casual. And she doesn't even know it.


Now I just have to figure out how to let go of Killi when my experiment is complete. Or rather, her family returns and she wags her tail out of our lives.

SUBSCRIBE TO & FOLLOW LIFESTYLE
We're basically your best friend… with better taste. Learn more