So many things have conspired to make this a difficult year. All around we see evidence of retrenchment and animosity, the border crossings ever less porous.
There is one beacon, someone who inspires, who can cut through those borders. I don't say that lightly. My heart swells when I see him and I know that others around me feel the same way.
Gustavo Dudamel has finally arrived to take up the baton at the Los Angeles Philharmonic. Yet after an enormous build-up, the local press has taken to writing thousands of words to get us to lower our expectations of this enormously talented young conductor. Already the Philharmonic leaders are reminding us that he is only the music director, not the president of the United States.
Already everyone is worried, wanting us not to be too hopeful.
Why not I say? Harness your power. Take advantage of your moment.
We need hope--Obama gave us that for a while. When there is celebrity it's so often tinged with self-regard that gets in the way of the work. That is not the case with Gustavo Dudamel.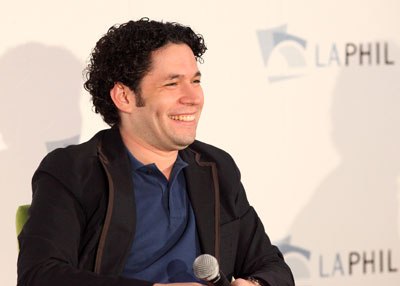 In a bilingual press conference marked refreshingly by no translation either way, Gustavo Dudamel said, "I feel home". A Latino at home in a city more than 50 percent Latino. The brilliance of this "get" for Los Angeles cannot be understated.
Less obvious is how to get new audiences in the door. He parries a question about what he plans to do to attract the young people who fall between the Philharmonic initiative, YOLA, the youth orchestra modeled on his native Venezuelan Sistema, and the aging audiences for classical orchestra. In other words, people his own age of 28.
"It's a responsibility of everybody's," he says in his ever-improving English. "I am part of a big group of artists. It's not just me. It's also the responsibility of the new generation. It's not just about artistry, it's also about a social plan of the community"
In other words, he wants us to own this change with him.
Dudamel believes in the power of instruments to change the world because it changed him. Conducting Mahler at 17, the whole Beethoven symphony cycle at 18, "When you see the eyes of the kids -- when you put an instrument in their hands," he drifts off but his own eyes tell the story.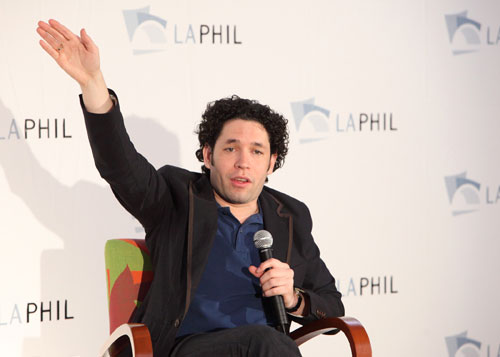 "It's part of my natural life," he reiterates.
He loves to dance. He loves to eat. He loves wine, and beer. He thinks of music and life as inextricable.
It's wound around him and he wants to wind it around us.

His hair is shorter. He looks slightly older, more conservative. I heard about a sighting at Armani even.
No matter, he will do the jeans thing and the Armani thing both because he wants to and he has to.
Someone asked where he saw himself in ten years, and he said with two or three babies. Not unlike Roger Federer, who just had children because he wanted them to be able to see him play, Gustavo must want to share his legacy with his family as his father, the trombonist, did with him.
But he's not in a rush. "I don't feel pressure. We have to believe. No negative energy. It will happen ... Classical music is cool"
Instead, for now, he importunes, "Come be romantic. Come be crazy ... We can go to the stars ... Of course we need health. We need food. But we need culture. Culture is the soul of the country."
When pressed about what's loaded on his iPod he said he was more of a traditionalist than one might think. He loves Latin music of all kinds. Pasion Vega.
But also Sinatra, Pink Floyd, Queen.
Naturally, the stories of how Dudamel is going to have his ups and downs are already appearing, anticipating that he is bound to have failures. One hates to vest so much hope on so slender a reed even it is wearing chic black jeans and a trimmed fitted jacket.
But personally, I'd rather be there for a Dudamel failure than almost anybody else's good night.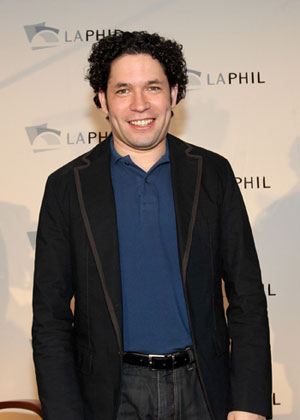 And if athletes, astronauts, actors and talk show hosts can hold political office, why not conductors? The question of why more serious figures from the arts do not take their leadership to a still wider stage -- and what a breakthough that would be -- should be on the table; Rocco Landesman, our new NEA Chairman, should be instructive in this regard.
At the very least, why not seize the day when a classical maestro can have political will and political clout but still do right by Beethoven? This one was not born in the US. But stay tuned to Gustavo Dudamel for the next 20 years. I would not be surprised if at the end of his tenure at the Los Angeles Philharmonic, he went on to do something else.
In the meantime, Bienvenido, Gustavo. We could not be happier that you are finally here.
SUBSCRIBE TO & FOLLOW ENTERTAINMENT
HuffPost Entertainment is your one-stop shop for celebrity news, hilarious late-night bits, industry and awards coverage and more — sent right to your inbox six days a week. Learn more