[Images front and below]
(c) 2008 Jean-Louis Blondeau / Polaris Images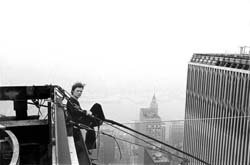 Staring into the jaws of a paper monster, even or especially one of our own construction, or teetering high over a chasm between impossible choices can be just as terrifying as the obstacles others lay in our path and our ability to keep trying to fix it, to connect--amongst many peoples or just two people--is something that can define a life.
Women and their obsessions and longing (longing just a prettier, possibly more feminine way of characterizing it) are usually my subject. But over the last weeks, two films at Tribeca, a Broadway show, a dance performance, an opera and a television documentary demonstrated that men of passion can show the way too. Though their motives were quite different --immortality, equality, a decent living, or just plain let's get it on--their insatiable-ness connected them and was an inspiration.
And the match of talented creators to heroic subjects was in each case sublime.
What these men have also done is highlight how complex aspiration is, and in many cases, how it so often depends on love as much as political or personal will.
A towering work by Philip Glass, the new production of his 1980 Satyagraha in collaboration with the genius British team of Phelim McDermott and Julian Crouch, at the Metropolitan Opera illustrated how a man obsessed with equality could make a difference by focusing on one, defining chapter in the story of M. K . Gandhi.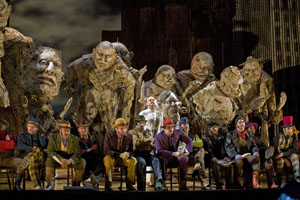 (c) Ken Howard
Gandhi, who was serving as a lawyer in South Africa at the turn of the century, was struck by the gross racism he witnessed against Indians and Asians (nevermind the native black population). Glass takes as text the sacred Baghavad Gita and as urtext Gandhi's journey to non violence and packages them into a sumptuous, multi media extravaganza--giant puppets, film, graphics, a set to die for--that almost takes the sting out of the difficult subject matter. But the sonorous, repetitive musical cadences serve as an ujai breath to bring focus back to the monumental task Gandhi had and the implacableness with which he faced it.
The Met took ads in bus stops which touted that the opera could make you stand up for truth and Glass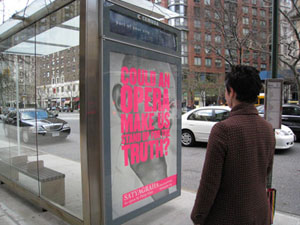 Photo: Kristin Regan/Metropolitan Opera
himself referenced the exalted trio of Tolstoy, M.L. King and Tagore as inspirations and heirs to Gandhi's path; I came away, however, thinking his wife was the unsung heroine. Gandhi himself said:
I learnt the lesson of nonviolence from my wife, when I tried to bend her to my will. Her determined resistance to my will, on the one hand, and her quiet submission to the suffering my stupidity involved, on the other, ultimately made me ashamed of myself and cured me of my stupidity...in the end, she became my teacher in nonviolence.
Though passive resistance and feminism are not often linked, how often have we seen that patience and keeping one's own counsel are the strongest tools for getting your way?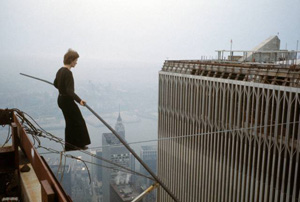 (c) 2008 Jean-Louis Blondeau / Polaris Images
Philippe Petit had another kind of dream, one that depended on careful, years long, Oceans 11-style planning with a team of people who believed in the possibility of his being able to traverse the two World Trade Center towers without arousing suspicion, and living to tell the tale. James Marsh's film, Man on Wire is soaring and magical in its depiction of Petit's burning desire to conquer this bit of airspace (having already conquered the bridge in Syndey Harbor and Notre Dame cathedral in Paris), the legerdemain of getting in and out of the towers with heavy equipment, stringing the wire, being disguised as construction workers or hiding in plain site for hours under a tarp. It's romantic, enthralling, uplifting and equal to its subject and yet ultimately so very sad: we see his accomplices and enablers, including the woman he loved and his best friend, were more or less chewed up by the time of the wire walk, and with the extraordinary fame it brought Petit, neither of them is in touch with him anymore. Petit, indeed, moved on, that very day, to a sexual encounter with a groupie; Nevertheless, his astonishing feat is a clarion call to living life on the edge and he suggests that if you don't live yours as if you are on a tightrope, well then, you aren't really living after all.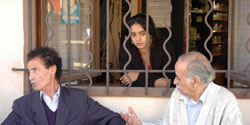 On a more modest, but no less captivating scale, the story of Mister Beiji, a frustrated, worn down Arab shipyard worker who after being downsized embarks on a journey to fulfill a dream to open a restaurant, is wrenchingly and beautifully told in Abdellatif Kechiche's Secret of the Grain. What he really wants is to be his own man after a lifetime of unrewarding servitude. The journey from boatyard cleaner to fish couscous purveyor comes dysfunctionally via his ex wife (maker of the couscous), his girlfriend (who owns the hotel where he now lives), her sexpot daughter, his own daughters, and musician friends--once again, an assortment of people in love with him provide the ballast for realizing his dream.
It takes a village even in southern France, right?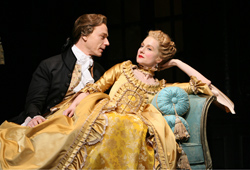 (c) 2008 Joan Marcus
You might think that Choderlos de Laclos by way of Christopher Hampton's Les Liaisons Dangereuses would have nothing in common with these other more exalted, journeys (although they are all French!). But though the current Broadway revival with Laura Linney and Ben Daniels is flawed, it is still a reminder that the quest for love, however manipulative or tortured, is often what takes up most of our time and preoccupies our thoughts and, until we get it right, there is little else of higher calling that can take its place.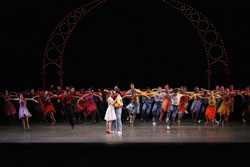 (c) Paul Kolnik
The New York City Ballet has reopened its spring season dedicated to Jerome Robbins, a man for whom the words passionate obsessive were perhaps invented. Robbins searched in vain for the perfect love, but his work shows a parallel quest for the perfect movement conjoined with the perfect music and it's amazing how often he got it right (the mambo knee dips and finger snaps at the dance, the when-you're-a-Jet soaring jetes, the I-like-to-be-in-America hip thrusts). The Goldberg Variations goes up again later in June, but in the meantime the NYCB Gala presented two other ballets, one a confection, The Four Seasons, a Verdi hommage, and a more meaty main course West Side Story Suite, the libretto for which is iconic in the department of passionate aspiration and longing, and in which the dancers actually speak and sing (proving that ballet dancers are not mute but rather multi-taskers who just aren't asked often enough to do other stuff).
Or as Marvin Gaye, the subject of a documentary on this week's PBS American Masters, sang, reducing longing to its very essence in his still-get-up-and-dance-to-it duet with Tammi Terrell,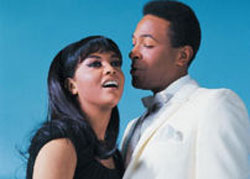 Ain't no mountain high enough
Ain't no valley low enough
Ain't no river wide enough
That would keep me from gettin' to you, babe
Gaye was a man for all emotional seasons, someone whose whole oeuvre was a struggle between spiritual healing and sexual healing, who knew instinctively that you needed both to get by.
All of us long for things (sometimes for things we cannot --or should not--have); artists make this longing palpable, they give it form often by transferring it to their invented characters in books or films or plays--sometimes they can get rid of it that way, and sit back and watch as their creations take off with a life of their own. Obsession needs to be perfectly matched to ambition, and then finally execution.
Though each of these tales, whether true to life or invented, has a different formula, mixing up the love (satya) and firmness (agraha) in varying measures, you need both to get to the other side. Or as Gandhi said, "Truth (satya) implies love, and firmness (agraha) engenders and therefore serves as a synonym for force."
It seems impossible that anyone would again be able to invent a new method of political resistance or traverse the tallest buildings in the world . But artists and writers are at work all around us sifting through history and experience to help us see the jewels.
Ambition for the right word or note, the path to equality, the will to have a new life for your family, the way to move dancers, or the ability to walk across the highest buildings in the world on the slenderest of filaments, this then is the thing that moves us to the point of ecstasy.
The more slender the filament, the more precarious the journey, as these men prove, the more magical the achievement.