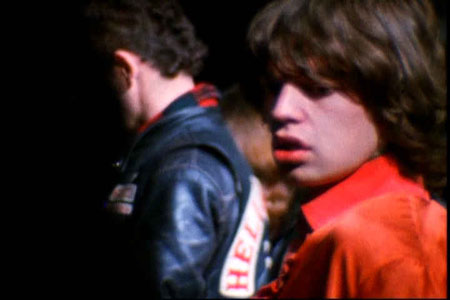 In the fall of 1970, the Rolling Stones gave a free concert at the Amstel Hall, a bare bones convention center in Amsterdam. I had already seen the Stones in the States, but I was going to school in Paris and needed a bit of relief from the French riot police in their tall black leather boots who were still very much on patrol after the events of May '68.
Amstel Hall was a giant, cold and forbidding empty space, and when the doors opened, thousands of us poured in, eager to get up close to the makeshift stage. I had not been to Woodstock (ok, almost went to Woodstock like everyone else) and my concert going, through regular, had been limited to venues with actual seats. The surging crowds grew understandably restive after a few hours of waiting and some of the guys took the opportunity to assert themselves and try to climb their way over the rest of us to get closer to the stage. Bar-like metal stanchions radiating out from the stage provided the only avenue of escape; I jumped up and clung to one just so I could catch my breath. I had to fight to stay there, not only because of the precariousness of my position, but because of the rowdies who were trying to pull me down and themselves up. By the time the Stones finally appeared, it had become truly terrifying and so I didn't much care about anything much but getting out.
Not long after that, the Maysles Brothers made their sobering documentary Gimme Shelter detailing the tragic events at the Altamont Speedway in California where a Stones concert did erupt into violence, and then death.
I could have told them so.
The time period was one in which malaise replaced joy as the unrestricted freedoms (sex, drugs, and rock and roll, natch) we enjoyed became tangled with the war in Vietnam, the assassinations of King and Kennedy and the complications of feminism and the civil rights movement; gradually, our lightfootedness turned to darker rambles.
All this came rushing back at me at the outset of Sympathy for the Devil: Art and Rock and Roll since 1967, an exhibition at Chicago's Museum of Contemporary Art which takes as its subject the confluence between the two worlds in NY, LA, Europe, England and the Heartland.
A family wedding had provided an excuse to hit the ground running for a one-day art tour lead by the erudite and charming Elizabeth Smith, chief curator of the museum; Smith was co-curator of the breathtaking Lee Bontecou retrospective which toured the country a couple of years ago and she is currently planning a large retrospective of the work of Jenny Holzer for fall 2008.
The Museum of Contemporary Art was founded just forty years ago by a group of like-minded collectors in Chicago who recognized that their private collecting was outpacing anything on offer in the city. Now chaired by Helen Zell, the museum is making a huge effort to increase its base of support: this month admission is free and on Saturday it was very busy with those seeking Rock and Roll.
The actual Rolling Stones song Sympathy for the Devil, was recorded in 1968 as part of the Beggars Banquet album and a Godard film with the same title appeared shortly thereafter.
So the exhibition at first felt somewhat misleading. The curator, Dominc Molon, admits up front in the wondrous catalogue that he is biased toward punk rock; real rock and roll as personified by the Rolling Stones is in little evidence. But Molon says, "As much as possible I was interested in the exhibition including very literal references to rock music and somewhat more oblique evocations of the energy, intensity, logic, style, etc. of rock music".
I had hung out at Max's a little bit but I was a Fillmore East Girl, eagerly soaking up the Dead, Led Zeppelin, Janis Joplin, Creedence Clearwater Revival, Sly and the Family Stone, a more truly commercial Rock n Roll path--(the closest I came to CBGB's was when my son moved into an NYU dorm next door...and it was already half shuttered). Though my personal musical connection to the material was thus slim, Molon's use of a broader punk-ish brush felt right since the visual artists, those that inhabited both the music scene and the art world and freely traveled back and forth between the two, had always been very much on my radar.
Warhol, of course, is the Daddy here as he is of almost every strand of contemporary art. The short videos and films of the Velvet Underground that grace the entrance to the exhibit jump out--they are beautiful, an especially mesmerizing young Lou Reed. They remind of Tony Oursler, another artist who is part of the show who got his start during the punk movement and whose infamous slow moving video projections of faces and eyes that follow you are still the stuff of Whitney Biennials. (How many times can one be "discovered"?) Jason Rhoades who died of heart failure at the age of 41, just a year ago, is represented by a sly piece which riffs in neon on alt names for vaginas which I found hilarious (Wet Cave of Lust, Whoosis, Mon Petit Bijou, Country Pie, Mind Flaps.) According to curator Molon, "the work features a reference to the Velvet Underground - a band known for its streetwise sensibility echoed both in the work's presentation of profane vernacular (slang terms real and concocted for the female genitalia) and in its use of neon signs."
Slater Bradley's video juxtaposition of a lone drummer covering Led Zeppelin in the Cal football stadium as the team works out behind him, The Year of the Doppelganger, not only speaks to rock and roll but also the varying strands of youth pop culture.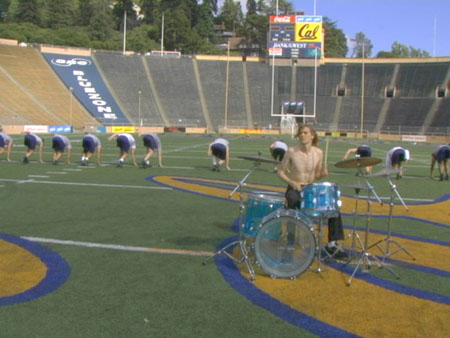 Slater Bradley, The Year of the Doppelganger, 2004. Courtesy of the artist and Team Gallery, New York.
The Christian Marclay floor of lp's and Ray Pettibon's, (whose brother was a punk musician), finely wrought pop-noir images are more literally connected to the theme. A charming recent film by Marnie Weber, A Western Song (which one watches on a rustic, wood-framed screen sitting on hay bales), follows a pod of ethereal spirit girls gamboling and musing and channels, I suppose, other spooky girl groups (Roches? Runaways? ) through a period veil.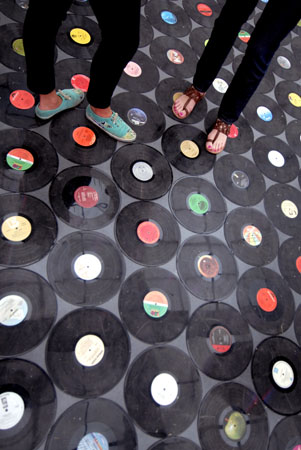 Christian Marclay, Installation view of Untitled from Sympathy for Devil: Art and Rock and Roll Since 1967, 2007. Photo c. Museum of Contemporary Art, Chicago.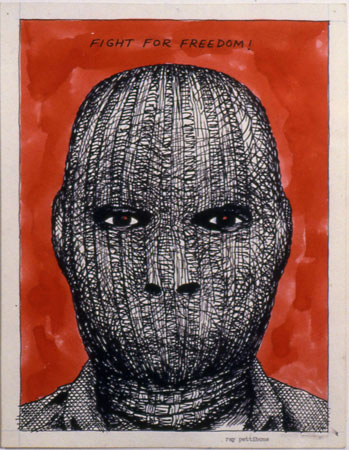 Raymond Pettibon, No Title (Fight for freedom!), 1981. Courtesy of Regen Projects, Los Angeles.
Richard Prince's photographs and Robert Longo's fashion-forward paintings (these are forward, by about a decade), are sleeker, sexier, more mainstream images and were very much on my radar even then.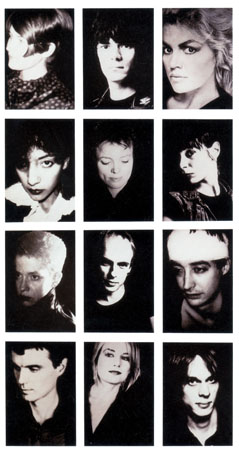 Richard Prince, Portraits, 1984-85. Courtesy of Gladstone Gallery, New York.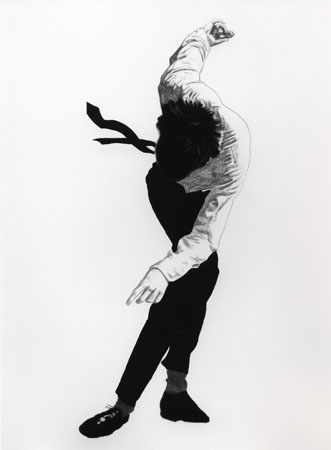 Robert Longo, Untitled (Men in the Cities), 1980. Holzer Family Collection, New York; Photo courtesy of the artist and Metro Pictures.
The catalogue entries tell more about the strains of punk rock and how they have continued to manifest themselves in our culture -the freedom and then, anarchy of the imagery--though assume vivid astro focus, a fluctuating collective mostly of one commissioned to do site-specific work throughout the museum seems to harken back to the psychdelic cover of Cream's Disraeli Gears album more than anything else. The Punk movement had its own Altamont-y apocalypse, I guess,when Warhol was shot but I left the exhibit feeling rather sunny and not at all down: I'm curious to learn what the twentysomethings make of the exhibit which will also travel to Miami later this year.
Rock and Roll, though, is on everyone's mind. Though I didn't feel Tom Stoppard's eponymous play was the best of his work ( I saw in London a couple of years ago and you can see too when the stagehands' strike on Broadway ends) his memories of this period synch up with the exhibition a lot better than mine and it's clear that the punk scene has resonated internationally and continues to draw from new generations.
MCA has seized upon music as both a legitimate avenue for artistic scholarship and way to lure younger people in. Last year, they originated another music-based show, Tropicalia, about the Brazilian movement that also represented a lush confluence of all the arts. I think it's a brilliant notion, every bit as effective as hiring 26 year old Gustavo Dudamel to run the LA Philharmonic.
But they are doing other things. Smith has re-installed the permanent collection so that the galleries look almost like individual store fronts, each one devoted to a decade's worth of icons. There is a sexy unannounced performance piece of Kiss by Tino Seghal,that punctuates the two halves of the installation where dancers (in daylong, alternating shifts) evoke famous kisses in painting and sculpture. And they have trotted out their lovely promised gift of Calders.
Forty years is relatively young, though upstarts like DIA have managed to ensorcell right off the bat. Some might say they are pandering to a non-art crowd, but the haute presumption that contemporary art is easy for everyone to get, that viewers will flock to the new without any form of outreach seems to me to be a wildly inflated hope. MCA realizes that their citizens, however sophisticated in other areas (music, historical art and architecture) may need a little encouragement, and they want people!
In a small gallery across town in the West Loop district, Rowley Kennerk sits amidst the darkened 10 by 12 space as a 16mm projector unspools Crow, an elegiac three minute film by Jordan Wolfson about the nature of time, not enough time, time passing, and the ephemerality of nature. (Ah 16mm....the sound of the sprockets was as punk as you can get) The audio track, the crow's relentless recitation of the time (a counting crow?), could drive any sane person totally crazy but Kennerk says he only turns the projector on and the lights off when he hears footsteps down the hall. It's more chant-y than musical but it did have a beat and by the end of the third minute I had fallen hard for the crow's lament. Kennerk, a recent graduate of the school at the Art Institute shows the other way to bring 'em in: be one of them yourself in the midst of everything.
I ended the day waiting on a long line at the Art Institute where an elegiac Jasper Johns show of his Gray paintings -- on its way to the Met in NY--echoed the gray Chicago day perfectly and where his swirls seemed prescient after seeing the swirl of the Marclay floor even though Johns was the antithesis of rock and roll; the show's muted elegance provided just the needed counterpoint to the raucous, in-your-face, colorful imagery of earlier that day.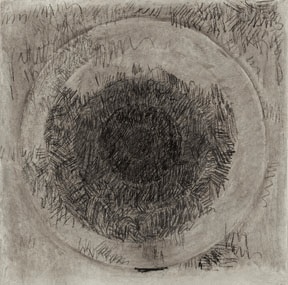 Jasper Johns. Target, 1958. Mr. and Mrs. Andrew Saul. Art c. Jasper Johns/Licensed by VAGA, New York, NY. Photo: Jamie M. Stukenberg / Professional Graphics Inc.
Then I popped into a Lawrence Weschsler-led Humanities Festival panel on another intersection point of the real world with artists--this time with global warming -- the Cape Farewell project which aims to have the artists raise awareness by taking them up to the High Arctic, before yet another, this time literal, melt down. Chicago has something for everyone.
That night, however, I spent most of the evening doing my own version of warming as I channeled Mick Jagger on the dance floor of the Intercontinental at the wedding bash.
It's only rock n roll, but I like it.