I met Kenna, this week's guest curator, as we sat next to each other for six hours on a transcon planeride, always a good test of anyone's mettle. Before I tell you more about this amazing musician, I have to set the stage for our meeting.
I'm generally a resolute duck and cover girl on airplanes. By that I mean I bring tons to read, and after I stuff my seat pocket with weeks worth of papers and magazines and work and mound it on my lap, and arrange the pillow and the blanket (like the fortress I used to construct out of cereal boxes and juice cartons at the breakfast table as a kid so I wouldn't have to see or talk to my brother), and take out the headphones, I am not a very inviting companion de voyage. I am basically saying by my body language: don't even think about it.
Lately though I have had some highly companionable seatmates, who despite my every effort to exclude them from my personal space were so compelling as to upend my predilection for quiet. Even riding in coach, there was the ex-babelicious mistress of a billionaire (no, I won't tell you who) who has embarked on a mission to save the ozone layer, the ex-wife of a wall street tycoon who had become a social worker and the corporate engineering guru who advised Fortune 500 companies how to get along better with each other,(are you sensing a theme here?).
Most recently as I boarded the plane to LA, the guy in front of me began to stow his gear in first class, then in business class, holding up the line as we waited patiently behind him. When he got to coach, he was in the bulkhead and so had nowhere to stick the rest of his stuff so he went back a couple of rows to MINE and began to stick his suitcase in the overhead bin. At that point, I asserted my rights and said, hey wait a second, that's my bin and I need it! He called me a couple of unpretty names and explained that the overheads didn't BELONG to anybody, but I promptly picked up my overstuffed bag and wedged it in. Both of us huffily retreated to our seats after this pathetic round one so when a six foot five guy laden with backpacks and equipment boarded the plane at the last minute and threw his gear in the seat next to me and began to hunt around the plane for places to stick all of it, I resigned myself to knowing it was just going to be one of those flights.
He made an effort to joke about this but I was already in a mood from the guy before--he was apologetic and explained he had just gotten off a plane from Paris, that they had had to downgrade him from business class and he had been traveling non-stop for something like two days. So it was probably the French connection and I kind of laughed and told him about the luggage nazi in the bulkhead. And all of a sudden, we were chatting.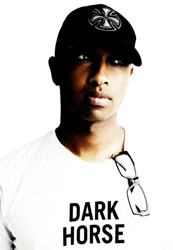 This of course, was Kenna. You may have just caught him on David Letterman. He released an album on Interscope in the fall and has been touring all over the world ever since, opening for Nelly Furtado and Timberlake and will be touring soon with Kanye West. Kenna was born in Ethiopia and now lives from LA to Virginia in between European gigs, tv appearances and long hauls coast to coast. Malcolm Gladwell wrote in chapter five of Blink about Kenna's dilemma, the dilemma of being marketed when you're not readily classifiable in our niche-crazy world. Of course when he started to tell me all this, I was moderately skeptical; I find people on planes tend to inflate their resumes a little bit since who will bother to check when you get off (memo to ex-gf of billionaire: I believe you totally; you were too gorgeous to not have it be true).
I loved everything about Kenna: his gracefulness jammed into the coach seat, his deference to the older lady sitting next to him (me), the way he talked about what he did, that no matter how many miles he had to log, he was still in love with what he was doing, hoping that this album was going to take him to the next level, but resigned to knowing that there were tons of aspirational others out there (it's like the mid-list of the publishing world; a lot of really good authors who just don't have that breakout book); his insistence on also helping other artists with a generosity that seemed incredibly mature. Like that.
So I proposed to Kenna right then and there that he guest d.j. a post with me--and here it is in his own words: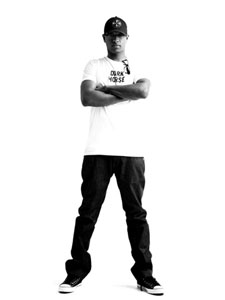 You may not know me. That is just a matter of time. My name is Kenna. I am a musician and singer. My sound is somewhat unclassifiable and I like it that way. My most recent album is called Make Sure They See My Face. If you know me, then you are some of a select few who have heard the music or read about me in the New York and Worldwide bestseller book BLINK by Malcolm Gladwell.
I am very thankful to be heard at all. In the world as we know it now, there are so many visuals and sounds coming at us from every direction. In music, we are bombarded by advertisements and songs on the radio for some of the best and worst artists and musicians out there. It doesn't make it easy to sift through the pile, and more than often we just decide to rely on our catalog of music we loved in the past and/or (although seldom) music that we are given by good friends who seem to be more tuned in to the what is current or bubbling up from the underground.
So, I thought maybe it would be a good idea to make a few suggestions to music you may have never heard and see if it moves you. Here's a list of music and links for artists of multiple genres you may want to watch for and support if you so choose: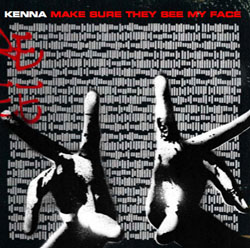 Kenna : Unclassifiable Pop

Songs:

Sun Red Sky Blue
Say Goodbye To Love

I hope you like it.

Video:
Hell Bent: http://www.youtube.com/watch?v=owS1coeoWEc
Say Goodbye To Love: http://www.youtube.com/watch?v=JN-ysBuRVQA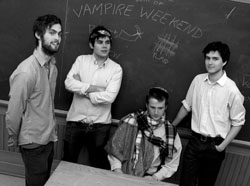 Vampire Weekend: Punk/New Wave/ Classical

Songs:

Mansard Roof
APunk

These guys are a classic. There is not too much too say other than that they are official and have molded a great sound and must have been influenced by the Talking Heads and Paul Simon... Amazingly simple and fresh.

Video:
http://www.youtube.com/watch?v=_XC2mqcMMGQ

Sites:
www.myspace.com/vampireweekend
www.vampireweekend.com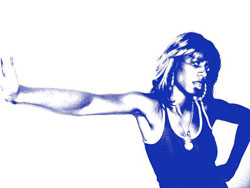 Santogold: Unclassifiable

Songs:

LES Artiste
Creator

Santi White is a maverick with an intent to meet you at your house and shake you up in your own comfort zone. She is a sonic and musical soldier for art. Santogold must be respected even if you don't know how to hear it.

Video:
http://www.youtube.com/watch?v=Y9JI0GXkARQ

Sites:
www.myspace.com/santogold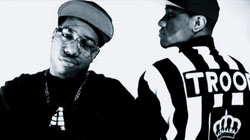 Black Mags
Action Figures

When Chuck Inglish and Mickey Rocks decided to make records it was under their own terms and with their own euphonious ride in mind. They produce, write and live their music. The Cool Kids are not to be missed and they wont let you miss them.

Sites:
www.myspace.com/gocoolkids

The Kings of Leon: Real Rock

Songs:

Charmer
My Party

The Kings of Leon have been making music for a while, but this record is a masterful display of their ability to create a real journey. This is a roots rock meets the Pixies album to me... and, yes I know that's saying A LOT.

Video:
http://www.youtube.com/watch?v=UEh8OL0Jj-0

Sites:
www.kingsofleon.com
http://www.myspace.com/kingsofleon

Also, look for the remix for MY PARTY. Chad Hugo of the Neptunes and I had the opportunity to do the only official remix.

Check out Kenna and his suggestions too, some of these artists were at Coachella this past weekend.

And one other thought: next time on the plane, it may not be unwise to try to say hello to your seatmate, that is if they haven't already barricaded themselves by the time you sit down.

It's out of the Comfort Zohn but in the Culture Zohn.