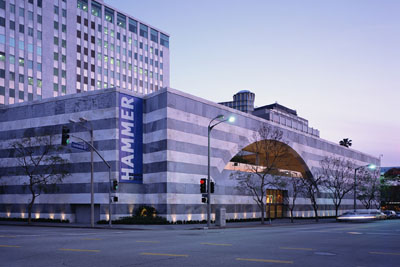 Photo: Elon Schoenholz

The Hammer Museum in Los Angeles, (Westwood to be precise) once, fittingly, a gas station then parking lot, was eventually carved out of the bottom of the unappealing office tower which still houses Occidental Petroleum and which Armand Hammer began as a shrine to plentiful oil and himself, though like his fellow potentate J. Paul Getty, some of the things he collected have turned out to be keepers after all.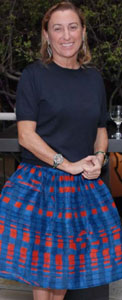 Photo: Stefanie Keenan
This year, ostensibly to honor Miuccia Prada (intro'ed by photographer Cindy Sherman who almost never does this kind of thing) and artist Mike Kelley (intro'ed by John Waters, truly hilarious), the annual Hammer party was just an excuse for the best blow out of the year.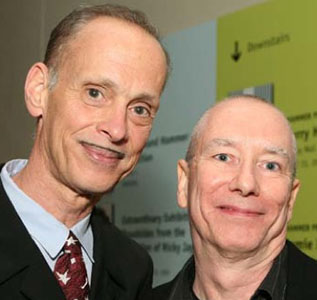 Photo: Stefanie Keenan
Movie people, art people, rich people, fashion people, music people and jes plain folks were seen gabbing a mile a minute and not just in chic black outfits: Alejandro Innaritu in his Oscar worthy wool scarf, Miuccia Prada in a colorful skirt from her next collection and two encrusted matching watch bracelets I covet, KD Laing in full tuxedo mode, David Byrne in an appliquéd cowboy suit, Tom Hanks in his nerdy-arty black specs (sorry, no photo of Tom in specs, you'll just have to trust me that he looks extremely hip) etc etc . The meal was no rubber chicken affair but an exquisite confection by Suzanne Goin, herself a mother-of-twins culinary star and had its own one off projection by Jennifer Steinkamp perfectly echoing the courtyard trees.
Why does this matter? After all, we've been hearing about the hot art market and how much the hedge guys want in on the parties and the action for some time.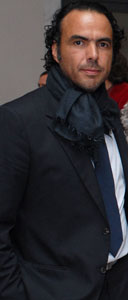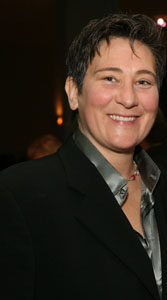 Photos: Rebecca Sapp/wireimage
Well, here's why. This wasn't about the hedge guys (not as many hedge guys in LA to begin with, but you know who I mean). This was about creative people finding each other in a place where bumping into someone on the street and having a coffee is not an everyday occurrence.
Museums (and other cultural institutions) are living, breathing repositories not just for rich people who like to go for dinner and see each other, but for people who want to feel a connection; not just with the past, though this is often lovely, or with the present, though they can feel ahead of the curve by keeping up with the latest, but also with others who spend their days trying to make sense of the world. They are also the most urban of experiences, and in a place like LA or in many major cities where street life is at a premium, a museum or the symphony or a film festival is a way to get out of the box and rub shoulders with people totally unlike yourself, except that they are looking for the same kind of mixing-it-up experience as you are. Already we are one step ahead of Match.com, My Space or Friendster; we have our space and potential friends swaning all around us. Live.
As someone who has worked in many cultural institutions, I can attest, of course, to the dreariness of the constant, unrelenting search for dollars which threatens to topple art folk and their beloved projects at any given moment. It's pretty funky in the trenches of the art world, redolent of grant application deadlines and frantic hand-to-mouth artistry, a scene the hedge guys are probably a lot less interested in hanging around.
After reading about the Gilded Age and the process toward building Dia: Beacon in The New York Times that very same day (and having experienced it firsthand at my local Greek coffee shop on this last visit, 22 dollars for poached eggs and toast and tea), I was discouraged--thinking that really, the money was distorting everything somehow.

And so the Hammer dinner gave me hope. Yes, they were raising money, it's true. But when I met Annie Philbin, the Hammer director, for the first time in the late nineties, I knew she was a kindred soul, a New Yorker who wanted to find a way to connect the dots in LA so that she didn't pine for this easier sense of urban jumble--what she'd had back east. The museum has since then embarked on an ambitious acquisition program and has an elegant hot pink new film theater funded by the estate of maybe my all time favorite filmmaker, Billy Wilder, programmed, wonderfully, in conjunction with UCLA. But what it especially has is fine curators who have been given the license to play a little bit--to see what's out there and bring it back and take over the galleries with one theme, and really, really get after it in a way that imparts a little of the "aha" moment so that you actually understand something about artistic process by the time you leave, and though I don't always like the art I'm seeing, they care about artists and it shows. (Up now, a show by Francis Alys, the Belgian artist; the installation is at once captivating and liberating: you need only walk into the first gallery and see his scribblings and musings to feel you've entered into a very seductive world.)
At the end of the night I saw more e-address trading than I had ever seen at such a dinner, and a general glow of the shoulders having rubbed up against each other (even of the celebs) and been the better for it.
Museum directors (and by extension all cultural czars) and boards of trustees all over the country, take note: as you build the starchitect palaces, try to remember that the genius behind your museums isn't the architect, but rather the stuff that is going inside and that includes the curators who make it happen and the people who come to see it. Yes, the experience can be exponentially enhanced by a welcoming and well-thought through site, but in the end, it's really not about that. The Hammer is an instructive case in point: they have made lemonade out of that erstwhile parking lot, big time.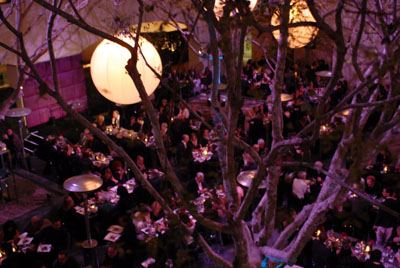 Photo: Stefanie Keenan
Meanwhile, I confess, after meeting hedge guys with real artistic cred and passion on my last trip to NY, I am willing to revisit lumping them all together: it's possible some of them are just creative types who got lucky. And without them, much of the boomlet in public collections and performances would be severely curtailed.
Chances are this infusion of money and energy and cross-fertilization is also happening somewhere near where you live, too. Go find it---it's a blessed relief to step back from Clinton/Obama/Bush/ Cheney for a minute, or worrying about the war, or health care. Sometimes, to see those very same leaders or battlefields through the prism of an artist's or composer's or dancer's vision can make all the difference.
And if you can have a cocktail while you're at it, so much the better. Nobody ever said it's supposed to be work. Try to think of it as play, and it will be. Who ever thought a dead oil baron's office tower would be the hippest hang in town?