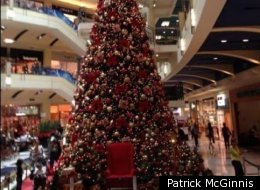 Just after Thanksgiving, I flew to Sao Paulo, for a week of meetings in South America's largest city. Unfortunately, as soon as I arrived, I discovered that my luggage had been misplaced during a layover in Detroit. While I was assured each day that my luggage would be coming the following day, the bags arrived six days into my trip, just in time for me to catch a flight back to New York.
As a result of this mishap, I found myself traveling a circuit around Sao Paulo's shopping malls in order to buy clothing and other necessities. As I circulated around central Sao Paulo, I discovered that Brazilians are mad for Christmas. Each and every shopping mall I visited had erected at least one, if not several, elaborate Christmas displays. That fact, by itself, is hardly surprising. What's surprising is that Brazilians embrace a vision of Christmas that is very... Let's say wintry.
Brazil is a tropical country and Christmas in Sao Paulo is a sweaty occasion, but visitors to a shopping mall will encounter plenty of fake snow, fur-clad Santas and Frosty the Snowman plush toys. I also was impressed to see large buildings featuring light displays that simulated snowfall or lights hanging in the shape of snowflakes. All in all, I found this mash-up of tropical and polar a little disorienting. But if Santa and Frosty can make it in Sao Paulo, who am I to complain?
Outside the Shopping Iguatemi, Santa plays the sax while three dogs collaborate to play the trumpet. A dead-eyed golden retriever stares on at the right.

Avenida Paulista is Sao Paulo's equivalent of Broadway or the Champs-Elysees, so it's only natural that the City of Sao Paulo would choose the city's main artery to erect a giant Christmas display on an overpass to wish its citizens Feliz Natal (Merry Christmas).

It appears that Brazilians also love Rudolph the Red-Nosed Reindeer, who is clearly at the head of the pack in this life-sized Christmas display.

Shopping Iguatemi is one of Sao Paulo's most exclusive shopping centers, featuring brands like Chanel. At Christmas, the entire lobby of the shopping center is converted into a wintry train station called Estacao Iguatemi, or Iguatemi Station. Here, Santa's sleigh flies into the station.

Santa is either embracing or being mauled by a large dog.

At Estacao Iguatemi, multiple Santas play host to freakishly life-like statues of children.

Here, Mrs. Claus pushes a carriage containing with two babies -- maybe the Claus grandchildren?

An entire aisle of Lojas Americanas, the Brazilian equivalent of K-Mart, is filled with plush Santa and Frosty the Snowman toys. Even thought Sao Paulo enjoys tropical weather, snowmen abound in the city during December.

At the Shopping Villa Lobos located in leafy Alto de Pinheiros, the Christmas tree nearly reaches the third floor.

Parents line up with their children in order to get a few moments with Santa.
Follow Patrick McGinnis on Twitter: www.twitter.com/pjmcginnis