The melting pot of contemporary eclectic music oozed last weekend at Outside Lands Festival in San Francisco in what is turning out to be an annual SF shakedown. The 3 day event which took place in the historic (yet still an old home place to those seeking alternative shelter) remained rich with customs while still providing a great platform for worldly headliners (Arcade Fire, Muse, and Phish) while fostering local pride (Fresh and Onlys). This 4th time around for OSL allowed its true colors to come out and play; the music, yes, was supremely supreme, but the true magic came in that SF's populace and underlying culture were able to shine. As I made my way through the Fendi sunglasses and khaki pant-laced hipster crowd of Outside Lands I couldn't help but think how cool it was to be at a festival in my hometown. Outside Lands doesn't look like Woodstock or festivals of the 60s, in fact I can count the tie dye shirts on one hand, but is that necessarily a bad thing? Outside Lands is an ultra-current festival that caters to the diverse tastes of the modern music fan. It has an environmental twist at its core with out the preachy. Toyota Prius stations, solar panels stages, awesome waste "directors", and the bike valet are now a common sight -- the rule rather than the exception.
Outside Lands festival in San Francisco celebrated its 4th anniversary this past weekend. By all accounts, but most importantly my own, the festival was an absolute success. In fact, I would argue that Outside Lands is making a strong case for best festival in the country. Casting aside the lineup for a moment (and its got a sick lineup), Outside Lands lacks the mud of Bonnaroo, the unbearable heat of Burning Man and the lack of irrelevance of, say, a Lollapalooza and the remoteness of Coachella. Throw that into the City by the Bay and you got a contender for best festival out running.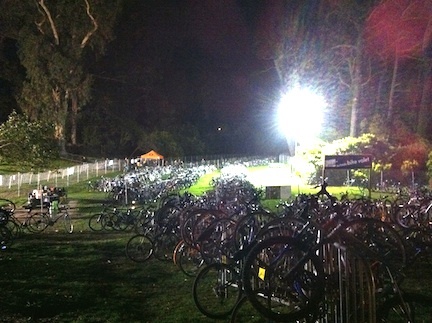 The line up ain't bad either. The headliner was Phish, arguably the most important American band of the last 25 years, followed by Muse on Saturday and Arcade Fire on Sunday. There were Indie Rock bands like STRFKR, classic rock icon John Fogerty did a set, and Arcade Fire did a solid yet predicable set. For clarity, I did not get to attend every show, but I will say that the high points of crowd exuberance were during Girl Talk and DeadMau5; people went nuts. In a live sense the Twitter generation wants the club atmosphere at a festival and that is what these two bands provided. Lastly, the Phish set brought a whole new group of followers into the jam band's followers. The use of familiar covers allowed the band to catch the newbies' attention; followed by strong pointed originals to seal the deal.

SUBSCRIBE TO & FOLLOW THE MORNING EMAIL
Start your workday the right way with the news that matters most. Learn more