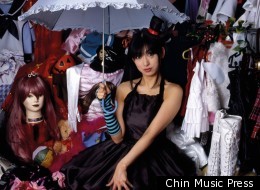 Yanai Jun moved to Tokyo from rural Nagano Prefecture at the age of 18. Almost two decades later, he lives the good life of a bachelor in the big city. He has a full-time job at an IT company and makes enough money to do pretty much whatever he wants.
And what Yanai does is go all out with his hobbies, which these days comprise mostly collecting anime series featuring bishōjo (beautiful girl) characters.
"I buy DVDs of series that I've already seen on TV because I want to keep them," Yanai says. "There are free recordings online, but buying the DVD shows the spirit of the fan. I want to buy the DVDs of my favorite series and place them on a shelf in my room."
At a time when many predict the imminent demise of physical media, Yanai has about 500 DVDs in his small apartment. He is humble about the size of the collection, saying that he knows people with 2,000 or more DVDs. In Japan, each of these discs costs about 5,000 yen, and might contain only one or two episodes of a popular anime series.
Yanai doesn't mind. He has the money and wants the DVDs - it's as simple as that. Possessed by the spirit of the fan, Yanai estimates that he spends 30,000 yen on DVDs a month, plus 50,000 yen on bishōjo figurines. When he comes up short, he uses his savings and company bonuses.
This is a guy who is serious about his hobbies, whatever they might be. Six years ago he was into horse racing and lived out by the track. Now he's into bishōjo anime and figurines, and so he moved into this apartment near Akihabara, the center of a particularly vibrant strain of "otaku" culture.
Yanai styled his room to become a miniature Akihabara. Everywhere there are images of bishōjo characters. He even bought a set of "rental showcases" of the type seen in stores in Akihabara to display his figurine collection.
Though he may seem the stereotypical otaku, Yanai is not a recluse by any standard. He's hypersocial. He writes for a free magazine distributed in Akihabara, which gets him out and about. He is a regular at local events and fan gatherings. He even takes coworkers on tours of Akihabara - including a stop at a maid café, those infamous places where girls dress up like the titular characters and serve customers (a fantasy inspired by bishōjo games, particularly popular in Akihabara).
Where many Japanese once might have found this world of otaku a little creepy, Yanai insists that times have changed.
"Nobody uses the term 'otaku' as an insult anymore," Yanai says, pointing to economic and political reports praising otaku, and self-proclaimed otaku personalities appearing on TV shows. "I know there are people who have to hide it, but personally I feel it's more fun being open about it."
Yanai allowed us into his private space as part of that openness, and also as a statement against lingering stereotypes of the socially awkward otaku who lives in squalor and avoids contact with the "normals." Yanai is extremely generous with his time, and patient in explaining things to us (I wonder how many people could state their values so clearly).
When asked to pose for a portrait, Yanai has fun with it, performing and playing with stereotypes and laughing at them. In his room and in his portrait, he is cool and confident. He interacts with favorite characters in material and immaterial form, and with the photographer and myself. He seems to be equally at home among the objects, images and people in the stores and on the streets of Akihabara.
Welcome to Otaku Spaces [Chin Music Press, $20.00], inhabited by some of Japan's most enthusiastic consumers and collectors. Today otaku refers to fans of all stripes; it is a label that is embraced as passionately by some as it is rejected by others. This is a terrain of contested meanings. And "you" (the original meaning of the word otaku in Japanese) are entering it. Invite otaku into your home and heart, as they have invited you into theirs.
Nagashima Yūichirō, 27, is a champion kickboxer who likes to dress as his favorite female anime characters before knocking his opponents out. Since his debut in 2007, Nagashima has made a name for himself in the world of professional fighting, especially after he won the K-1 World Max 2010 70kg Japan Tournament. But Nagashima considers kickboxing a part-time hobby. His full-time gig? Cosplay, or dressing up as anime or manga characters. "I started cosplaying in 2006 at semi-professional fights," he says. "It was part of my ring performance. At first it wasn't anime characters. I was dressing up in high school uniforms for girls or as a yankī (delinquent youth)."

Ishizaki Yūshin, born in 1980, is so in love with robots and two-dimensional women that he was almost crowned the King of Akihabara in a TV competition. Akihabara is a neighborhood in Tokyo known as a hotspot for otaku culture. An engineer by trade, he is single and lives in a closet in his parents' room that is literally overflowing with his collection. "When I was in middle school, we did fight about it," Ishizaki says of his parents' feelings about his collection, " but now, as long as it is in my area, then I can do whatever I want." How does he survive in such cramped quarters? "When I am done sitting up [working on models or the computer], I just lie down and go to sleep."

This 24-year-old train otaku from Osaka goes by the name Quintessa. He moved to Tokyo to work for Japan Railways after earning a degree in system engineering. "I memorized everything about trains: specs, routes, schedules and so on," he says. Today, he lives alone in a company-provided apartment. The sparse living quarters are decorated with Quintessa's model trains, conductor uniforms, robot toys and belts worn by various Masked Rider superheroes. "Now I am collecting toys that were originally for children," Quintessa explains. "They were made for kids, but I like to play with them." In public, Quintessa is extremely soft-spoken, but in private, he likes to wear his Masked Rider belts and strike transformation poses.

Fujiwara Natsuki is a "talent," or model and media personality, in Tokyo. She lives alone and avoids talking about her family or past. She only offers that she comes from Hokkaidō, Japan's northernmost island. Fujiwara is a cosplayer who makes her own costumes. So far, she has put together about a hundred outfits. "If you compare the costumes I make to professional costumes, mine are pretty shabby," she says. "Even so, it is something that I did myself ... Each costume is like a memory." She also is a big fan of yuri manga, or comics that feature relationships - often romantic ones - between girls.

Inui Yōko, 23 at the time of this photo, is an "idol," a term used for Japanese celebrity singers and models. She is a member of the Nakano Fujoshi Sisters as well as Fudanjuku, a singing group where the women cross-dress as men. She makes her own costumes, and had completed about 250 of them at the time of this interview. Inui keeps a extensive and ever-growing list of characters and costumes that she wants to do. "I think there are many people who do not know that there are stores out there which sell the costumes worn by characters in anime and manga, or that there are people out there who make such costumes for themselves and go out to take pictures with friends," she says.