In World World I, World War II, and Korea returning veterans used the VFW's as clubs to meet socially, have a drink, and contribute to the communities they were in. They were
at Memorial Day ceremonies, Fourth of July parades, and Veterans Day functions. They also served to help returning veterans get their needed benefits. All well and good.
However it was the Vietnam Veterans where the VFW started to lose membership. One returning veteran from Vietnam remembered it this way:
When I returned from Viet Nam we were not exactly welcomed with open arms at the VFW. I was actually mocked that I really didn't serve in a "real war" as the stalwarts of the post claimed. Needless to say there has been a huge disconnect between the VFW and me. I still smart from that remark.
Here are some statistics that illustrate the daunting challenges the VFW's are having nationwide. Today the VFW posts have 1.6 million members. Of that number 495,000 are older than 82, 300,00 are older than 72 (and younger than 82). Less than 10 percent are younger than 50. The numbers are setting a coarse for oblivion unless the VFW's become more relevant to the returning soldiers of Iraq and Afghanistan.
Fast forward to the soldiers fighting in Iraq and Afghanistan. We now live in the era of YouTube and Facebook. Soldiers can upload videos, share stories on social networking sites. Talk with family and friends and capture images to send back home via cell phones. These wars have become more up close and personal than ever before. The other difference in these wars is the women who are serving. About 200,000 women have now served in Iraq and Afghanistan. These women are front-line, rifle-carrying combat personnel. Which means they are now suffering the same devastating mental and physical wounds of male soldiers.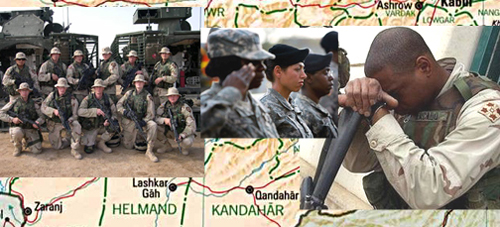 And yet largely the VFW posts seem to be to be stuck in some time warp from an era that can be seen in a rear view mirror. Posts that lets just say seem to be stuck in some old timers male perspective that just does not feel current or for that matter relevant. This is understandable because in the past the wars fought were all male veterans. Can't really say I could see a young returning veteran gal or guy from the wars in Iraq or Afghanistan wanting to hang out there though.
The other obstacle is funding to change their interiors. Although, I know of one VFW locally that applied for a grant from the Home Depot and are promised a complete renovation. I also believe that if local VFW's campaigned for renovations many paint, lumber, construction, architecture, and computer companies may be willing to contribute their products and services. The amounts donated would be tax deductible. I would recommend that they package their proposal in service to the young returning veterans of Iraq and Afghanistan. Then go to the mayors in their towns for help in mustering the resources to fulfill the mission. Of course this would take some planning but the survival of the VFW's may be dependent on taking this step.
Here is an 11-step plan for re-branding and re-imagining VFW's nationwide.
1- Think of your post in a global sense.
2- Think gender neutral
3- Think humanitarian be more relevant
4- Think technology, have Wi-Fi and laptops available. Call on Apple, Dell, and Microsoft for donations
5- Think color. Along with red, white, blue, have green, brown, and sky blue (nature colors). Ask Benjamin Moore for the latest colors that are earthy, calming, and relaxing and then ask them to donate paint.
6- Think images. Posters of nature, beaches, sunrises, moon, meadows, humankind, smiling faces of children etc. Images that calm and soothe. Call on Kinko's to donate poster services.
7- Think less hard liquor and move to some wines and micro brew beers
8- Think about opening up awareness within your community about what these veterans
from Iraq and Afghanistan have been through. Documentaries like "Severe Clear" and "Restrepo." There is also a very good DVD on PTSD put out by the Semper Fi Fund called
"Cove Me" that can be ordered for free at this link.

9- Think about asking people in the community to help fill boxes to send to veterans.
So that we act on truly supporting our veterans instead of just having a bumper sticker
stating it.
10- Think about putting some plants in your posts. And if you have any kind of yard think
about putting in a vegetable garden. Getting in touch with nature is always healing.
11- Think about documenting your own VFW post story. Interview your veterans get their
stories.
It would be a shame to see this wonderful organization not be there to support these returning young veterans from the wars in Iraq and Afghanistan. These veterans have in many cases volunteered their service four and five tours. The stresses on our military and soldiers have been unprecedented. The wounds that they have suffered from IEDs and PTSD will impact their lives for years to come.
Maybe at some point in the future the posts will be called VFP's Veterans of Foreign Peacekeepers. But we are not there yet, so until then Post Commanders make your posts more relevant to the times we live in. Over and out.
Goodbye to the all male model of the VFW's.
Hello a gender neutral model for the VFW's.
Goodbye to idle bumper stickers saying "We support our troops."
Hello to people stepping up to help the VFW's support our troops.
Goodbye to the VFW's losing relevance and membership.
Hello to VFW's becoming more relevant and gaining membership.
SUBSCRIBE TO & FOLLOW POLITICS
How will Trump's administration impact you? Learn more