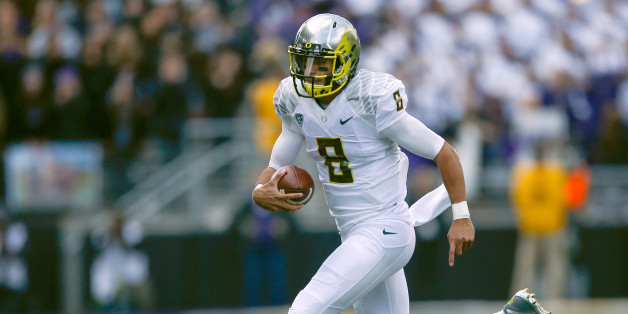 After an outright victory, as predicted, by the Missouri Tigers against the Florida Gators last week this weekly feature is now 6-1-1 (86 percent ATS). With the last relatively competitive game projected for and Oregon Ducks squad coming off of a "disappointing" 62-38 win over Washington State at home, it's a good time to buy into Oregon and the OVER.
Having played the 66th ranked schedule in the country, Oregon is 7-0 straight-up and 6-1 against-the-spread on the season. The Ducks currently rank #2 in our College Football Power Rankings and would be favored by more than a field goal over every team in the country besides Alabama on a neutral field. In the matchup against Alabama, Oregon would be less than a two point underdog (we would project that game on a neutral field to be won by Alabama 35-33). Oregon has won every game it has played by at least three touchdowns and is averaging winning over opponents 57.6 - 17.3 (only two opponents have scored more than 16 points on the season, yet every Oregon game has featured at least 69 points). Though the Ducks rank first offensively in our strength-of-schedule-adjusted efficiency metrics, most fans know that Oregon is one of the best, if not THE best teams in the country on that side of the ball. However, Oregon also has an elite defense. The Ducks are one of five teams with a top ten run and pass efficiency defense (Alabama cannot even say that), ranking sixth against the pass and ninth against the run. Plus, the team's most dynamic play-maker, De'Anthony Thomas is expected to return this week after missing the last four games due to injury.
UCLA has played the 47th ranked FBS schedule to-date and is 5-1 straight-up and against-the-spread (both teams lost against-the-spread for the first time last week). The Bruins rank 27th overall in our Power Rankings and do not rank in the top 20 in any of our efficiency metrics. The offense, which features future NFL early draft choice Brett Hundley at quarterback, is very good and runs very fast, but will also be without it's top runner, Jordon James for this game (James averages 6.3 yards-per-carry, while no other player with at least five carries on the team has topped five yards-per-carry). Ranking 22nd against the pass and 23rd against the run would be considered a great defense in most situations, but it pales in comparison to its opponent's defense and is still expected to be shredded by Thomas, quarterback Marcus Mariota and the Ducks' offense. Bruins games are averaging a score of 39.8 - 19.2 with half of their games featuring at least 70 points.
Last week, Stanford succeeded by slowing UCLA down and making the Bruins uncomfortable, which led to a low scoring, 24-10 outcome. Do not expect Oregon to do the same. The Ducks, who have nine different players averaging more than five yards-per-carry, will get out running and UCLA will have to run if it has any chance of catching up.
And lastly, though perhaps most importantly (yes we said something similar last week), UCLA has the second strongest home field advantage in the country. The Bruins historically have played 7.4 points better at home than what would be expected out of them on a neutral field. Oregon, has an average home field advantage (scientifically, I'm not talking about the experience of going to games there), which is worth just over a field goal. This means that our projected margin of victory for this game would be around 11 points closer if this game were to be played at UCLA (in the Rose Bowl). That's a huge difference, especially given the pace and spread in this game.
In the featured matchup of two quarterbacks who could each go in the top five overall in the 2014 NFL Draft, Marcus Mariota wins with the better defense, healthier offense, more innovative offense and a tremendous home field advantage (relative to playing this game on the road). According to 50,000 games played by the Predictalator, Oregon over UCLA 74.5% of the time and by an average score of 53.8-26.0. As 22.5 point favorites winning by about four touchdowns on average, Oregon covers the spread 54.3% of the time, which would warrant a $20 wager from a normal $50 player. The OVER (70.5) is actually a better play as it covers 56.1% of the time, strong enough to justify a $39 play from a normal $50 player.