style="float: left; margin:10px">The public square, even under autocracies, is a volatile place exposed constantly to the vicissitudes of taste, political will, and history's ever-evolving measure. Whether referring to artist, subject, or patron, change can come quick and judgment harsh: it's the price paid for all those asserting significance in their lifetimes or imposing engagement wanted or not. In each case there seems to be a built-in tipping point that, once reached, spells demise.
Worse still is the presumptuous imposition in assigning historic significance before the test of time intervenes; that can lead to a benign neglect as pernicious as any photogenic toppling. A new AIDS Memorial is planned for New York even as San Francisco's 20-year old National AIDS Memorial Grove stands largely unvisited except as an occasional ceremonial backdrop or particularly intrepid tourist destination. Were there a memorial to typhoid would anyone care? They should, but can a public memorial best manage the assignment over the long run when those personally engaged are no longer on hand to tend it?
The great American master Frederick MacMonnies's Garden of Eden parable Civic Virtue went up in front of New York's City Hall in 1922 with great fanfare but has been kicking around pretty much ever since as creative impulse led almost immediately to mocking derision ("Good" man tramples "Evil" woman --turns out political incorrectness is nothing new). LaGuardia removed it and today it still crumbles outside the Borough Hall of Queens destined, apparently, at long fitting last for Brooklyn's historic Green-wood Cemetery, where it can stand rightly as a curious expression of American sculptural art rather than any sort of symbol of a binding social contract.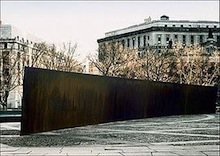 style="float: right; margin:10px">Three generations later, an angry public forced removal in lower Manhattan of Richard Serra's Tilted Arc not for its abstract subject matter per se but for its overwhelming form. Defaced by graffiti, Arc sacrificed diverse concurrent public enjoyment of a public square to the subjective tableau of one man -- however limitless his genius may be. This was the aesthetic face of political shift and concomitant rejection of imposed priority.
But it is politics that hold a special place in the history of ill-conceived and ill-fated monuments. The successive pharaohs of Egypt set a standard wherever the filter of historic democratic consensus is circumvented and premature idolatry guarantees ultimate collapse.
The one exception is when the public symbol of oppression paradoxically becomes a warning portent of the evils of its original commission; Iraq's shift from destruction to restoration of Saddam's grotesque street-spanning, sword-brandishing Hands of Victory is a fine case in point.
Castro can likely anticipate a posthumous removal of the two- and three-dimensional manifestations of his murderous cult of personality along with Assad -- pere et fils -- as oppression yields to honest collective appraisal unleashed by rage.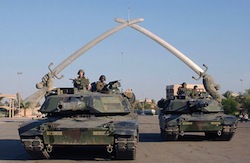 style="float: left; margin:10px">
Surely since the beginning of recorded history it is this impulse, whether imposed by succeeding regimes or more commonly in the modern era as willed by the broader citizenry, that finally prevails.
With sports and entertainment rising so meteorically in cultural currency over the last century, the demolition of Joe Paterno's premature bronze tableau sadly exemplifies the peril of such hubris in a relatively new thematic arena. Its immediate removal need not have meant permanent exile but those in favor held out too long and opened a valve of outrage that has likely subverted reconsideration for the near future. And bear in mind: thirty years ago, nearby Philadelphia rejected Sylvester Stallone's "generous" offer of a fist-pumping, victorious, life-size, bronze Rocky atop the grand stairs of its world-class fine arts museum. Let's hope they would still dare to do so today when so many might find it a fine civic amenity.
In the best of circumstances, Paterno didn't belong there yet in the first place. The same goes for Hall of Famer Mike Schmidt outside of Phillies Stadium; it's fine for now but his life must not deviate from the standard set in stone and only an unknown future can deem its permanent value for fixed devotion. Babe Ruth's posthumous placement along the Yankees Wall of Heroes seems just about perfect in timing and enduring merit. So does the Arthur Ashe statue at the National Tennis Center even if inexplicably nude.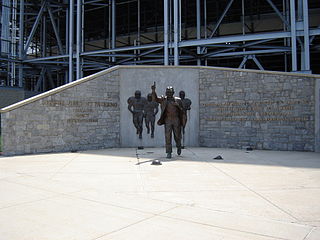 Name-naming in America is a different story as it is generally tied to donation or subsidy, signifying a contracted period of gratitude (or marketing) rather than contemplative worship. And, besides, it can be discarded instantly: read Enron, Qualcomm, and Shea (who was he?) stadiums.
What matters instead, going forward (at this fractious multicultural time of declining resources), is the issue of erecting specific memorial artworks or dedicated places. If not done right following a respectful interlude of broad un-imposed consensus, then the act itself is counter-productively imperiled when not damned outright.
SUBSCRIBE TO & FOLLOW THE MORNING EMAIL
The Morning Email helps you start your workday with everything you need to know: breaking news, entertainment and a dash of fun. Learn more