Chicago artists are making a difference. There are more artists taking initiative than I've seen in some time. More artist-run, alternative spaces are emerging. Some appear with the intent of only lasting for a few months and some only for a single show.
Obviously there are not enough galleries here to address the quantity of quality art that's made here. And though that appears to be an indictment of our galleries, there is also an insufficient number of collectors (even just buyers) to adequately support the gallery scene.
The smart galleries stay ahead of the curve. Old models don't work the way they used to. For decades Richard Gray Gallery has been exemplary, and under the guidance of Paul Gray and his coterie of co-workers steps up its game yet again this weekend. They've commandeered a lot of space on the floor beneath them and given it over to a one-person installation of sensitive work by Jan Tichy, who just received his master's from the School of the Art Institute. Last seen in a MCA 12 x 12 show, Tichy's work incorporates projected video, often onto objects he's sculpted. His calm, meditative, memorable work is worth seeing all by itself, but observing how a first-class gallery expands its program as it morphs forward, even in embracing what appears to be a thoroughly noncommercial presentation, is a joy unto itself.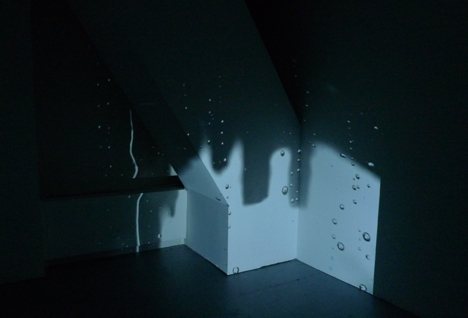 I like to see artists take initiative, to be responsible for the well-being of their careers and to not wait to be anointed by a gallery in order to get their work shown. I've known Mike Bancroft since he became the best pancake flipper I ever had for my myriad gallery breakfasts. Bancroft works day in, day out, with disadvantaged kids in his neighborhood, and after doing this for seven years he's got kids coming back from the colleges they never thought they'd get to, to teach in his program. And still Bancroft has one of the more charming, though slightly skewed, senses of humor I've encountered. Garage Spaces is a three-month project with three scheduled exhibitions; the first being Stolen, an exhibition of 'prosecutable' works of art -- a fun, pithy commentary on ownership and possession, and the juxtaposition of found, lost and appropriated.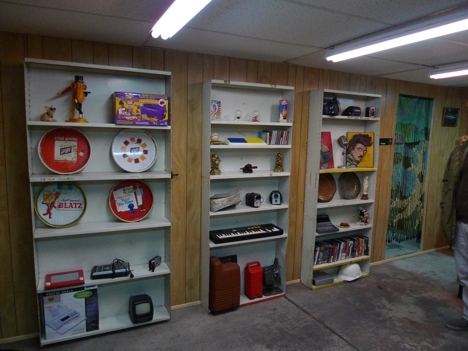 Also tonight is a celebration by four artists who are presenting Ultrasheen in a vast space they found that is only available for the night. As soon as they decide their prices I think I'm going to spend money.
It's empowering for artists to go through with making their own presentations, to share mailing lists, to learn how to hang art, especially in consort with other artists, even to figure out what kind of libation to arrange. Once these artists better understand some of the activities that are intrinsic to galleries they are either more appreciative of what a gallery does, or they are better prepared to insist on galleries doing what's right for the artist. Either way, the artist benefits, and that's how it should be.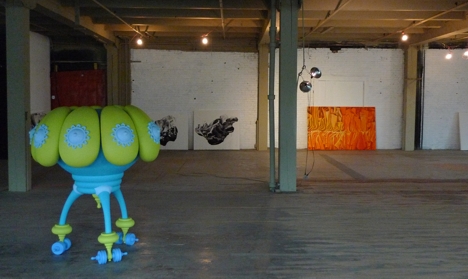 The exhibition of Cleve Carney's collection at the Elmhurst Art Museum is joyous. I don't recall when I first met Cleve, or for that matter when I first sold him a work of art, but it's clear from the exhibition that he's had a passionate, infectious drive to acquire prime examples of Chicago art for at least two decades. There must be 100 pieces in this survey exhibit -- and from the murmuring at last Sunday's opening the consensus was that this show is a mere 20% of the Carney Collection.
Cleve Carney's taste runs toward minimal, but it's obvious from looking at the show that there are many occasions where his passion led him to diverge from his core affinity.
First, this is a really wonderful presentation with some delightful groupings of paintings, probably orchestrated by guest curator Debra Lovely. But also, this show is a testament to the quality, breadth and excitement that has been Chicago art for quite some time.
I'm excited this show is at the Elmhurst Art Museum. It's a good example of what is possible and the breadth that is Chicago art. It provides a fascinating counterpoint for the equally passionate presentation of predominantly Chicago art from the Spiezer Collection just seen at the Rockford Art Museum. Both shows included perhaps 50 artists, but there is very little overlap. Maybe, just maybe, we should give ourselves more credit.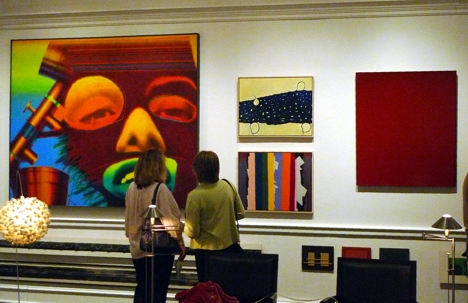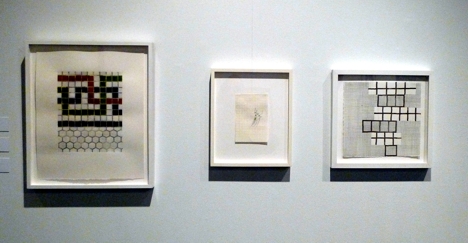 Okay, here's a confession of sorts. About a year ago I started making art again, after having given it up shortly after college. You know what? It is friggin' hard to be an artist! I've been giving artists advice for at least 30 years -- hopefully passionate, loving advice, but for once I decided to follow the advice I'd been giving artists and try my own hand. A year ago I made maybe 40 small inkwash drawings and showed them to Tony Fitzpatrick who professed to liking them a lot -- for a half dozen reasons that had little to do with my intent -- so I quit.
Then, for a boffo-cool one night show generated by Industry of the Ordinary, I was asked to make an artwork relevant to one of 39 verbs. Apparently randomly chosen, mine was "Dream." And that got me started again. This group I like better and actually have sufficient cojones to let the art out in public.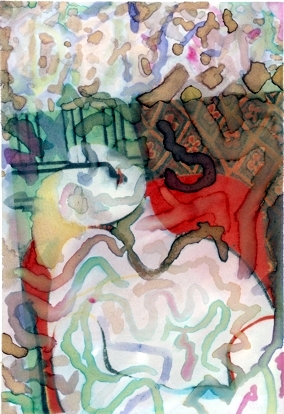 One night only. At Packer Schopf. I'm in good company. I even put a proper frame on my piece.
What a strange thing for me to attend an opening as an artist instead of as a dealer, a collector or a fan. It has a different energy to it.
Well, thanks, if you made it to the bottom of the page,
SUBSCRIBE TO & FOLLOW THE MORNING EMAIL
The Morning Email helps you start your workday with everything you need to know: breaking news, entertainment and a dash of fun. Learn more