Recently, I had the pleasure of facilitating an event called "Innovations in Social Justice: New Hope, New Actions" at the Hub in Berkeley, California. Among the panelists was a 21-year-old rapper, artist and community organizer who goes by the name Babye Champ, the Scraper Bike King. A Scraper Bike is an ordinary bike decorated with foil, spray paint, and everyday items like candy bar wrappers. Scraper Bikes have become a worldwide phenomenon, in part thanks to this YouTube video created by Babye Champ several years ago.
Babye Champ is one of the originators of the tricked out bikes. Early on they were meant to give him and his friends a positive outlet in the rough East Oakland California neighborhood where he lives. Just this year Babye Champ has attended five funerals of young friends, mostly due to street violence. He came to the evening event at the Hub from the funeral of a fifteen year old cousin killed earlier that week in a gun related incident.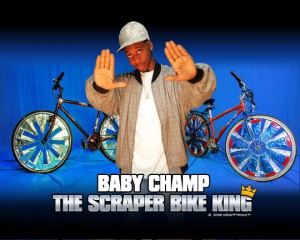 While the bikes themselves are beautiful, as this stunning video reveals, what is really amazing is the compelling youth movement which Babye Champ has built around them. Babye Champ and his friends have launched an activity which keeps thousands of youth in his neighborhood and around the San Francisco Bay Area on the streets in a positive way. They organize local rides, have initiated a Scraper Bike summer camp, and invite youth to join a popular Scraper Bike Team -- all without formal funding. Team members must be at least seven years old and agree to maintain a 3.0 GPA.

Scraper bikes are popping up all over the world, including countries like Russia, Australia, and in the UK. Babye Champ's artistry and activities have attracted local and national news coverage, and he was recently named "Best Green Transport Innovator" by California's East Bay Express.
His dream is to establish a local bike store in Oakland to double as a community center and where he can practice his art, steer young people away from negative activities, and build a global brand and movement.

Babye Champ's commitment to his own and the larger community is truly inspiring, and his success an important reminder of the power of indigenous, bottom up movements. He delivers a message to young and old alike that we can and should empower ourselves in the pursuit of social change.
Babye Champ is much more than a just a street artist. He is a champion of hope, and we need more youth leaders just like him.
Follow Paul Lamb on Twitter: www.twitter.com/plamb