Every day thousands of courageous Iraqis risk their lives to support American troops. Many work as translators, acting as the public face of American forces in some of Iraq's most dangerous neighborhoods. They and their families are threatened and often killed by the insurgents, criminals, and sectarian militias profiting from Iraq's insecurity. And yet, despite the risks, they remain dedicated to protecting our troops and helping their fellow civilians. And the United States is leaving many of them behind in Iraq to die.
If they were Americans, they'd get a ceremony on the White House lawn and a photo-op with the President. But they are Iraqis, so most can't even get visas. Fewer than 2,000 Iraqis have been given refuge in the United States--an appallingly low number. To put that in perspective, by the end of 2007, Sweden will admit about twenty times more refugees than the US. Other countries like Switzerland and Belgium have also stepped up where the US has not. Our country has a moral obligation to help its Iraqi comrades--and we are failing miserably. We are failing to keep our most precious allies safe from harm. So instead, they are joining the four million other Iraqis who have fled their homes since the start of the war. For these men and women, the endless bureaucratic hurdles imposed upon them by the United States are literally a matter of life and death.
As a soldier serving in Iraq, I saw for myself how high the stakes can be for our Iraqi friends. My interpreter, Esam Pasha, was a charismatic young painter who spoke four languages and loved American movies. He bravely painted the first post-war mural on a public building--a historic piece covering a huge portrait of Saddam Hussein called "Resilience."
In addition to being talented and smart, Esam was also the most important weapon I had on the battlefield. On tense patrols, during dangerous house searches and at dark checkpoints, he often had only a few crucial seconds to help us explain to civilians why we were there and what we were asking them to do. More than once, Esam's quick thinking and careful words saved lives - both American and Iraqi. He was "one of the guys"--and we trusted him with our lives. When my unit left Iraq in 2004, Esam was left behind to fend for himself. He was repeatedly threatened, and his name added to a public death list by local insurgents. Every day I checked my email, hoping to hear news that he was still alive. After many nervous months of constantly looking over his shoulder and navigating red tape, Esam finally escaped Baghdad to Jordan, than eventually made his way to New York City. He got a student visa, has refugee status pending, and is now thriving as an artist in Connecticut. His work was featured in a gallery in SoHo, and he was even on CNN. But Esam is one of a small number of lucky ones.
People who risked their lives for America are dying every day in Iraq because the President and scores of bureaucrats in Washington are dragging their feet. Todd Bowers, IAVA's Director of Government Affairs, describes the fate of one Iraqi he worked with in Fallujah:
After US forces swept through the city during the second Battle of Fallujah, Hassan*, my Iraqi civilian counterpart, took the lead in establishing the election site that would be used by thousands of Iraqis during Iraq's first national elections.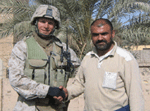 Soon after my second tour, I received the following email from a Marine on the team that replaced mine:
"The night of 11 August 2005, Hassan was followed and executed. He was shot 2 times in the chest and 1 time in the head. It was a sad day, as he had become our friend, and we continued our relationship with him that you had established. His family has left the city."
My friend had been assassinated by the insurgency, and his family, now left without a father and husband, was forced to flee their homes.
Last week, as a part of the Department Of Defense Authorization process, there was a vote on the floor of the Senate to improve visa processing for Iraqi translators and others who work with the US forces. IAVA was proud to support this critical legislation. And thankfully, it passed. The bill eliminates the current requirement that Iraqi refugees must apply to the United Nations before our government will consider their applications, and it expedites the process for those who are in serious danger because of their association with the United States. It also expands the number of special immigrant visas for Iraqis working directly for the United States. You can learn more about this bipartisan amendment here.
This is a great first step. But we cannot stop there. We must ramp up the number of Iraqis allowed safe haven in the US dramatically--and quickly. Protecting our interpreters is not only a moral issue, but also crucial to our national security. Counterinsurgency work relies on keeping good faith with our local allies; abandoning our interpreters would send a terrible signal to anyone thinking of working with American forces. It's time we protected those who protected us.
* Hassan's name has been changed to protect his family.