While a major hurricane will move through the Atlantic this week (and another storm might form), it is the remnants of a storm that never exceeded tropical storm strength that will pose a much greater danger to the U.S.
Remnant moisture from Tropical Storm Lee will combine with a slow-moving storm system to produce heavy rain over a large portion of the eastern U.S. during the next few days, potentially including the water-logged and flood-weary regions in the mid-Atlantic and Northeast.
Meanwhile, Hurricane Katia, the first major hurricane of the Atlantic season, is not expected to directly affect any land areas, and a new tropical storm or hurricane might form in the eastern Atlantic this week, well away from land.
From Tuesday through Thursday, rain will extend all the way from the Tennessee Valley and the western Carolinas northward to northern New England, and while not all of this region will receive heavy rain at all times, some of the rain along this corridor has the potential to be intense.
While the precise location of intense rainfall cannot be pinpointed, multiple inches of rain will likely fall over a large area, with isolated amounts of close to 10 inches possible. This amount of rain during a short period of time will produce flash flooding and possible river flooding regardless of previous conditions.
Some of the computer models indicate that the most intense rain will fall to the west of areas most recently hit hard -- and, in some cases, devastated -- by Hurricane Irene. This is the region from New England to the eastern Carolinas. It's important to note, however, that the heaviest rain would not need to fall in these regions to cause additional flooding. Rivers are already high, and the ground is much too soaked to absorb significant additional rainfall.
Much of the East has had very heavy rainfall in the past month.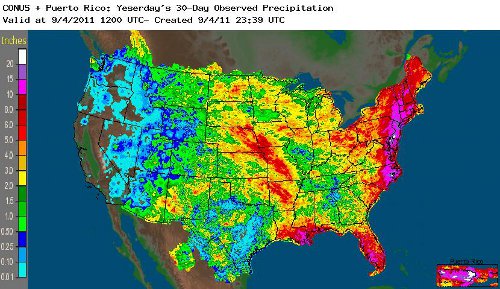 According to the Advanced Hydrologic Prediction Center, many locations from New England to the eastern Carolinas have received 10 to 20 inches (with isolated higher amounts) of rain during the past 30 days.
Just to the west, from western New York to West Virginia, rain has been much heavier than normal, with 10 inches in some locations. As a result, rivers and streams are higher than normal, and the ground will not be able to absorb heavy rainfall over a relatively short period of time.
SUBSCRIBE TO & FOLLOW THE MORNING EMAIL
The Morning Email helps you start your workday with everything you need to know: breaking news, entertainment and a dash of fun. Learn more