When diagnosed for breast cancer back in 2000, the prognosis for Mel Simmons was grim. Mel was a devoted, single mother of two, much-loved friend of many, 38- year flight attendant for Delta Air Lines and now -- a breast cancer patient. In the five years of treatment following her diagnosis, Mel's example inspired family, friends and medical staff as well. Colorful, lively and beautiful, Mel pursued life with the same good humor and pluck she always had, even as she received every drug treatment offered. She had to take a year off from work, leaving her both physical and financially (but never spiritually) drained and never without her legendary humor. Doctors and nurses alike remember the day she arrived at Massachusetts General Hospital (MGH) for treatment in a tinsel wig with lights on it to celebrate Halloween. It was Mel's unique talent to lift the spirits of everyone who came in contact with her.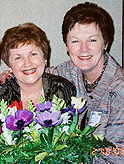 During treatment, flight attendant friends who traveled internationally brought Mel treats from abroad -- olive oil soap from France, lacquered pins from Russia and colorful beaded bracelets from Istanbul. Mel loved to leave these gifts for staff and other patients who were in treatment with her. People soon began asking to buy the bracelets and the idea of "Mel's Bracelets™" was born.
Sadly, Mel Simmons lost her battle with breast cancer in 2005, nearly five years to the day of her diagnosis -- but her legacy lives on. A group of her friends decided to offer the bracelets -- as colorful and charming as Mel herself -- in exchange for donations that would be used to keep funding the research and support that helped her survive. Their goal was to raise $5,000 for MGH. The amazing part of the story is that in just one year, Mel's friends raised $1,000,000 and donated the funds to Massachusetts General Hospital's Cancer Center in Mel's honor.
Stories abound that Mel's Bracelets™ are meant to be given away. Frequently, individuals "pay it forward" by gifting the bracelet to someone they meet who has been touched by cancer. They take the bracelet right off their wrist and give it to a perfect stranger as a show of support. I've met women who make donations for 10 - 12 bracelets at a time. People love this idea!
One woman from Connecticut made a donation for 82 of Mel's Bracelets™. When I asked her why she needed such an odd number, she explained that she was an elementary school teacher and one of her colleagues had just undergone breast cancer surgery. The staff at the school decided that every one of them -- 82 in total -- would be wearing the bracelet when their friend returned to work.
Another young couple -- who had both lost their mothers to breast cancer -- decided to make a donation for over 100 of Mel's Bracelets™. They gifted them to all the guests at their wedding... in memory of their moms.
I have many similar stories. Over the years, Mel's Bracelet™ has become a symbol of support, friendship and love. Thousands of women wear them to make the statement that they are committed to making a difference in the lives of those who have been touched by cancer.
Now established as a non-profit organization, the Friends of Mel Foundation continues to raise money for cancer research, education and patient support. Mel's Bracelets™ have been wildly successful and thousands of women of all ages -- throughout the country and some international cities -- have joined a community of friends who wear the bracelet as a symbol of support for cancer causes. To date, $3,000,000 has been donated and has touched the lives of countless individuals and families.
In my next blog, I'll explain how we have provided support in the cancer community.
FOLLOW HUFFPOST