Priya was always special. A very bright child, a talented singer, with a sweet, open disposition. Today, on a sunlit morning at the lawns of the Chief Minister of Delhi, Ms. Sheila Dikshit's official residence, Priya's father, maybe for the first time, also realized this fact.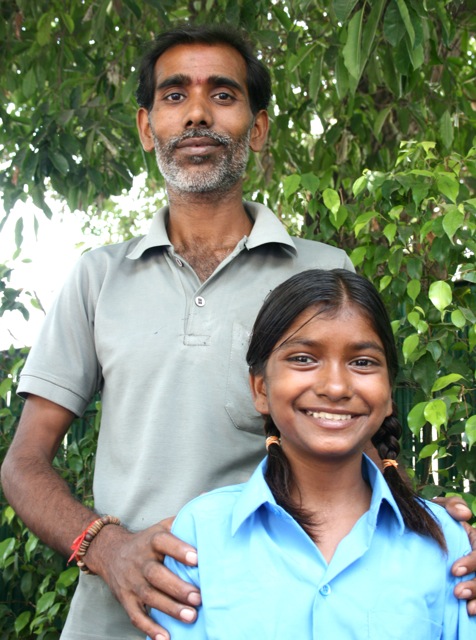 They were among 20 pairs of fathers and daughters who were there to participate in the launch of the Deepalaya, FADA (Virginia-based Father and Daughter Alliance) and the Govt. of Delhi joint initiative to bring girls back to school through the involvement and support of their respective fathers. It is a unique program that recognizes the fundamental role of the father's viewpoint in the way that a girl child is treated, and in the opportunities that she is provided. Most of these girls never attended school.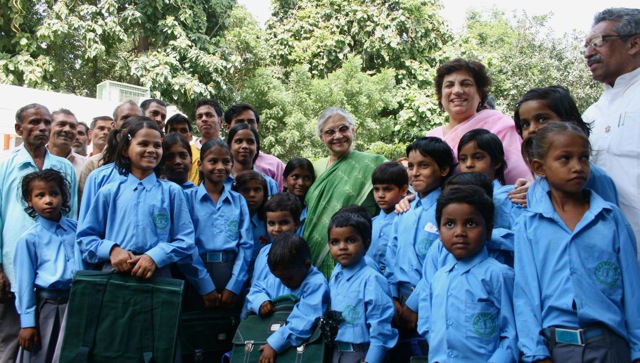 Speaking at the launch, Mr. T.K. Mathew introduced the program and said that the foremost issue to be addressed is that of mindset- the mindset that conditions society to limit girls to a purely domestic sphere. Towards addressing this issue, he pointed out that Deepalaya has been practicing what can be termed "positive discrimination" for many years. For every boy admitted at a Deepalaya school, at least one girl has to be enrolled as well. As a result, out of the 16000 children in Deepalaya's various programs, more than 60% are girls.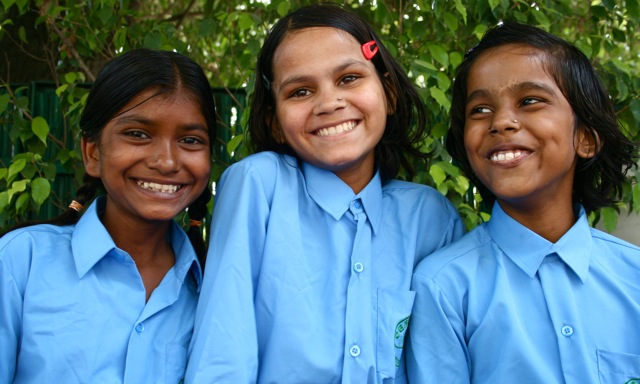 Giving the background to the present initiative, he said that Deepalaya and FADA had come together because of their common aim of securing a better future for the girl child. The campaign had been given shape over the past year with visits to Delhi by FADA's President Pedro Moreno and with the Chief Minister also committing the government's partnership to the initiative. At the start, 1141 families were involved in an extensive door-to-door survey at Sanjay Colony, Okhla Phase II. It was found that 218 girls in the age group of 4-16 do not go to school at all. These were figures from just 9 of the 32 blocks of the colony. Clearly, there is no dearth of students, and with a change in the mindset of the fathers, the aim of extending the campaign to 100 girls by December and 1000 by March 31, 2010 is definitely achievable.

Outlining the campaign's aim for its pilot group of students, Mr. Mathews said that all the girls had already started studying at the Deepalaya School at Sanjay Colony with FADA's support and were being prepared to join the mainstream education system. FADA-Deepalaya's vision would be to insure that in a few years time, there is no girl child in the region who has never been to school. Mr. Mathew then commended the fathers, who were, along with their daughters, pioneers- the first to set an example. The fathers and daughters stood up to a round of applause, which was followed by a small performance by some of the children. First Priya stood up to the mike and looking at everyone present, said in a strong clear voice, "I am a girl, and I can do anything I set my mind to". As everyone cheered, Priya, accompanied by Jyoti and Sudha sang these simple but moving lines:
"Padhna, Khana, khelna
Aur Chahiye Pyar.
Hum Beti Hain, Koi Gair Nahin."

"We need to study, to eat, to play, and we need your love.
We are no strangers, we are your daughters."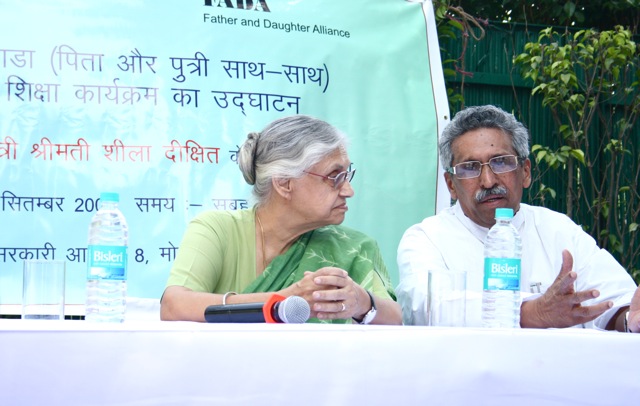 The Chief Minister, Ms. Sheila Dikshit, then applauded the efforts of Deepalaya, saying that the organization has been constructively responding to needs in the society for many years. The present initiative with FADA and Deepalaya, she said, was also one such example, because it addressed the issue of the girl child at its root- at the level of her relationship with her father. She emphasized that the concept of the daughter as "Paraya Dhan" - her future husband's property- has to change, and this attitudinal change can happen only with education. She pointed out that daughters are a lifelong support and help to their families, and equally adept outside the domestic sphere. From being pilots to astronauts, to administrative officials, they can achieve everything through that first step of education. She congratulated FADA and Deepalaya, the parents and the girls for being part of something that would bring about a very positive change in society, promising the Delhi's Government's full support to the campaign.

The Chief Minister and the Social Welfare Minister, Ms. Kiran Walia then presented each of the girls with a school bag, which was followed by breakfast and snacks. As the children and their fathers sat down to eat, it was clear that they had been listening closely to all that was said. Bharat Singh, Jyoti's father said, "My thoughts have expanded; I now want to let my daughter dream big, and with Deepalaya's help I will do everything I can to make her dreams come true"

As the press asked for their interviews and photographs, both fathers and daughters were stars for the day. More importantly, twenty proud fathers now saw their daughters in a different light.

Everyday this number must, and will, grow.

To support the mission of the Father and Daughter Alliance (FADA) go to: www.FatherAndDaughter.org