Yuthfulguy Productions just released a 4-minute YouTube video on:
FADA - Father & Daughter Alliance: Education for Girls Fathers' Support for Primary Education for Daughters
The Goal of FADA, is to microtarget and help 5,000 girls get back to primary school in 5 countries from geographic areas with stubbornly low rates of completion of primary school by girls.
The 5 hot spot countries we selected are:
Afghanistan (literacy 51% male, 21% female)
Yemen (literacy 70% males, 30% females; 80% of boys in primary school, and 50% of girls)
Benin, (literacy 48% male, 23% female)
Guatemala, (literacy 75.4% males, 63.3% females)
India, (literacy 78% male, 55% female)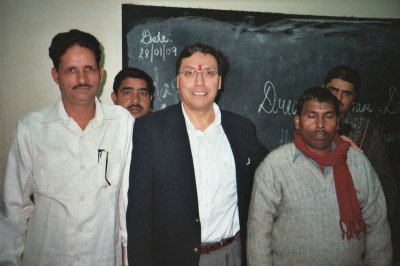 Photo caption: FADA's President, Pedro Moreno, meeting with a group of fathers in New Delhi, India
Helping these countries would significantly contribute to achieving universal pimary education for boys and girls, particularly in light of the Millennium Challenge target to be completed by 2015.
The geographic areas represented are South and West Asia (where 2/3rds of children out-of-school are girls), Arab countries (60% of out-of-school children are girls), and Sub-Sahara Africa (where 40 million out-of-school girls live). Guatemala's educational system is one of the neediest in Latin America and its gender ratio of primary completion for 15- to 24-year-olds is 0.82.

SUBSCRIBE TO & FOLLOW WORLD POST