Thursday, May 15: Departure from New York City
I dash to Teterboro Airport to hop on a financier friend's Gulfstream G-IV with Vanity Fair scribe Bob Colacello. Bob is working on a social story on the young heirs to the biggest European fortunes with photographer Bruce Weber, who is having a Cannes retrospective of his documentary Let's Get Lost starring Chet Baker.
I begin to map out this diary of my days on the Riviera. As usual I have overpacked -- I have enough luggage for 12 people: 10 designer daytime ensembles and 10 (required) formal long gowns from Vera Wang, Armani, Zac Posen, Luisa Beccaria, Dennis Basso, and H&M.

Friday, May 16: Arrival in Cannes, France
My new digs are smack in the middle of all the action on La Croisette at the Carlton Hotel, overlooking the Mediterranean. The entrance has been transformed into a cardboard prehistoric temple completely covered with Indiana Jones signage. Bentleys, Lamborghinis, and Maseratis endlessly circle in the driveway, depositing overdressed starlets.
To give you an idea of the enormity of the 61st Cannes Film Festival, you need to know that in preselection, 4,025 films were submitted, including 1,792 feature films from 96 countries and 2,233 shorts from 80 countries. Only 22 features are in competition.

10 p.m.: Microsoft cofounder Paul Allen's party
Paul Allen and his sister Jody Patton invite me to an evening of Arabian pleasures on his 301-foot yacht, M.Y. Tatoosh, at anchor off Gare Maritime. Paul's other boat, the 416-foot Octopus, comes complete with a helicopter and a submarine, is elsewhere.
Photo ID, a hard copy of the nontransferable invitation, flat "nonmarking" shoes, and no interior photography are the unenforced party instructions. It's raining, and a large ferry takes me to the mother ship.
Once aboard, the crush of celebrity is very reassuring and Paul graciously greets everyone. Unfortunately, I can't talk about the rest of the evening (except that the fireworks in the harbor were amazing and the party went until dawn). Suffice it to say I want to be invited back again next year.
As I'm leaving I bump into jury president Sean Penn, who arrives with model/former fling Petra Nemcova after a screening of the film he produced, The Third Wave. Sean moves on to huddle with Brad Pitt and the people paying homage to him -- Brian Grazer with his girlfriend, concert pianist Chosan Nguyen, as well as Ed Norton, Salma Hayek, Dennis Hopper, Adrian Brody, and Natalie Portman.

Saturday, May 17, 5 p.m.: Indiana Jones cocktail party at the Carlton
Two hundred members of the international press anxiously nosh on hors d'oeuvres in anticipation of a quick quote from the entire cast of the most highly anticipated film of the festival, Indiana Jones and the Kingdom of the Crystal Skull. Like a presidential cortege, advance men, security, and press agents precede the feeding frenzy that erupts as Steven Spielberg, George Lucas, Harrison Ford, Shia LaBeouf, Karen Allen, John Hurt, Jim Broadbent, Ray Winstone, and producers Kathy Kennedy and Frank Marshall enter the room. Steven has not been in Cannes for 26 years, not since ET. Up-close-and-personal access to this kind of movie royalty is rare. Indy is obviously review-proof and these very professional filmmakers patiently and gladly work the room. George tells me that he hasn't seen Indy with an audience and hopes "they accept the retro feel of the film."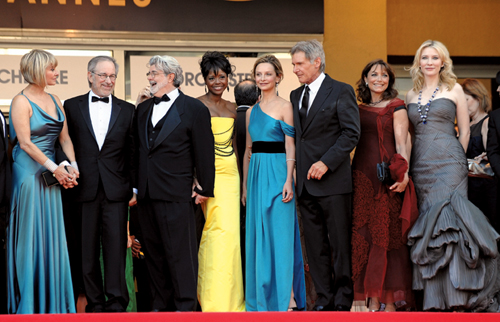 The cast of Indiana Jones and the Kingdom of the Crystal Skull
I tell him 86 million postwar babies have waited 19 years for this film, and if they bring their kids and grandkids, he has a hit. I'm the only one dressed in an evening gown and white mink jacket with a ticket for Woody Allen's film, so I hoof it down La Croisette to the Palais Theatre.

7 p.m.: Vicky Cristina Barcelona premiere at Palais/Grande Theatre Lumière; afterparty at 3.14 Beach Bd de la Croisette
Woody Allen is more revered in France than any other country. At 72 years of age and with 39 features to boast of, he ascends the huge red-carpeted steps with his wife, Soon-Yi, and his producer sister Letty Aronson.
The breathtakingly beautiful Penélope Cruz, in a flowing white Marchesa gown, follows with her towering British costar Rebecca Hall, daughter of the theatre impresario Sir Peter Hall. Harvey Weinstein follows up the steps. He knows he has a hit.
The photographers go nuts. They yell and beg and everyone gets their shots. Thousands of fans behind the wall of cameras scream out for Woody and Penélope. Woody is a tiny center of calm and the brilliant New Yorker politely takes it all in.
His new movie deals with women, men, and multiple lovers. (Yes, there is a 10-second girly kiss in a darkroom between Penélope, the unstable ex-wife, and Scarlett Johansson, the uninhibited girlfriend. Later in the film a ménage à trois is also suggested).
A 10-minute standing ovation climaxes in an absolute lovefest for Woody.
Scarlett Johansson pissed off the French branch of Warner Bros. after spending weeks negotiating her travel demands; they finally told her to stay home. They were willing to pay for flights, a hotel in town, limos, gowns, and for her to share hair and makeup people with Penélope and Rebecca. Scarlett demanded her own makeup consultant at a cost of $35,000. If 23-year-old Scarlett could have predicted the thunderous applause and endless standing ovation, she might have curled her own eyelashes and shown up.
It's pouring as Foxnews.com's Roger Friedman, London's Daily Mail's Baz Bamigboye, and I limo over to Harvey's afterparty. I worm my way into the tiny VIP area to congratulate Woody and he whispers in my ear, "What are you doing here?" I reply that I came to see his film. Only after I assure him I'm seeing many films does he accept my presence. Then he says, "I read about your haircut in the papers." The man has just gotten a 10-minute standing ovation and we are talking about my hairstyle. I explain how HBO was not happy about Liz Smith's mention of my 'do in the Recount coverage. I then offer to send him DVDs of HBO's Recount and Polanski: Wanted and Desired, wincing as the name Polanski rolls off my tongue. He responds, "I've seen them both and liked them." I tell him how much I love his film and that I am looking forward to screening it in Southampton on August 9.
Bono is now protectively sitting very close to Penélope and they're chatting away. The instantly hot Rebecca Hall's next film is Frost/Nixon. Everyone is thinking, "hit film."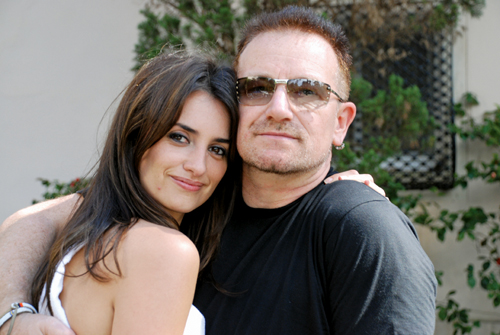 10 p.m.: Vanity Fair party at Hotel du Cap, Cap d'Antibes
This is the toughest ticket at the festival. It's still pouring. Clearly the mix is the message tonight and no one does it better than Graydon Carter, who holds court with his very pregnant (it's a girl!) and glowing wife, Anna. We chat up agents and film executives Jeff Berg, Jim Berkus, Jim Wiatt, 20th Century Fox chief Jim Gianopolous, Focus Features' James Shamus, Bob Shaye, Michael Lynne, Paramount's Brad Grey with new girlfriend Cassandra Marc, Brian Grazer, and the very rich Israeli (and largest Time-Warner stockholder) Vivi Nevo, who is with his beautiful fiancée, Chinese actress/political activist Ziyi Zhang.
Cate Blanchett (racing back from her room after breastfeeding her newborn son, Ignatius), Calista Flockhart (who just arrived from LA), Harrison Ford, and Faye Dunaway talk well into the night. Jane and Jimmy Buffett and L'Wren Scott and Mick Jagger compare notes on music. George Lucas, girlfriend Mellody Hobson, and Brett Ratner mingle with fashionistas Roberta Armani, Diane von Furstenberg, Domenico Dolce, and Stefano Gabbana. Valentino and Giancarlo Giammetti talk about enjoying retirement, staying on their 152-foot yacht, T.M. Blue One, helping Matt Tyrnauer finish his documentary about them that's set to premiere at the Venice Film Festival, and working on a retrospective opening at the Musée des Arts Décoratifs in June. This is Valentino's idea of retirement.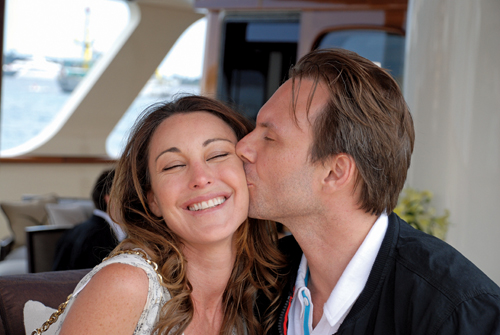 Tamara Mellon and Christian Slater
At another table, my favorite shoe designer, Christian Louboutin, who has the best house and boat in Luxor, Egypt, invites me to visit; meanwhile, Tamara Mellon (who's still dating Christian Slater), Margherita Missoni, Zac Posen, and supermodel and new face for Diane von Furstenberg Natalia Vodianova and her husband, Justin Portman, trade fashion tales with each other.
Also floating around are billionaire yachtsmen Barry Diller, whose EOS is 305 feet; News Corp.'s Rupert Murdoch, whose Rosehearty is 184 feet; and Revlon's Ronald Perelman, whose Ultima III is 188 feet. Combined, they own 677 feet of boat.
In addition, I see Countess Georgina Brandolini D'Adda, Bianca Brandolini, Joan Collins, Dominick Dunne, Bernard-Henri Lévy with Arielle Dombasle, Vogue's Alexandra Kotur, and Vanity Fair West Coast editor Wendy Stark, as well as Vanity Fair's new European editors, Ingrid Sischy and Sandy Brant. Sandy and Ingrid are staying at Sir Elton John's art-filled villa in Nice. Built in the twenties, it's one of the most beautiful old stone homes I've ever seen. It sits atop a mountain with sprawling acres of gardens and a view to the sea.
A second shift of postprandial guests arrives at the du Cap, the most exclusive (cash only) hotel in the South of France. They boogie on the tented terrace overlooking the sea, where smoke machines add mystery in the rain.
The entire Indy group stakes out a quiet dark corner where Shia LaBeouf, the new Indy, meets Star Wars alum and jury member Natalie Portman. They're joined by Sean Penn and his wife (with whom he's recently reconciled), Robin Wright Penn. Arriving from Woody Allen's afterparty are Penélope Cruz and Rebecca Hall, who had time to change into Dolce & Gabbana dresses. Jada Pinkett Smith, Will Smith, and Harrison Ford clown around and perform an impromptu dance routine. Will poses for a photo with Mick Jagger.
Added to the mix: Goldie Hawn, Jade Jagger, Adrien Brody, Mischa Barton, Overture Films' Chris McGurk, Sony Classics' Tom Bernard and Michael Barker, Jagger Films' Victoria Pearman, Murphy Brown's Diane English, Lawrence Bender, Paramount's John Lesher, and Nina Ricci designer Olivier Theyskens, to name a few.

Sunday, May 18, 1 p.m.: Jean Pigozzi's lunch at his Villa Dorane in Cap d'Antibes
The sun comes out and dries up all the rain; everyone is ready to party again. I've been in Cannes for only four days and I'm exhausted. The secret to survival is to avoid alcohol. Not a taste. Not a drop. Drink as much water as possible and you're a party animal with perfect skin.
Jean Pigozzi -- Italian businessman, art collector, philanthropist, and owner of the world's largest collection of contemporary African art -- has invited me to stay at his magnificent villa next door to the Hotel du Cap after this weekend, but I'm strangely undecided about the practicality of getting into town to see the films.
The lunch is in honor of photographer Brigitte Lacombe and the publication of Anima/Persona, a retrospective of her work. I descend the stairs to the pool filled with children's brightly colored blowup toys floating (as an artistic statement) and see Jean, Brigitte, and Giancarlo Giametti, Bruce Weber, and Roxanne Lowit clicking away. I'm inspired to shoot, too.
The pool, the sea, and the sky are a brilliant blue. The megayachts, which also seem like toys, bob close to shore. Barry Diller in a black caftan (which he wears all week) arrives on the tender of EOS with his wife, Diane von Furstenberg, whose likeness is sculpted on the bow of his sailboat. Ron Perelman makes the same dramatic entrance from the Ultima III tender with his girlfriend, Anna Chapman, and his daughter Samantha Perelman. Wendy and Rupert Murdoch arrive from Rosehearty's tender.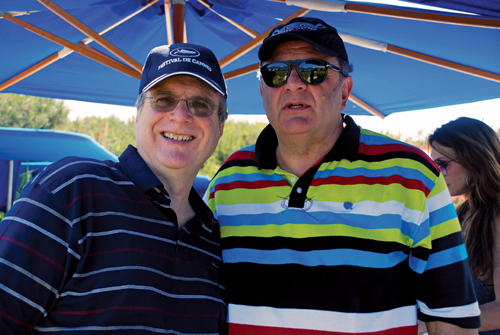 Paul Allen and Johnny Pigozzi

Paul Allen comes by car wearing a striped polo shirt, black Bermuda shorts, black socks, and black shoes. Jean "Johnny" Pigozzi is also dressed in a bright striped polo shirt that Paul admires. I hear Johnny say to Paul, "I promise to take you shopping in Harlem next time we're both in New York."
Mick Jagger, a regular houseguest, is just hangin' by the pool; no one is as cool as him. I tell Mick that the Marty Scorsese documentary about the Stones, Shine a Light (using 18 cameras), is a masterpiece. He's thrilled and tells me, "Scorcese is a genius." Then I tell him I'm moving in when he leaves and have asked Johnny not to wash the sheets and pillowcase. This makes him laugh. Then I pull out my camera and he's not laughing.
Penélope Cruz arrives with her constant escort, Bono. There's a new wave of excitement around the pool. The rich and famous stand in line to get a picture with Penélope.
7 p.m.: Indiana Jones and the Kingdom of the Crystal Skull premiere (not in competition) at Palais/Grande Theatre Lumière and afterparty at La Plage Beach
The Cannes crowd, many wearing faux Indy fedoras, is whipped into a frenzy waiting for the arrival of the stars of Indiana Jones with John Williams' soundtrack blasting in the background. As I try to navigate the streets in high heels, long gown, and fur wrap, crazed fans in beachwear press against black tie, creating a human gridlock. All this for a 65-year-old guy with a hat and a whip. I frantically wave my ticket in the air and shove my way onto a calm spot on the carpet. Salma Hayek, Michael Moore, Goldie Hawn, Dennis Hopper, and Jimmy Buffett all share the arrival drama.
Steven Spielberg, George Lucas, Harrison Ford, and the cast get a standing ovation as they take their seats next to each other in a center isle for filmmakers.
Afterward, the film gets a four-minute standing ovation.
I move on to La Plage, a beachfront restaurant, where 250 handpicked friends celebrate. This coveted invite excludes the press so the talent can relax. I find my friend Karen Allen, who revives her role as Harrison's love interest. In real life she's been living in the woods of Massachusetts, raising her son and selling hand-knit sweaters (the Spielbergs are big customers). Karen, glowing in a deep red gown, tonight gives romantic hope for all single moms globally when her character finally marries Indiana Jones.
Kate Capshaw -- whom I've known since she was a struggling single-mom actress (with a five-year-old girl) filming a romantic comedy called A Little Sex directed by Gwyneth Paltrow's father, Bruce, is sitting with her now-31-year-old daughter, Jessica, who recently made Kate and Steven proud grandparents with her baby boy, Luke. They're all staying on a boat in the harbor and Kate tells me her greatest joy in life is to babysit Luke. She's also survived a dress crisis by borrowing one of her daughter's. Mother and daughter look radiant in matching turquoise gowns.
Theo Spielberg, who is one of Steven's seven kids and a sophomore at Yale, tells me his summer plans include a stint at Rolling Stone magazine and working in the kitchen of Nick & Toni's. He's just written the music for a ballet of Alice in Wonderland that will be performed in New York in August.
Harrison stops by to tell Kate how much he loves the film. They talk about their favorite scenes and I hear Harrison say, "Steven is just brilliant." Steven, in a triumphant mood, comes by and kids that he's been telling people I was his personal secretary... which is absolutely true. (I worked for him in LA in 1982 after the release of ET).

Monday, May 19, 8 p.m.: Ronald Perelman and Deluxe Entertainment Services Group host cocktails and dinner aboard the Ultima lll
I check my shoes at the dock and then am greeted by Ronald Perelman, who says, "How did you get invited?" It's just his funny way of saying he's thrilled to see me as he's been greeting me this way for the last 20 years. Jane Wenner takes me on a tour of the gorgeous boat. Christian Slater and Tamara Mellon and Brett Ratner are there. Zac Posen is thrilled I'm wearing one of the four fab black dresses he's sent me.
The party is packed and noisy until Harvey Weinstein and Ronald bring the soirée to a screeching halt to introduce Vivi Nevo. Nevo introduces his fiancée, Chinese actress Ziyi Zhang, who reads from a prepared statement to raise money for the earthquake victims. The television news is showing nonstop coverage of this catastrophe. Ziyi's plea for help is the first time we have a face-to-face reality check amid all this opulent cinematic marketing.
I miss the screening of Gwyneth Paltrow's Two Lovers. She's come to Cannes for 36 hours, sans kids, to attend one red-carpet premiere, one party as Tod's new face on Diego Della Valle's 197-foot yacht, Altair, and an appearance at the Chopard Trophée party at the Carlton.
I arrive back in my room at the Carlton at 2:30 a.m. to pulsating music. It's Andy Garcia's band, which is popular in Europe, playing at the Chopard Trophée party where Gwyneth, Salma Hayek, and Christina Ricci are boogying away under my window until 4 a.m. After three phone calls to the front desk begging for quiet, I fall asleep. At 6 a.m. there's some machine running that crunches all the wine bottles from the night before. Ugh.

Tuesday, May 20, 7:30 p.m.: Changeling premiere at Palais/Grande Theatre Lumière and private filmmakers' dinner at La Palme d'Or in the Martinez Hotel
Of the 22 films in competition, three are by Americans -- Changeling, Che, and Synecdoche, New York. The speculation about who will win the coveted grand prize Palme d'Or is mounting.
The press suggests potential favoritism by Sean Penn for Clint Eastwood's Changeling because Sean himself won the Oscar for best actor in Clint's Mystic River, a film that was also launched at Cannes in 2003. Sean replies he's "insulted" by the innuendo and insists his fellow jurors will arrive at an honest "consensus." Adding the notorious Penn edge, he says that if Eastwood's Changeling is "a film worth rewarding, we're going to f***ing well reward it!"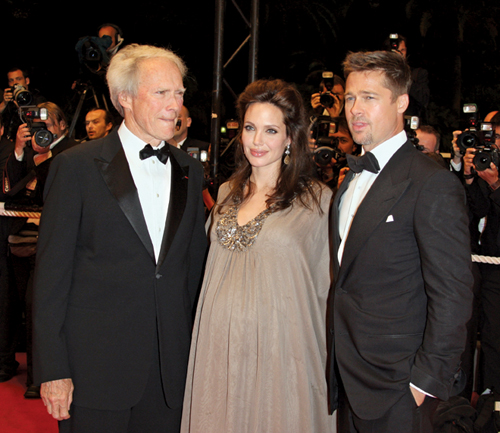 Clint Eastwood, Angelina Jolie and Brad Pitt

Snarled traffic and red-carpet hysteria anticipates the arrival of Angelina Jolie and Brad Pitt. She's radiant and huge (they're twin girls!) in a taupe chiffon jeweled-neck caftan. The press is taking bets she will deliver within days (she doesn't). Gorgeous Sharon Stone, in town for AmFAR Thursday night, makes her first of many Cannes appearances and poses with the festival's general delegate, Thierry Frémaux.
At 78 years of age, Cannes "God" Clint Eastwood makes his fifth trip (in competition) up the red staircase to cinema heaven with wife, Dina Ruiz, his film's producer Brian Grazer, and Universal brass Ron Meyer, David Linde, and James Schamus.
The back story is that no one except Angelina wanted to make this film because of its disturbing nature -- an adult nightmare. Angelina ultimately convinced Eastwood, Meyer, and Grazer to produce it. They realized Angelina (mother of many) is a publicity magnet, and having her play a mother whose love for her child is the whole driving force of the film is a perfect fit. (Mark my words: Her determination to get the film made will resurface in her Oscar acceptance speech.)
Angelina stars as a Prohibition-era defiant single mom in Los Angeles whose young son is abducted. The fact-based 1928 period drama opens in November. The film lives up to the hype and the audience jumps to an eight-minute standing ovation. Clint, who scored the film, too, is in the running for the coveted Palme d'Or. Traditionally, directors leave town and are notified if they need to come back for the closing-night awards.

11 p.m.: Dinner with Madonna at Le Felix Restaurant
I head to the famous Le Felix restaurant on the Croisette next door to the Carlton, stopping in my lobby first. I run into Cynthia McFadden as she heads back to New York to edit the footage of her just-completed Madonna interview to air on ABC's Nightline the following evening.
Next door is the half-empty eatery, and who's sitting in the back? Madonna. Her back is to us as she has a romantic dinner with her husband, Guy Ritchie. We pay the waiter to tell us everything (well, not really): her menu (asparagus and fish), her body language ... anything. She wears black gloves throughout the meal. She's a most fascinating creature. Her bodyguard sits a table away, sipping water. Come June the tabloids scream DIVORCE!

Wednesday, May 21, 1 p.m.: Carlton lobby
We head back to the Carlton lobby and run into Spike Lee. I remind him the last time we saw each other was at the Oscars outside the Governor's Ball he was trying to crash. He is not amused. He tells me, "When Barack Obama is president I will not have a problem getting into any party."
I insult him further by asking why he is in town. He snaps, "I've been coming here for more than 20 years!" Then he neglects to mention his eight-minute reel of his new film about four African-American marines trapped behind enemy lines in Tuscany during WWII called Miracle at St. Anna that he screened this morning. At the post-screening press conference he publicly attacked Clint Eastwood for not having "one Negro actor on the screen" in his two films about Iwo Jima.
Days later, Eastwood fires back. "A guy like him should shut his face," Clint told Britain's The Guardian. "Has he ever studied history?" Clint also said Spike shouldn't expect to see any black faces in Changeling either since his film is set in Los Angeles in the twenties, before the black influx to that city.
Spike then smoothed things over the same day by telling an MTV reporter, "I'm going to take the Obama high road. It's not a feud."
We also run into Sony Classics' Tom Bernard and after begging him for some dish, Roger Friedman tells him Paramount's Sumner Redstone is hiring Miramax's English whiz Daniel Battsek. Daniel marches into the lobby, which at this hour is still nerve central, and denies the rumor. Roger prints the denial ... and that's how news is made (or not). What a night. Weeks later, DreamWorks announces they are leaving Paramount.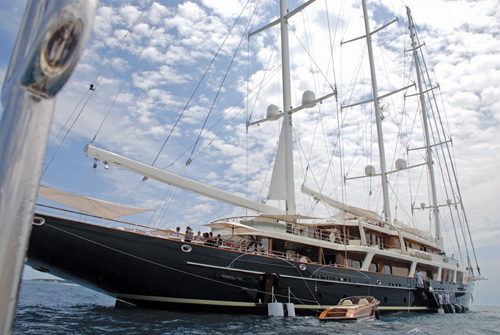 1:30 p.m.: Diane von Furstenberg hosts a private lunch for Madonna and her documentary I Am Because We Are
It's a beautiful day. The tender from the Hotel Martinez dock takes us to Barry Diller's 305-foot sailboat, Eos -- one of the world's largest private yachts, built by Lurseen with a dark green hull, three towering remote-controlled masts, and an interior decorated by famous French designer François Catroux.
Madonna has come to Cannes to show her documentary, which she produced and narrated. It was directed by Nathan Rissman, a first-time filmmaker who has worked for Madonna as a gardener and a caregiver for her children. Unfortunately, Madonna could not make the lunch, and no one except the hostess seems to care. The reason given was that she was meeting with potential buyers or distributors.
Our hostess greets Sharon Stone with a kiss and a sisterly question about the men in her life. Diane's model Natalia Vodianova, without a stitch of makeup on, and Dita Von Teese, with enough for both of them, lounge on the decks with Valentino and Giancarlo, Bob Colacello, Lapo Elkan, French actress Vahina Giocante, the New York Times Magazine's Stefano Tonchi, Tamara Mellon and Christian Slater (still dating), Justin Portman, Vivi Nevo, and Ziyi Zhang.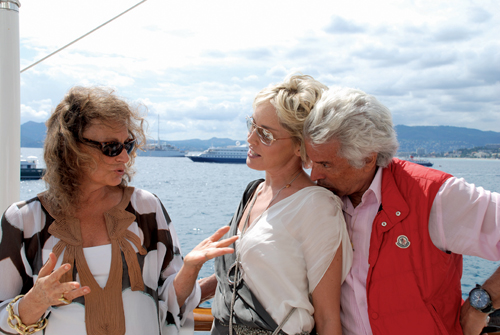 Diane von Furstenberg, Sharon Stone and Giancarlo Giametti


6:30 p.m.: Che premiere at the Palais' Grand Théâtre Lumière
Once again I'm running down the Croisette in black tie, this time, to see the four-and-a-half-hour biography Che starring Benicio Del Toro, produced by my friend Laura Bickford.
Three hundred dollars' worth of cheese, cookies, and chocolate from the hotel mini-bar are hidden in my handbag. I have no intention of suffering through this film. There's a hot group of Cuban dancers and musicians energetically performing on a high platform at the red carpet. People are pushing and shoving and the French police are being snotty for a change.
The first part is called "The Argentine" and explores the successful uprising Che Guevara led in Cuba. The second part, "Guerrilla," looks at his failed revolt in Bolivia. The expectations for Che could not be higher. Director Steven Soderbergh, surprise winner of the Palme d'Or in 1989 for Sex, Lies and Videotape, is considered one of America's most important and interesting filmmakers.
The audience's reaction is supportive and positive. The press has a field day on the commercial future of this ambitious film. One film? Two films? Released separately? Released together?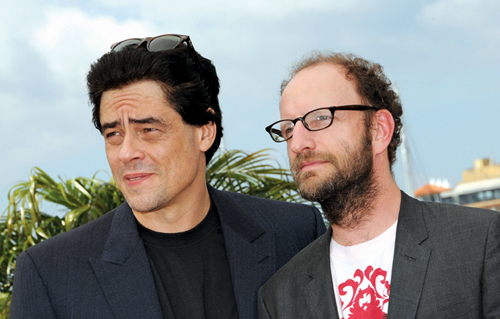 Benicio del Toro and Steven Soderbergh

Thursday, May 22, 6:30 p.m.: Cinema Against Aids 2008, Le Moulin de Mougins
With four days left to go, 500 limos transporting 1,000 famous and powerful people head out of Cannes to Moulin de Mougins for AmFAR's 15th annual Cinema Against AIDS fundraiser. These are the most expensive tickets of the festival, ranging from $5,000 each to $15,000 for seats near the stage.
Chairs who attend include event founders Harvey Weinstein, Sharon Stone, Kenneth Cole (chairman of AmFAR's board of trustees), Madonna, Patrick Demarchelier, Carine Roitfeld, Chopard's Caroline Gruosi-Scheufele, and Michel Litvak, the Russian owner of Bold Films.
The fashion crowd weighs in heavily in the Grand Benefactors category with Dior, Vuitton, M.A.C., Cavalli, and Versace. Moët Hennessy is a big supporter too. The guests also comprise a very wealthy international crowd (like Adnan Khashoggi) that has nothing to do with Hollywood and everything to do with bringing the private jets and mega yachts to Cannes to gawk at Sharon Stone. They couldn't be happier donating huge sums to watch four hours of Sharon's annual performance, flirting, cajoling, and shocking.
Sharon raises $2.1 million in the first 15 minutes by telling personal stories of meeting children with AIDS all over the world. She talks about organization founders Mathilde Krim and Elizabeth Taylor. She sits on Sean "Puffy" Combs' (or Puff Daddy, Diddy, the artist formerly known as Diddy...) lap to encourage him to bid on a Julian Schnabel portrait and shocks the audience with a crack about crack. She then raises close to $400,000 for the honor of hanging out with "the Puffster" for a day. She's quick, audacious and fearless.
Madonna is attending for the first time. Sharon jokes, "For those of you who thought we were two bitches who hated each other, I have news for you." She gets Valentino, Dean and Dan Caten, Giuseppe Zanotti, and Roberto Cavalli to each pitch in $100,000 to start her new Sharon Stone Pediatric AIDS fund and build a research center in her name. She later takes some heat from "Page Six" about self-promotion.
Madonna climbs onto the stage (she's oddly underdressed in a short orange tailored dress) to help auction off a private two-song backstage concert -- it goes for $560,000. Her Karl Lagerfeld one-of-a-kind Chanel black alligator handbag, to which she adds her lip gloss, magnifying mirror, hair clips, lozenges, and used blotting papers -- but not her BlackBerry -- is bought by Vikram Chatwal for $471,000 for his wife of two years, Priya Sachdev.
Mary J. Blige brings the house (or tent) down with a sensational three-song set. Jurors Alfonso Cuarón, Alexandra Maria Lara, and Natalie Portman dance at their tables. Elton's partner David Furnish, Diane Kruger and Joshua Jackson, Donatella Versace, Rose McGowan, Milla Jovovich, Joely Richardson, Elizabeth Hurley, Quentin Tarantino, Michelle Yeoh, Maria Cuomo Cole, and Polanski documentary director Marina Zenovich also boogie at the tables.
When Sharon Stone is finished with this crowd they've raised a whopping $10 million. Bravo to a girl whose basic instincts failed her briefly earlier in the evening when she said, "Then this earthquake and all this stuff happened, and then I thought, is that karma?" It wasn't smart, and the next day all the world came down on her. She apologized repeatedly. Give the girl a break and thank her for helping to raise $10 million for AIDS research.

Friday, May 23, 1 a.m.: AmFAR afterparty at Jimmy'z Disco at Cannes Port
Natalie Portman, always in French couture, wears a stunning short white Givenchy, and holds hands with her bearded boyfriend Devendra Barnhart, a folk-rock musician. At the earlier auction a young, gorgeous, mysterious Russian man named Milutin Gatsby had bought Madonna's white acoustic guitar for more than $400,000, and then gave it back to her so she could have a Malawi orphan learn to play it. Now at Jimmy'z, Mr. Gatsby (is he for real?) dirty dances with Sharon on the dance floor and gives her a ride home -- the night's last act of chivalry.

Friday, May 23, 7:30 p.m.: Premiere of Synecdoche, New York at the Palais and dinner at Villa De Mai
Charlie Kaufman (screenwriter of Adaptation and Being John Malkovich) who's making his highly anticipated directorial debut tonight, ascends the steps of the Palais with his stars Philip Seymour Hoffman, Catherine Keener, Samantha Morton, and Michelle Williams. The film receives a five-minute standing ovation. You have to hand it to the French to be so enthusiastic night after night. This film covers 40 years in the life of a troubled theater director (Hoffman) who uses a grant to create the ultimate play -- a city within a city within a warehouse.

10 p.m.: Synecdoche, New York dinner in the Garden of the Villa De Mai
Marina Zenovich and Polanski producer/friend Andrew Braunsberg and I are driven into the hills to this hidden villa. I immediately start to chat up Catherine Keener and fail to notice a tall guy next to me who introduces himself by saying, "Hi, I'm Brad Pitt."
I reply, "Helen Keller knows who you are." He's caught off guard and lights up. I comment that it's my lucky night because there are no CAA agents around to protect him from me, cracking him up. I press my luck and proceed to charm and amuse him with my best analysis of Angelina's chances for an Oscar nomination.
The bearded Brad is thrilled I know all about his Christmas Oscar shoo-in from Paramount, The Curious Case of Benjamin Button, based on the story by F. Scott Fitzgerald and produced by my friends Kathy Kennedy and Frank Marshall. The press will have a feeding frenzy if both Angelina and Brad both get nominated this year.
We chat about the festival, "I haven't seen Synecdoche, New York yet," he tells me. Regarding the paparazzi, "We have a much better relationship with the paparazzi in Europe -- they're more respectful and leave our kids alone." Real estate: "We're spending the summer at our house. It's very private and secure." (He just purchased an estate nearby for an estimated $70 million). On politics back home, "I support Obama." Art, "I'm headed to Basel [Art Fair] after this." And George Clooney, "We're going to visit him in Lake Como in July. George and I are attending the premiere of our film Burn After Reading that's opening the Venice Film Festival."
I tap dance until we're both exhausted from my rat-a-tat conversation. This bonding with Brad has got to be the highlight of my week.
I move on to Philip Seymour Hoffman ("Thank you for coming," he says) and then locate every other cast member to compliment their performances. Brad has now retreated to a dark secluded area under a tree to eat with Catherine, but is good-natured every time I approach with another idiotic story.

Saturday, May 24, 12:30 a.m.: Aboard Joanne and Roberto de Guardiola's 152-foot Federal ship, Audacia
The Audacia has just been refurbished by Joanne, who is a published New York/Southampton/Palm Beach decorator. The six interior staterooms are blue, blue, blue, and beautiful. The plan is to take the boat tonight to Nice and pick up their teen twins, Mercedes and Roberto, in the morning and sail to Monte Carlo for two days of auto racing at the Grande Prix.

Sunday, May 25, 4 p.m.: After the races
We helicopter back to Cannes and land on the harbor dock.

7 p.m.: Closing Night Ceremonies and premiere of What Just Happened?
Getting off a tender in black tie and stilettos without falling into the water is a hat trick. I'm meant to be Barry Levinson's plus one because his wife, Diana, stayed home with her daughter Michelle, who just gave birth. This is my big moment to walk up the red carpet in the Barry/producer Art Linson/Robert DeNiro entourage but I have to pass in order to get the de Guardiolas seated.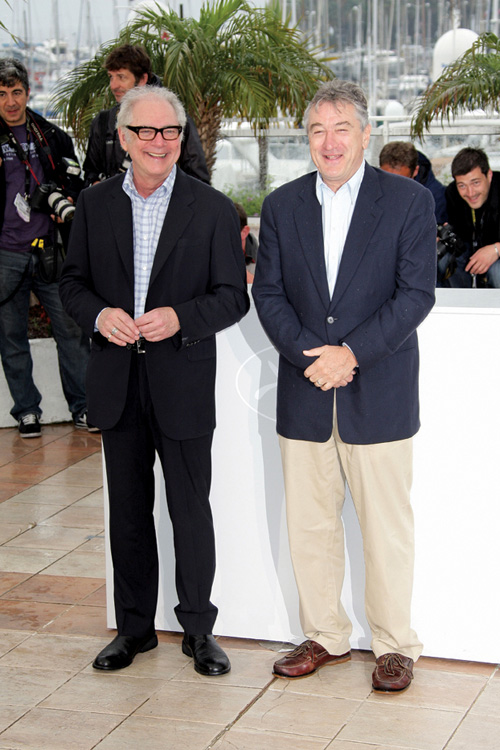 Barry Levinson and Robert DeNiro
As I wait for my date inside the Palais, Roman Polanski arrives. Knowing his agent Jeff Berg and director Marina Zenovich have told him about my work on the HBO/Weinstein documentary, Polanski: Wanted and Desired, I approach him and introduce myself. "I'm the lady from New York who called up 100 directors to lend their support to you by putting their names as hosts on the New York premiere invitation and had 25 show up." (The other 75 were sent DVDs.)
In the middle of all the chaos he looks me straight in the eye and says, "I am deeply, deeply moved." I almost faint.
DeNiro sweeps into the theater and gets a four-minute standing ovation. Now I'm standing next to Barry, who is next to Bob, and the video guy is under our noses with our images sky-high on the front screen. Roman comes over to greet Bob. Barry says to me, "I want to meet Roman." I go running after my new best friend and drag him back to our row to meet everyone.
The ceremony begins and the winners are announced. The French Film The Class wins the Palme d'Or. Sean Penn announces that this is one of two unanimous verdicts. The other is the prize for best actor, given to Benicio Del Toro for Che.
Penn announces two special prizes as a combination of a lifetime achievement award and an acknowledgment of bold new work. The winners are Catherine Deneuve, who accepts, and Clint Eastwood, who is absent. Having failed to win one of the Palmes but touched by the jury's generosity, Clint did not want an exception to be made for him. The audience assumes he has gone home. Actually, as his name is announced, Clint is dining with ten friends at the famous Tetou just outside Cannes.
What Just Happened? starts. It's a funny autobiographical industry satire based on Art Linson's book, A Pound of Flesh: Perilous Tales of How to Produce Movies in Hollywood. Art wrote the screenplay and produced this art-imitating-life biopic. Robert DeNiro, Art's best friend in real life, plays Art, a struggling producer. Bruce Willis plays a difficult actor who refuses to shave his beard based on Art's experience producing The Edge with Alec Baldwin. Stanley Tucci plays a screenwriter having an affair with the producer's ex-wife played by Robin Wright Penn. John Turturro, who plays agent John Burnham, is sitting behind me. Sean Penn, Art's other best friend, plays Sean, a movie star in a film within this film. Canadian actor Michael Wincott plays the tantrum-throwing crazy auteurist director based on Lee Tamahori, who directed The Edge and was later arrested on Sunset Boulevard for prostitution while dressed as a woman. A nod to that incident was in an early cut of the film.
As Pete Hammond wrote the next day in the LA Times, "In the end, it was entirely appropriate that What Just Happened? got the last flicker of light from the projector at this year's Festival de Cannes. It's about a troubled movie, starring Sean Penn, that plays to a rainy Cannes within a real-life troubled movie that closes a rainy Cannes. This in a year when the fake film's star (Sean) served as president of the official selection jury, and the real film's star, Robert DeNiro, presented the Palme d'Or -- all during the wettest Cannes in years."
True to form for the French, DeNiro, Levinson, Linson, Penn and the film get the final standing ovation, which lasts four minutes. Levinson turns to DeNiro and says, "You think the plane will wait for us?" He's referring to the last scene of their film, where the studio executive (Catherine Keener) offers the producer (DeNiro) a ride home on the corporate jet. The film within-the-film is a disaster at Cannes and the audience boos. The jet takes off just as DeNiro's character pulls up to the tarmac, leaving him stranded and humiliated. Rest assured, in real life DeNiro and Levinson's plane is waiting for them.

Monday, May 26, 11:30 a.m.: Nice Airport
Having passed up a ride on Kenneth Cole's plane to stay for closing night, I end up on a Delta flight seated next to a partied-out Sean "Puffy" Combs. He sleeps, curled up with a blanket over his head, for eight hours.
As soon as the plane lands at JFK, an e-mail pops up on my BlackBerry. Sydney Pollack has died. I am heartbroken. It brings back memories of Claudia Cohen and Joel Siegel, who passed away a year ago. So as a final thought, I dedicate this diary to those dear friends who were the life and soul of Hollywood filmmaking and movie media. They all loved a little showbiz dish.
All photos © Peggy Siegal.
SUBSCRIBE TO & FOLLOW ENTERTAINMENT
HuffPost Entertainment is your one-stop shop for celebrity news, hilarious late-night bits, industry and awards coverage and more — sent right to your inbox six days a week. Learn more