Neither St. Trinian's nor An Education (to a lesser extent) has been a total darling of American critics, but each film celebrates the rebellion and anarchy of adolescence, which is a rite of passage in almost every culture.
St. Trinian's is to the U.K. what Rocky Horror Picture Show is to the U.S.
Even though St. Trinian's is among the U.K.'s most popular (and highest grossing) independent films in recent years, it has been variously described by U.S. film critics as "vapid" and "a mess." The film is a campy, kitschy farce on anarchy and adolescence, which pokes fun at snobby, traditional English girls' schools and revives the U.K's national obsession about a series of films with the St. Trinian imprimatur that appeared in the 1950s.
The plot revolves around a clever caper devised by the rowdy and resourceful St. Trinian students to bail their "School for Young Ladies" out of its financial crisis and restore its academic reputation.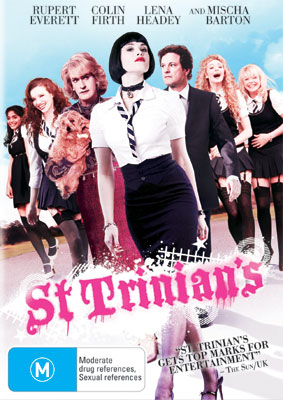 Theatrical poster for U.K.'s national obsession, St. Trinian's, which was released in the U.S. in October of 2009.
The cast is headed by Rupert Everett, a gifted actor, who early in his career delivered sublime dramatic performances in films such as Dance With A Stranger and Another Country. Later work included An Ideal Husband, The Next Best Thing, and Stage Beauty where he perfected his considerable comedic skills in cross-dressing and gender-bending used to great effect in St. Trinian's. He is a consummate actor who is unfortunately underutilized on both sides of the Atlantic. New Yorkers enjoyed him recently in the revival of Noel Coward's Blithe Spirit on Broadway. Everett gave a subtle, yet masterful, performance as the suave, sophisticated, and confused Charles. He was funny and charming alongside his fellow actors (Angela Lansbury and Christine Ebersole) who played broader and more colorful characters and received more critical acclaim (and, in Lansbury's case, a Tony Award).
The St. Trinian tapestry of ensemble actors is also woven with Colin Firth (Girl With A Pearl Earring), Lena Headey (The Gathering Storm, 300), Toby Jones (W., Frost/Nixon), Stephen Fry (Wilde), Talulah Riley (Pride & Prejudice), Lily Cole (Rage), and, in a cameo appearance, Mischa Barton (who plays vapid very, very well).
Everett reprises the dual role of Carnaby Fritton/Camilla Fritton based on characters originally played by Alastair Sim in The Belles of St. Trinian's (1954) and Blue Murder at St. Trinian's (1957). Firth plays Geoffrey Thwaites, the British Minister of Education, who is a former flame of Camilla's. When sharing scenes together, romantic kitsch (e.g., the songs "Love Is A Many Splendored Thing" and "Love Is in the Air") and inside jokes about Firth's English drawing-room/period dramas flow shamelessly.
Everett is facile and funny especially when festooned in frumpy drag, while Firth seems stiff and befuddled (wounded no doubt from all the "Mr. Darcy" pelting). The actors portraying the precocious, goth pupils and the sincere, nerdy teachers of St. Trinian's all gel nicely. American audiences will recognize many of the faces of the ensemble actors from Absolutely Fabulous, Four Weddings and A Funeral, Calendar Girls, various BBC adaptations of Agatha Christie novels, and other frothy, charming British film and television confections.
The concept for St. Trinian's was taken from a comic by cartoonist Ronald Searle, and Brits have for years dressed up like characters from the series for costume parties and charity functions. The film is pure fun, certainly does no harm, and has actually done some good in the area of fundraising. What were American critics expecting, The Prime of Miss Jean Brodie?

Our version of St. Trinian's, the American national obsession known as The Rocky Horror Picture Show, is no masterpiece, but continues to delight and excite audiences. As recently as last Friday, it played at midnight at Chelsea's Clearview Cinema. What a double feature it might make with St. Trinian's (someday).
An Education: Is Carey Mulligan the New Audrey or Charming Contemporary Ingenue?
Much of the buzz around An Education has focused on crowning Carey Mulligan (Pride & Prejudice, The Amazing Mrs. Pritchard) the new Audrey Hepburn (she actually looks much more like American actress Amber Tamblyn). That she is fresh-faced, smiles beautifully, and uses French phrases so gracefully all evoke a bit of Audrey, but her gifts lie in the more recent acting styles of Wynona Ryder--who has also played successfully in period dramas (The Age of Innocence) as well as moody, 1960s, angst-driven movies (Girl Interrupted)--and Katie Holmes--the pre-Mrs. Tom Cruise (Pieces of April, Wonder Boys).
In An Education, Mulligan plays Jenny, an almost 17-year-old, hardworking, multi-talented student in a private girls' school who is the daughter of Jack (Alfred Molina), her strict and quirky father, and Marjorie (Cara Seymour), her much more balanced mother. Things are going pretty well for Jenny gliding along the fast track to Oxford until she meets a much older man, David, played by Peter Sarsgaard. Sarsgaard's nuance and emotional range is dexterous. Initially, he pulls off making his character suave, charming, and almost earnest. Later, creepy circumstances transpire, and he slithers almost effortlessly into smarmy.
Mulligan and Sarsgaard display an interesting chemistry, which is not so much based on sexuality as in the frisson between mentor and pupil. This is not their first time acting together. They co-starred with Kristin Scott Thomas last season in the critically-acclaimed, West End transfer of Chekov's The Seagull to Broadway.
An Education also features fine supporting performances by Olivia Williams as a caring, dedicated teacher, Miss Stubbs, Dominic Cooper and Rosamund Pike as David's friend Danny and his girlfriend Helen, Emma Thompson as Jenny's Thatcheresque headmistress, and Sally Hawkins in a cameo role as Sarah (whose relationship to the other characters shall remain a secret).

A taste of London in the early 1960s. Dominic Cooper, Rosamund Pike, Peter Sarsgaard, and Carey Mulligan from director Lone Scherfig's An Education.
An Education--ably directed by Lone Scherfig (Just Like Home ) with an intelligent screenplay by Nick Hornby (About A Boy, High Fidelity) based on Lynn Barber's memoir--is a window into the fashions and mood of London during the early 1960s just before the Beatles hit big. This unique and interesting period is exemplified in the costumes of Odile Dicks-Mireaux, the production design by Andrew Mcalpine, and the chanson music made so popular by French chanteuse Juliette Greco ("Sous le ciel de Paris").
FOLLOW HUFFPOST