Aided in part by the book Hana's Suitcase, filmmaker Larry Weinstein takes an intimate look at the Holocaust, a topic the veteran of 25 documentaries -- mostly "quirky ones" about music -- thought he'd never undertake. The director of Mozartballs (2006), Beethoven's Hair (2005), Ravel's Brain (2001) and The Music of Kurt Weill: September Songs (1994) takes on the perspective of child, who might have grown up to be an artist but never had the chance.
Like the story of Anne Frank; Susie, the fictional character in The Lovely Bones (2009); or Evan, in Boy, Interrupted (2009), when adults have the privilege (and the responsibility) of restoring the dazzling, authentic voices of children lost to violence, who would otherwise have remained unheard, the impact is profound. Such is the case with Inside Hana's Suitcase, Weinstein's documentary about Hana Brady, a Czechoslovakian girl, who was interned in a series of concentrations camps beginning at age 8.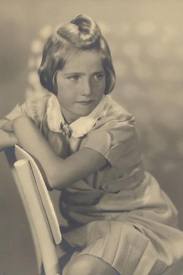 Solving the enigma of Hana's life is made all the more compelling by the grace and tenacity of a teacher/curator named Fumiko Ishioka (director of the Tokyo Holocaust Education Resource Center), who longs for her young students to understand the meaning of the World War II Holocaust in Europe. Her request to the Auschwitz Museum for an artifact from the camp yields the gift of a battered suitcase that bears Hana's name painted on its side by her Nazi captors.
The simple, straightforward scenes of how much Fumiko treasures this representation of Hana is witnessed in her seeking out a master craftsman to create a glass case to display and preserve it, and in how she presents it to her class of enthusiastic, totally emotionally invested students, who spiritually adopt and provide a voice for Hana.
Searching on the Internet, Fumiko finds preserved drawings by children of the Holocaust, several of which are Hana's. She prints out copies of her work and brings them to her class, whose growing affinity for Hana has reached a fever pitch. The filmmaker uses special effects to bring Hana's paintings to life -- superimposing them on the actual sites of her captivity and animating them to further resurrect her spirit, but it is the exuberance on the students' faces, which bring us closer to Hana.
Fumiko doesn't stop there, she travels to Poland to see where Hana was interned and examine archival documents. There is an unspoken wish on the part of the teacher and her students that Hana might still be alive. These hopes are dashed when Fumiko is presented with obsessively maintained Nazi records -- bookkeeping at its most diabolical. Hana's name has a checkmark next to it, signifying she was killed in Auschwitz. However, next to her name is that of "George Brady," unchecked, who may still be alive. Fumiko embarks on a quest to find George, which takes her to the Czech Republic and Canada.
While this documentary is far from a masterpiece of filmmaking (the reenactments are dreary and additional testimony from Czech and Canadian children seems over-the-top, however sincere their intentions), the story of Fumiko and her students' kinship with Hana and, later, with George rises above many of the techniques used to make it. George's recollections of Hana, his parents, and grandmother unfold in painful detail, but with his daughter at his side and the empathy he receives from Fumiko and the children, he is able to mourn and celebrate the indomitable spirit of his sister.
Ironically, the World War II Nuclear Holocaust in Hiroshima and Nagasaki is only mentioned once, by an elderly, female survivor and board member of the Tokyo Holocaust Center, who characterizes this genocide as "our fault," contrasting it with the innocent victims of the Nazi's European Holocaust. Her words are astonishingly devoid of bitterness, given the magnitude of the horrors of the nuclear bombings and their aftermath. This Canadian-Japanese project also fails to mention or connect itself to the internment of Japanese-Americans in camps in California during World War II. In this sense, the film's themes of the corrosive, destructive nature of scapegoating, racism, and intolerance are never really taken to their inevitable conclusions. Inside Hana's Suitcase is most effective in its portrayal of the intimate story of one beguiling girl's legacy to her brother and his descendants, made possible by the resolve of their non-familial counterparts in Japan.
"Inside Hana's Suitcase" opened on Wednesday, April 18 at the Quad Cinema in New York City and on Friday, April 20 at the Kew Gardens Cinemas in Queens and Malvern Cinema in Long Island, N.Y.
SUBSCRIBE TO & FOLLOW THE MORNING EMAIL
The Morning Email helps you start your workday with everything you need to know: breaking news, entertainment and a dash of fun. Learn more